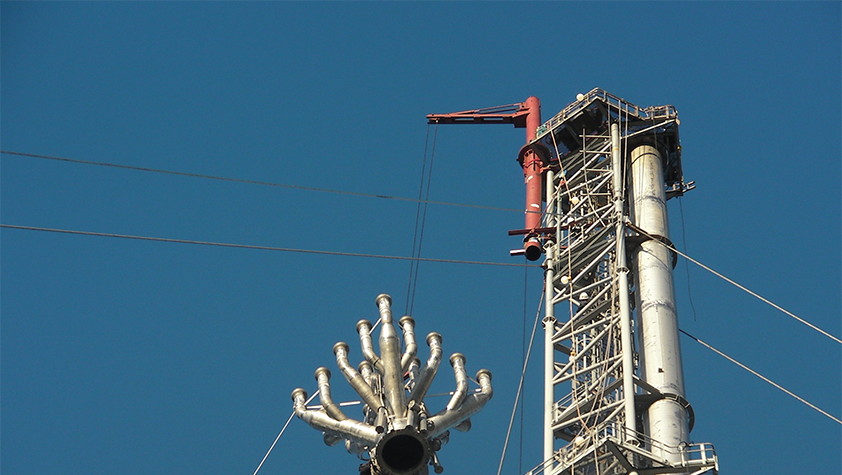 Zenith Structural Access Solutions Ltd
Accessing the market
The execution of structural access and repair solutions in the power, oil and gas, and petrochemical industries is a specialist field, and one that often requires a little innovative thinking.
It is this mindset that has seen Zenith Structural Access Solutions gain a reputation as a trusted business partner providing bespoke solutions for complex and often hazardous assignments since it was established in 2003. Whatever the structure, specialist access techniques can provide a cost-effective solution to carrying out works at height.
The company is a market leader in the inspection, maintenance, repair, and demolition of industrial chimneys, hyperbolic cooling towers, tall structures, and heavy industry buildings, as well as general specialist access services. Zenith is perhaps most widely known though for it's pioneering innovation in the field of flare stack repair and tip replacement.
Elaborating further on this development, business development director Darren Smith says: "Very often because of the height involved in these works a crane has to be used to remove the flare tip, whilst at the same time the process needs to be carried out under a very short shutdown period. As such we have developed bespoke temporary lifting davits that have been designed by our own structural engineering department. The bespoke davit is erected at the start of the shutdown, which enables us to safely and quickly remove the existing tip and replace it, and then strip down the davit afterwards. This method enables us to carry out the work in a very short period of time, both onshore and offshore."
In terms of the offshore sector, this technology has taken Zenith around the world with extensive work in South-east Asia and the Middle East. Looking at more recently emerging markets, Darren reveals how this global spread continues to grow: "The Far East has become a key new area for us. We targeted certain markets in this region, which involved a lot of business development but is now producing significant orders. It is therefore very pleasing for us to have identified a market place following research, to have presented our service to a number of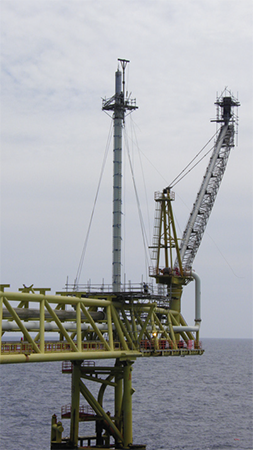 companies out there, and as a result seen orders now be placed. We have recently completed some projects in the region, and have a significant number more on the books for 2013."
The next year also looks for good for markets closer to home as Zenith intends to branch out further into the North Sea as well. At the end of 2011 Zenith relocated to its new site close to Edinburgh, which covers an acre of ground in total. From this site the company executes works both domestically, and further afield. Despite the facility being just a year old, Zenith already had advanced plans to add an extension to the site such is the volume of activity happening in the business.
As to why so many customers turn to Zenith for a solution, Darren reveals that it goes beyond just the company's innovations: "We provide a turnkey solution to a project because we endeavour to have all the necessary skills in-house from structural engineering and design to our own specialist access riggers, and IRATA trained personnel. A huge part of our success is the multi-disciplinary nature of our staff so the men we typically send to site may be qualified riggers, but also a welder, or NDT technician. This means that the customer only has to deal with one point of contact for a project rather than lots of contractors."
At the very heart of this offering is design, which in turn is what also enables Zenith to offer its innovative solutions. Early consultation and planning with the client is crucial in order for Zenith to identify the best possible approach to the project, and where cost saving measures can be taken. The replacement of flare tips is a good example of these design capabilities delivering benefits even in remote and demanding locations, but this is not the only service that Zenith performs for the oil and gas industry. Another area where the company excels is the design and installation of temporary lifting mechanisms on offshore installations, which can be used to move vessels of up to 20-tonnes in weight. This is significantly cheaper than hiring helicopters or barge cranes to carry out the manoeuvre.
By focusing on maintenance and repair of structures Zenith has continued to flourish even when difficult economic conditions have meant that investment into new-build projects has dropped off. Over the past financial year the company's turnover has increased by approximately 50 per cent, and Zenith anticipates another 25 to 30 per cent growth in 2013.
"The base of this is our existing customers where they can see the benefits of our design and innovation, but we're also forever tapping into new areas so there's a continual strategy of consolidation and growth. Customers are now presenting us with their problems, and using our structural engineering capabilities and vast experience we're providing turnkey solutions that prove to be cost savers for installations. As such much of our growth is organic as we endeavour to achieve long-term relationships with our clients that often result in several year contracts. We adopt very much a partnership approach, working with them from concept stage right through to execution to get the best value from each solution," concludes Darren.
Zenith Structural Access Solutions Ltd
Services: Structural access and repair solutions