Zenith Structural Access Solutions
Access all areas
Serving bluechip companies in the oil and power sectors, Zenith Structural Access Solutions specialises in working at height, delivering innovative structural access and repair solutions.
With design firmly at the heart of Zenith's activities, the company has developed a pioneering innovation in flare stack repair and flare tip replacement, and prides itself on its capabilities in respect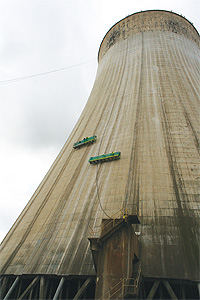 of working in remote, inaccessible locations.
Outlining the company's credentials, Zenith's business development director Darren Smith says: "We were established in Edinburgh in 2003 to work internationally on oil refineries and power station contracts, particularly focusing on industrial chimneys and flare stacks. We have a workforce of between 50 and 70, depending on the season, and we're a private limited company. In the early days, we worked purely in the UK and Ireland but it wasn't long before weexpanded into mainland Europe, c entral Asia and South East Asia."
Today, Zenith's references stretch from projects in Kazakhstan to Norway and its scope of work spans the inspection, maintenance, repair and demolition of industrial chimneys, as well as hyperbolic cooling towers, tall structures, heavy industry and historic buildings. Elaborating on the company's knowledge, Darren states: "The techniques that we continually develop are at the cutting edge of the access industry. Our core competency is the ability to work safely at height, using innovative access techniques. When it comes to industrial chimneys and flare stacks, typically in the region of 150 metres or more, we use specialist access techniques to facilitate work at height."
He continues: "We not only concentrate on the access required, but on carrying out whatever work needs to be done. We have an in-house structural design department, specialising in temporary work design, and highly qualified on-site personnel, so we offer a complete package to end users. We are able to undertake the full range of works, from a basic structural survey of a structure to a full reline of industrial chimneys and complete refurbishment of flare stacks. We also offer consultancy, which enables us to work with owners and end users."
Customers benefit most when Zenith is consulted at the planning stage of a project, as this helps it to identify cost saving measures that will enable a particular task to be safely carried out. Its comprehensive offering has enabled the organisation to be industry leading and has led to it delivering groundbreaking solutions to challenges. Discussing one of the breakthroughs – and ensuring benefits – for which the business has gained respect in the industry, Darren comments: "As health and safety is a priority, any solution we propose has to be a proven safe method of working and, consequently, we're frontrunners in our field, particularly when it comes to flare tip replacement.
"Normally, flare tips are replaced using a very large crane, which is expensive to the extent that the cost is often prohibitive.Alternatively, many flare stacks have in-built davits, which is a lifting post at the top of the flare stack that can be used for installing a new flare tip. However, due to the unique environment to which davits are exposed, they are not in a sound condition."
Shedding light on the solution, Darren adds: "We have pioneered a temporary works davit that we build in-situ at the start of the shut down, which enables us to lift off the existing flare tip to replace it with the new flare tip, and then dismantle all temporary works access at the end of the shut down. We can carry this out in a very short period of time and it's an extremely cost effective way of handling a potentially hazardous task."
Its pioneering purpose-built davit is all the more welcome in the current economic climate as it negates the need for expensive cranes and allows refineries to restart production as quickly as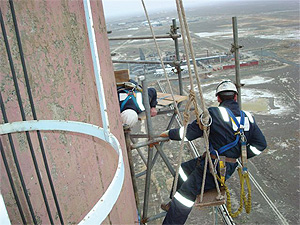 possible. This is vital because costs rise dramatically for each day that an oil refinery is closed. "Our technique allows for quick and safe access to exposed areas on flare stacks and industrial chimneys, enabling us to quickly undertake the work," Darren reveals. "Typically during a shut down to replace a flare tip we can be in a position to carry out that work in a short period of time, thereby minimising the oil refinery's shut down period. And while we have traditionally come from an industrial chimney background, we have been able to adapt our access techniques, to the extent that flare stacks have come to represent a significant portion of our annual turnover."
The effectiveness of its solution has facilitated Zenith's international development and the firm is working with a number of refineries in South East Asia, which represents a major development for Zenith in terms of its global expansion. Darren notes: "It's a very exciting period for us. Our growth, since 2003, has been nothing short of remarkable. In 2010 we are projecting our best year ever and truly believe that conditions will continue to improve for the foreseeable future, as we expand our customer base worldwide."
In terms of Zenith's services, its specialist access techniques provide a cost-effective solution to carrying out work at height, whatever the structure may be. By combining the expertise of steeplejacks and rope with confined space access, the company provides a single source for undertaking complex work of this nature. Overall, Zenith's solutions are built on seven principles: understanding and commitment to a client's brief; technical competence; innovation and flexibility; strict cost control; tight project management; on time and on budget delivery; and safety.
Consider the organisation's promising prospects, Darren concludes: "The future of Zenith will rest in regional branch offices around the world, having already established a number of those. In terms of our vision, we will continue to spread the Zenith message of innovative access solutions to complex issues on flare stack industrial chimneys."
Zenith Structural Access Solutions
Services: Structural access and repair solutions