Seamless replacement
2017 was a year of record turnover for Zenith Structural Access – an expert provider of structural access and repair solutions to some of the world's biggest power, petrochemical, process, and pharmaceutical companies. Over the years, the engineering company has developed a versatile expertise in inspection, maintenance and repair of flare stacks (offshore and onshore), industrial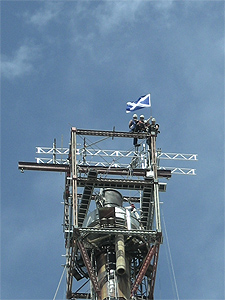 chimneys, hyperbolic cooling towers, tall structures, and heavy industry and historic buildings.
One of the principal reasons for the success Zenith experienced in recent years can be discovered in the efficient flare tip replacement technique the company designed to improve its overall customer proposition. "Our clients started asking us if we could come up with an innovative method to replace flare tips that would significantly reduce their costs, and that was the driver to develop our temporary lifting davit technology," Zenith's Business Development Director, Darren Smith reveals.
"We have been strengthening our position offshore, going through an extremely busy period of working on flare tip replacement on offshore platforms and FPSOs. Instead of using expensive helicopters or barge cranes, our structural engineers designed and developed the temporary lifting davit technique with which we are able to replace flare tips within a very short shutdown period," Darren explains. The purpose-built davit is positioned directly below the termination point of the flarestack, thus negating the use of expensive cranes and helicopters, and has been designed to take the weight of the tip as it is lowered to the ground, and lift the replacement tip into position. "The bespoke lifting davit is fabricated with a FAT (factory acceptance test) and is third-party verified. Everything we do – from structural engineering to onsite execution, is carried out in-house, with no external subcontractors. This means that the client has only one point of contact throughout the entire process, which is a significant advantage."
Zenith's approach to tricky projects in the flare tip replacement area is to deploy a relatively small team of qualified technicians, in order to tackle the accommodation issues that occur on an offshore or FPSO platform during the shutdown period. "The crew that performs the FAT test is the same, which is mobilised to the site, because its members are already fully familiar with the intricacies around the lift. A typical FAT test crew working on a shutdown numbers between four and seven specialist access technicians, and as they need to multitask, they have honed their skills, such as NDT specialists and coded welders, in an environment where they need to be right first time," Darren points out.
A recently-completed project for Zenith was the successful flare tip replacement on an FPSO off the coast of Africa towards the end of 2017, the company's third venture of this kind on the continent. The tip in question weighed 1.6 tonnes and the entire procedure was executed within the very short space of just four days.
Advertising its temporary lifting davit technology to the marketplace has helped Zenith grow its customer base, as many global leaders in the oil and gas sectors have sought the company with a request for assistance with their projects. As a result, it is currently working with high-profile clients, such as Chevron, TOTAL, and Shell, providing solutions for demountable flare tips. "These are found within a support structure, so our customers are seeking our advice as to how they can inspect and maintain the support structure of the demountable flare systems, whilst keeping the flare tips online," Darren notes.
"Far from offering lifting solutions just for flare tips, we are specialised in other areas of heavy lifting and awkward access, too. For example, we can provide support in niche areas on an offshore or an FSPO platform, which the respective cranes cannot access, and we have already built a strong portfolio of projects of this nature." Darren then goes on to highlight the key phases of every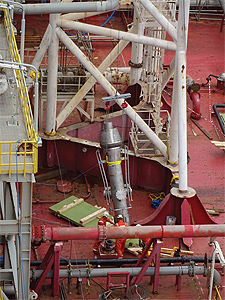 project Zenith undertakes, thus providing an insight of the practices the company applies every time it takes on a new assignment. "Naturally, it starts with understanding the brief from the client. After that, we create a concept design and then we move to the purchase order stage. Next, we perform a full structural analysis of the lift, providing all the necessary calculations, general arrangement drawings, risk assessments, and a detailed programme of the work, to the client."
Although the business of flare tip replacement for the offshore sector has obviously been the direction in which Zenith has been looking as of late, the engineering company is also experiencing growth in its flarestack inspection and refurbishment services for oil refineries and gas plants. "We also have extraordinary guy wires capabilities that we offer to clients," Darren adds. "These include inspection, maintenance and repair, dismantling, greasing, retention, replacement, verticality, and magnetic inspection. Again, all of these processes are carried out in-house overseen by our structural engineering department."
The growth in 2017 appears to have set the ball rolling for Zenith, as it continues to pick up pace well into 2018. "We are finding the new year extremely encouraging," Darren confirms, "and this gives us a confidence that the business will keep on growing as time goes forward. We are planning to invest in developing the lifting davit further and finding new applications for it to be used. We have already developed systems that enable the technology to be applied in multiple operations, despite it generally being bespoke to an individual lift, which has resulted in saving costs for the client.
"Zenith is also eager to develop new marketplaces. We have proven to be very successful across Europe, Africa, the Middle East, and the Far East, but our ambition is to constantly look at opportunities to expand into new regions. We are presently looking at a number of projects in South America. Last but not least, we want to bring our specialist access and lifting capabilities to other applications, both onshore and offshore, especially within the petrochemical industry," Darren concludes.
Zenith Structural Access
Services: Offshore Flare Tip Replacement & Flare Stack Services