Security blanket
Committed to providing environmentally friendly anti-corrosion solutions to the European industrial market, Zero Corrosion B.V. was formed in 2012.
"Our main focus was to bring to the market a product that would challenge traditional solutions," says Nicholas Kail, CEO. The company's core territories are the Benelux and Germany. "We cater to many industries including oil and gas, renewable energy, maritime and infrastructure and we pride ourselves on providing the latest innovative and cost effective solutions that are not harmful to the environment and environmentally friendly," he adds.
Zero Corrosion B.V. currently supplies and applies the unique and revolutionary anticorrosion coating OXIFREE TM198 to the Benelux; a product that provides long-term corrosion protection for complicated shapes such as valves, flanges, and wellheads.
Conventional paint often requires re-application every two years depending on the conditions of application and operation. The areas need to be prepared with sand blasting, resulting in a very time consuming process and in conditions of high humidity or low (weather) temperatures it is impossible to paint. In comparison, OXIFREE requires no sandblasting, is fast to apply, can be applied whatever the humidity or temperature and once applied will last over ten years. OXIFREE significantly reduces the cost of maintenance and downtime required both on and offshore.
OXIFREE is environmentally friendly, being an organic polymeric resin coating applied in fluid state with a VOC of 0.05 per cent. The flexible OXIFREE resin can be easily removed when required and is 100 per cent reusable. It contains anti-corrosion substances that inhibit corrosion and penetrate threaded fastenings to stop seizures. The flexible polymeric resin coating allows for easy removal for inspection and re-application during scheduled maintenance.
The application process of OXIFREE involves the polymeric resin being heated to 170 degrees Celsius before being applied in liquid form around substrates that need protecting. As the product is cooled it contracts; the anti-corrosion substances within the material arrest any existing corrosion and act as a membrane preventing any oxygen getting in, ultimately eliminating the possibility of future corrosion.
"All of our clients are driving forwards with an environmental agenda by increasing their usage of biodegradable and organic products and therefore reducing their carbon footprints. As well as ticking the environmental boxes, OXIFREE saves the client time and money in the critical areas of maintenance," says Mr Kail.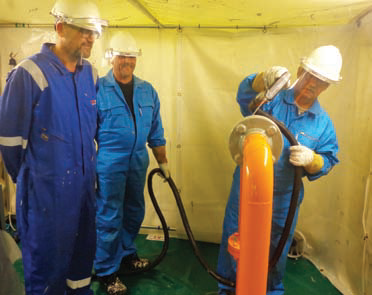 External tests have demonstrated the effectiveness of OXIFREE in corrosion prevention (such as the ASTM B117 Sea Salt Spray Test, to over four times industry standards) and importantly its ecological safety. "It is really through testing and comparing our solutions with traditional systems of protection that it becomes increasingly noticeable that we are moving in the right direction," points out Mr Kail. Although the concept of the application is simple, it has taken many years to perfect such a material that can be used on both static and moving parts, such as bearing houses and valves. "One customer had been suffering from bearing failure as a result of oil, dust and debris ingress. Since coating the bearings with OXIFREE, no downtime has been incurred, saving the client maintenance costs and reducing expensive downtime," he adds.
Working with corporate clients such as RWE, BP, Talisman, Total, ConocoPhillips, Chevron, Interconnector, Air Products and PEMEX since the product was first launched into the European market the demand has continued to grow, as Mr Kail explains: "The jobs that we have been doing have been getting bigger and bigger as these organisations have started to realise that we can provide a solution to their problems, particularly in the offshore environment where corrosion is a common issue and where maintenance costs are extremely high.
"Our clients trust us; a relationship that has been developed through our professional approach. We only provide final job specifications to areas that are specific to the material, so although at times we turn work away, we are building long-term relationships with large corporate companies that communicate internationally with one another. It is very important for us to be professional in every single area – all the advice we give feeds back to our clients, through our clients and ultimately to the personnel working within these organisations, who tend to migrate from one company to the other. In addition to working directly with our clients we are also working in conjunction with fabric maintenance companies such as Bilfinger, and with supply companies such as EMS SevenSeas and IOT-Dosco."
Offshore maintenance windows for coating solutions can be in the region of days and this is a concern for oil and gas companies, as maintenance programmes using traditional systems such as paint are often incomplete at the end of this window due to weather conditions. The speed of the service offered by Zero Corrosion B.V. (which has specially trained teams for on and offshore OXIFREE applications) ensures that such a window is sufficient, driving down the cost of maintenance. This is further supported by the ecological advantages that are beneficial to its clients' reputation with the public and shareholders.
Additionally Zero Corrosion B.V. offers the biodegradable descaling products, Dynamic Descaler and Aqua Safe, which have the lowest corrosion rates of any descaler worldwide. On an economic level these products provide a cost-reducing alternative to manual dismantling and cleaning of equipment and they fit perfectly into the ethos of Zero Corrosion by being the least corrosive descalers available. The equipment that they clean is expensive so clients want the best products available. Aqua Safe is also special as it is safe on delicate metals such as titanium and is certified by the NSF to NSF/ANSI Standard 60 to be safe to use on potable water. This is why worldwide clients include Shell, the Royal Navy, Coca-Cola, Goodyear, AllSeas, British Royal Navy, General Motors, Dow Chemical, the U.S. Army/Navy and Ford.
"We are always researching new products and aim to be the leading provider of ecological anti-corrosion solutions in the European region. The manufacturers that we work with are all focused on providing more effective solutions that work in harmony with nature and simultaneously reduce costs for the clients. The oil and gas industry will be with us for a long time so intelligent investment in the maintenance and the longevity of its assets is of prime importance for all concerned," concludes Mr Kail.
Zero Corrosion B.V.
Services: Ecological corrosion control