Aalborg Engineering
Issue 05 2011
---
Reaching boiling point
"The company was first founded in 2000 and for most of the next decade it was in an establishing phase," states Peter Overgaard, chief executive officer of Aalborg Engineering.
"This involved much evaluation of where the business stood and where it was headed in the years to come. From 2009 onwards the company has moved ahead and has gained stability, meaning it could then move into a structuring phase where it set up a dedicated business plan to double its turnover to over 50 million euros within a three-year time frame. Latest projections show the company is on course to meet this target by the end of 2011."
Since the foundation of the company its mission statement has been to deliver customised industrial boiler plants to customers in Europe and the Middle East and as Peter highlights, these areas remain central to Aalborg Engineering's operations: "These are the areas where the company has marked its footprint and for many years now a large part of its turnover has come from Turkey." It is here that the company strives to push forward its vision of being a lifetime partner for its clients' customised boiler plants.
With client demand growing at record rates, Aalborg Engineering completed a move into larger premises in March 2011. This move also prompted an increase in the company's workforce, which today stands at 85 engineers: "This increase in staff numbers is to meet head on the rise in demand and comes as a result of the company gearing itself towards doubling its annual turnover," Peter continues.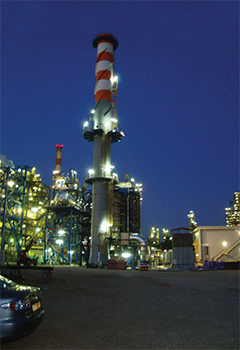 At the heart of Aalborg Engineering's success are its four different product lines. The oldest of its systems is the SteamGen 4, a horizontal single drum package boiler. In operation in countries such as Jordan, Turkey and Qatar, it has long been recognised as an example of the company's technological excellence.
A heat recovery steam generator (HRSG) variation of this system is the SteamGen 6, which offers the same unique benefits of its previous model while also providing the possibility of having a combined HRSG and auxiliary boiler added. A number of different industrial companies have benefited from the use of this solution, particularly those using applications where there is a need for limited power production. Able to increase the steam production to more than five times that of an unfired HRSG, it offers performance not seen anywhere else in the field: "The SteamGen 6 is a very special product, one that will be very attractive to customers working within the oil and gas sector," says Peter.
The SteamGen 8 is a vertical HRSG for medium-sized gas turbines, available either with no supplementary firing or with limited firing. In case of need for higher rates of supplementary firing the SteamGen 8 can be supplied with a water-cooled furnace. Designed to meet the highest possible reliability, the SteamGen 8 provides the most cost-effective solution available. It has been developed over decades and has proven to be one of the most efficient HRSG's in the market. The SteamGen 8 is by far the company's most sold product and is in operation in many countries in Europe and the Middle East.
The newest addition to Aalborg Engineering's product range is perhaps its most exciting yet. The SteamGen 10 is the company's state-of-the-art HRSG boiler, suitable for industries where there is a large range of high energy consuming processes with waste gas streams. This system is currently being put in place on behalf of Finnfjord in Norway in its ferrosilicium production facility. While the combination of the high temperature of flue gas, large variations and high dust content has made for a complex task, the solution is now ready as a result of its conservative design and rigid construction: "This latest development is very promising and could certainly allow Aalborg Engineering to expand its footprint across Europe and the Middle East with a unique product that is already getting plenty of attention," Peter enthuses.
"Aalborg Engineering is always looking to develop new products and innovations. As a company we know that if you are not developing new ideas and concepts you will fall behind the competition," Peter says, before pointing out the reasons customers continue to turn to the company for its services. "A crucial part of the company's success is that it has a strong range of quality products engineered by a group of highly skilled employees. Customers recognise these skills and those that have worked with the company for many years know first hand that Aalborg Engineering always supplies first-class products on time and to all desired requirements."
With business looking healthy in 2011, Peter points out that the company are positively looking towards the future: "The market perspective today is pretty good and all signs point to gas having a big future within the energy sector. With an increasing number of companies reducing their nuclear activities in response to recent global events there is a growing need for gas as a source of energy to cover the short fall in capacity.
"The focus now for the company is to secure its current platform," Peter concludes. "In the years to come the company will undertake work on structuring and implementing the findings of its most recent strategy review and once all the pieces of the puzzle are in place it will be time to decide where best to move the business forward."
Aalborg Engineering
Products: Customised industrial boiler plants
---