ADPS
Issue 04 2010
---
Dynamic growth
Dynamic positioning (DP) systems have been supporting vessels in undertaking offshore drilling operations in ever-deeper water since the 1960s.
DP services have become an integral part of any offshore project, and by the late 1990s shifts in the market meant that many DP personnel offered their services almost entirely on a freelance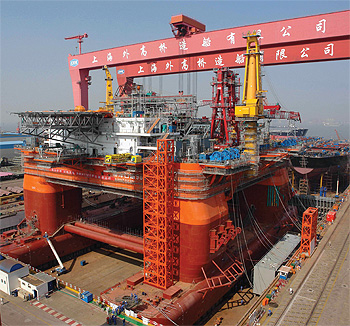 basis, working with little consistency or stability in terms of where their next job would come from. Dissatisfied with the lack of support received by DP operators (DPOs), Captain Lee Brown established Auto Dynamic Positioning Services Ltd in 1997, otherwise known in the industry as ADPS. The principal aim is to support personnel working in the DP industry, finally offering them a company identity, while allowing them to maintain their independence.
Lee, who works as technical director for ADPS, describes the main differences between his company and a standard agency and the advantages of using his company: "Since the company's conception in 1997, it has always been our policy to ensure personnel are supported and salaries paid on time, ensuring DPOs regard us as a reliable and trustworthy company. The office-based staff at ADPS devote a lot of time and energy maintaining good communications with the mariners and clients alike ensuring the positions offered are well suited. We are proud when mariners continue to work for us as it means we are conducting our company policies in the correct manner. A lot of shipping companies operate a very small number of DP ships, making up a tiny proportion of their fleet. This means that there is only very limited experience of DP systems within the broader offshore sector. ADPS specialises in worldwide DP operations and are able to offer clients experience and crucially job specific personnel. Over the last twelve years, we have received loyalty from both clients and personnel with an aim to continue good relationships and provide the best possible solutions required.
"Our services incorporate an in-built value as we provide a consistency in the quality of personnel that we provide, offering the client confidence in being able to bring a project to a safe conclusion. Unlike an agency, we do not simply send CVs to a company, rather, we ask for a specification of the job and then we find the most suitable candidate to promote to a Client. As this is quite different to the way an agency operates, companies can find it a little strange at first, but once they realise that we can match job specifications with experienced personnel, we then gain their ongoing confidence. The process of sourcing the appropriate personnel can be done in a matter of hours if necessary with the speed of the service being another obvious advantage to clients. The DP
industry is developing at a rapid rate and it is recognised that there is a growing need for quality, experienced personnel. To meet this need, ADPS operates a DP mentoring facility, allowing personnel already employed by the Client to acquire vital ongoing training in DP procedures and operations."
The current aim of ADPS is to develop its consultancy division. In this area it will concentrate on the provision of surveys such as failure mode and effect analyses (FMEA) and common marine inspection documents (CMIDs). Lee explains why these surveys are important: "All DP2 or plus vessels are required to have an FMEA performed on them by an independent consultancy firm, the function of which is primarily to look for single point failures. This is particularly important when it comes to diving, with the potential for the loss of life in the event of a DP failure. Redundancy needs to be in place to ensure that in the event of a failure of a part of the DP system the vessel will be capable of maintaining her position without resulting in a 'blackout'. In other words it's a safety issue and we perform the required surveys. Companies come to us for a more thorough and in depth industry specific survey. We also offer a common marine inspection document (CMID), which is similar to a warranty survey so that if a client wants to charter, or buy a ship we will perform a survey to establish the condition of the vessel, its management processes and compliance to regulations. As members of IMCA, we are constantly kept up to date with any changes in the industry so that we can apply all those disciplines to any project that we're working on. Alongside these services, ADPS can also offer conventional activities including DP audits performed by highly qualified consultants."
Looking ahead, Lee considers the company's future to be bright: "Along with our consultancy plans, we have already established crew management contracts with an aim to increase in this area in which we excel. Our long-term objective would be to achieve the technical management of a vessel, which would utilise our wealth of skills and experience. With the continued support from both clients and personnel, ADPS will remain a key player and first point of contact within the DP industry."
ADPS
Services: Dynamic positioning systems
---