Applus RTD
Issue 07 2011
---
Put to the test
Due to celebrate its 75th anniversary next year, Applus RTD has a lifetime of experience in the non-destructive testing (NDT), inspection and asset integrity management sector.
And with 90 per cent of its business currently taking place in the oil and gas industry, through both contractors and end clients, it is clear that demand remains high for this forefront expertise.
Headquartered in the Netherlands, Applus RTD began life in 1937 under the name Röntgen Technische Dienst (RTD), before being acquired by the Applus+ Group in 2006. The company was established following the move from traditional riveting to welding in the shipbuilding industry. In this respect, RTD was one of the pioneers in the application of x-ray testing to check the integrity of welds in steel structures. From this initial spark Applus RTD has grown into a technology leader in NDT offering a whole spectrum of testing and inspection services, with more than 4000 employees and operations in 33 countries across the globe.
Applus RTD's ability to apply existing technologies to industries such as the oil and gas market continues today – most notably with its recently developed digital radiography equipment, known as Ray Scan. Martin Pot, director of internationalprojects at Applus RTD elaborates: "This system is an evolution of x-ray technology that we have used in the past, but in combination with an electronic sensor rather than a film. Where films would need to be developed and assessed by a trained individual, with Ray Scan we are now able to capture the picture on an electronic sensor, which means that we can immediately begin our assessment of any defects and safe valuable time.
"We are looking to apply this technology primarily to the pipeline construction industry where by removing the development process we are able to speed up the production process, as well as achieving far more accurate results due to the higher quality image we can obtain."
As well as pipelines, Applus RTD is also active in the construction of LNG tanks, offshore platforms and refineries, right through to the maintenance of these assets. In particular, the company is shifting more of its activities to asset integrity management services, which has significant benefits for its end clients: "Previously we would acquire information about a construction project from measurements and then use that as the basis for our conclusion," explains Martin. "However, now we are moving into more risk based inspections where we take a look at the construction and design intent of an installation and then, based on experience and statistics, identify the areas that are most at risk from corrosion, erosion or other threats. By having a greater understanding of the degradation mechanism we can carry out specific measurements as required."
This methodology is one way that Applus RTD is working to ensure that its activities are as undisruptive to the basic business process of its customers as possible. Whereas in the past NDT testing would require the almost complete shutdown of an installation, both the industry and Applus RTD are developing ways in which regulatory testing can be conducted without this level of disruption. The progression of the oil and gas industry as a whole also presents the NDT and inspection market with other challenges, as Martin highlights: "Predominately we work with carbon steel structures, but with the harsher environments and deeper waters that the industry is currently moving into we are starting to see new materials being applied.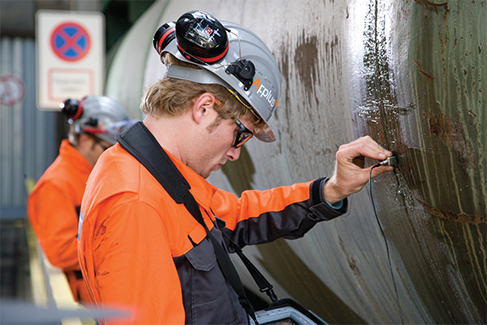 "These have completely different behaviours to carbon steel, which means that we have to continue to ensure that we develop the technical side of our business to be able to measure and meet the regulatory requirements for these materials as well. This is one of the reasons that Applus RTD has maintained its own in-house research and development department since the 1950s. One such example is the corrosion resistant alloys that are coming into play, which are particularly difficult to test due to their coarse structure, which is very similar to the defects usually found in these materials and which means it is hard to distinguish these from the material itself. As such we are currently developing new ways of tackling this issue."
This research and development capability is one of the defining strengths of Applus RTD. As opposed to purely supplying standard off-the-shelf equipment, the business is able to develop its own technologies to solve problems that require a more in-depth knowledge. As one of the oldest NDT companies on the market, experience is something that Applus RTD has in abundance – a particularly important element in an industry where expert advice and assessment is vital.
Whilst Applus RTD may be headquartered in Europe, the global nature of its office network means that it is able to provide a close localised service to clients wherever they are located. In particular, the company has been successful in the burgeoning pipeline markets of Angola and Brazil, and has recently established itself in the latter through the acquisition of Brazilian NDT and inspection company – Qualitec. As an integrated NDT technology company, Applus RTD's ability to tackle projects in all aspects of the oil and gas sector has also seen it gain global framework agreements with major integrated oil companies and contractors.
Alongside the huge oil and gas exploration effort in the areas such as Angola and Brazil, Applus RTD remains confident about further growth opportunities in markets such as Australia and Russia, as well as increasing its presence in Asia. However, a lingering reluctance within the industry to commit to new projects has been one of the core driving factors behind Applus RTD's shift from being an almost completely project driven company to achieving more and more of its revenue from the far more consistent, and regulation based, maintenance business.
With a thorough understanding of what its technologies can do, Applus RTD is actively working alongside the regulatory bodies in regions such as Europe and North America to feed this information into the system, which in turn is helping to redefine regulations. In particular, through its risk based inspection methods the company has been instrumental in the relaxing of certain early inspection regulations of LNG plants in Australia. "We believe that through better upfront assessments of what the risks are with a certain type of plant, we are able to establish when you need to take it out of production for a thorough check, and when it is admissible to do spot checks during operation. By removing these unnecessary maintenance cycles altogether, this translates into a huge cost reduction for our end clients," concludes Martin.
Applus RTD
Services: Non-destructive testing and inspection
---