Arctic Base Supply
---
Local talent
Spurred by the emerging Greenland oil and gas market, Arctic Base Supply was formed in January 2010 as a powerful new alliance between Danbor Service Group and Royal Arctic Line.
As Denmark's largest offshore base, the Danbor Group, which is in turn owned by Maersk, handles a variety of activities including supply bases for the oil and gas industry, liner agency, logistics, and worldwide support. Representing the other half of this partnership, Royal Arctic Line is Greenland's national shipping line and as such offers a full range of transport and logistics services in the area.
Through their respective activities, each company brings particular strengths to Arctic Base Supply as a whole. This includes Royal Arctic Line's extensive knowledge and expertise in navigating and operating in Arctic waters, supported by its own facilities and personnel in 13 Greenlandic harbours. Danbor Service Group's own employees are well versed in dealing with sensitive and difficult-to-handle goods, even in challenging and often unpredictable offshore conditions. The company is also able to undertake a whole host of different offshore-related activities from repair and maintenance of installations to logistics.
In terms of the Greenland environment itself, major industry player Cairn Energy has already made advances in drilling exploration wells, whilst other key oil companies like Shell, Statoil, Exxon and Chevron are all acquiring licences in the region. This activity is buoyed by the results of a US geological survey which has identified potential resources hidden across Greenland.
Created specifically to support international operators in the exploration and development of resources in this harsh climate, Arctic Base Supply was successful in its first year of operations in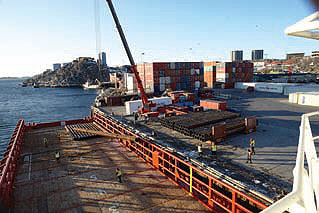 securing a contract with Cairn Energy. Crucially, Arctic Base Supply offers a unique expertise in the provision of share base facilities stevedoring, logistics, and transportation, enabling it to deliver a complete solution for the successful exploration and exploitation of oil and gas in Greenland. Last year was even more profitable for the business as it secured more work following a wave of high activity.
In comparison, 2012 sees Greenland undergoing a downscale in drilling and exploration works with a much lower level of activity. "One of the new areas that has arisen this year is the education of more local people. We have a contract with three major oil companies to supply them with specially educated people for the observation of marine mammals and seabirds (MMSOs) offshore during this summer's seismic campaign. As such, we have found 30 local people that are now currently undergoing training and education in Greenland, as well as in Denmark for specific offshore training," describes Steen Hansen, managing director.
The supply of local manpower is something Arctic Base Supply has been very successful in, and it is keen to make suppliers coming to the area aware that it is possible for them to utilise native people in certain activities. Sharing his thoughts on the importance of creating a culture around the oil and gas activity in the region, Steen adds: "We think its very important for Greenland to have local people educated so that they can in time take over jobs with the necessary skills and competencies and be part of the oil and gas industry. This is very much a new industry in the region and in the same way that it is being built from the ground up, we are establishing these skills from scratch. This has been one of the big initiatives we have been investing in over the last year, and will continue to over the next, the validity of which is shown in our successful supply of local people to the industry to date."
Another big issue in the region is the space to lay down equipment and infrastructure provision. Therefore Arctic Base Supply also plans to invest in upgrading some of these facilities, both at quaysides and key lay-down locations. "This is something we are working on to ensure there is sufficient and adequate lay-down area and infrastructure here for the future," notes Steen. "We are also spending a lot of time on upgrading our management system, as we recognise that it is very important to oil companies for suppliers to have an efficient and high quality system."
Whilst drilling volumes may have dropped, Greenland is seeing a different type of activity emerging this year. A number of companies are looking to carrying out seismic and data collection works which will help to identify future drilling sites. Given the complexities and expense of drilling in Greenland, the gathering of useable information is a key part in maximising returns.
Although Cairn Energy has been unsuccessful in finding reserves to date, Steen believes there is no dip in interest surrounding the region: "All of the major players in the market still have plans for exploration in Greenland. In a short time a new area in the East of Greenland will be up for licensing (KANUMAS), and we expect this to spark a lot of interest in the market. We are very confident that there is a future for oil and gas in Greenland. It is important to remember that this is still a virgin area and that data is still being collected at this point, and as only eight holes have been drilled so far we believe that a major discovery is possible in the next few years."
As such, Arctic Base Supply remains fixed in its ambition to become the preferred service provider for oil companies operating in Greenland. Having already established a strong reputation in its short lifespan, it certainly appears that the business is making good headway in this aspiration and is currently aligning and preparing itself for the next stage in the region's development. As more companies are attracted by the opportunities in the region, so Arctic Base Supply expects to grow further, and in the long-term perhaps may even look to provide its services to the exploration of other Arctic areas.
Arctic Base Supply
Services: Logistics and support
---