AS Nymo
Issue 07 2010
---
Top module
The roots of AS Nymo can be traced back to 1946 when it was established as a workshop, which it remained for ten years before it was acquired by JJ Ugland, under whose ownership it has remained.
Over the years following the takeover, AS Nymo has grown into a full-service engineering, procurement and construction company within the oil & gas industry. AS Nymo offers total solutions to customers and has earned confidence for reliability, quality, timely delivery, good project management and commitment to HSE excellence.
For more than four decades AS Nymo has acquired extensive experience in the design and build of offshore modules. The company's core business is today defined to be within these business areas: design, procurement, construction, transport and installation supervision of:
Drilling modules
Process modules
Smaller topsides
Accommodation modules
Gas turbine exhaust and air inlet systems
Subsea structures/manifolds
A new business area for Nymo is environmental technology, where Nymo offers NOx reduction by use of an exhaust gas recirculation (EGR) system. This is a well-known technology being used in a new application, and can offer reduced maritime NOx emissions of 30-50 per cent. The economically feasible standalone concept can be installed without engine modifications, and in addition, it offers fully automated operation with monitoring and diagnosis.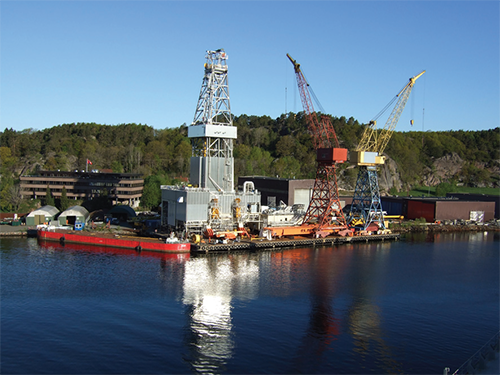 Based in Grimstad, Norway, AS Nymo boasts two sophisticated facilities, both in Grimstad and also in Eydehavn, where a skilled pool of employees carries out the construction of platforms, modules and subsea equipment. Both sites are also equipped for repair work to drilling rigs and conventional vessels, as well as the assembly of stainless steel and aluminium equipment.
The site at Eydehavn was previously an aluminium plant. It was rebuilt as a steel construction and shipyard in 1975, and AS Nymo took over the site in 1991. The facilities today comprise of a main assembly hall with 200 and 50 tonne overhead cranes for integration testing of subsea systems, miscellaneous halls for prefabrication and assembly, and sandblasting and painting shops. The 200-tonne crane also serves the outdoor area and reaches 10.5 metre outside the quay front for load-out purposes. In addition, the site is equipped with a seabed platform at a depth of 10.5 metres for shallow water testing and also ground transportation facilities of up to 250 tonnes.
The company's administration and engineering department is located at the headquarters in Grimstad, where access to the load-out area is excellent both for heavy lift vessels and offshore barges. This facility is equipped for the fabrication of modules of up to 5000 tonnes.
Located near the sea, Grimstad has developed trading in shipping and other maritime businesses. The shipping industry can look back on centuries of tradition and many ship owners still have their base in the town. A spin-off effect from this activity is the establishment of a number of smaller and larger businesses, plus a regional technical university is located in Grimstad, which gives local industry an additional advantage. This has contributed to Grimstad becoming a centre for ICT and high technology.
These two state-of-the-art facilities, alongside approximately 330 highly skilled employees, have seen AS Nymo acquire a reputation for one of the finest skill sets in the industry. Part of this reputation is founded on AS Nymo's proven track record in the welding of complex materials, and a specialty in drilling modules. It was in the 1970s when the direction of the company headed towards this area, due to the emergence and potential of the offshore industry in the North Sea. To this end, the company became one of the first suppliers of high-quality modules for specific projects. Since that time, the product portfolio has been expanded to include a substantial range of modules for management, engineering, procurement, construction and offshore hook-up projects. Amongst other purposes, modules have been fabricated for support deck frames, topside wellhead platforms, accommodation quarters, processing, compression, generating operations, drilling and mud handling, and various utilities. Indeed, in the drilling area Nymo has completed four significant contracts for COSL, with deliveries in July 2007, February 2008, February 2009 and December 2009. In the area of accommodation, Nymo has in 2010 delivered a 290 bed module to Flexmodule for Master Marine's vessel Service Jack.
This ability to deliver systems, solutions and products that are tailor-made and meet the exact needs of clients is another of AS Nymo's strengths. Oyvind Boye, technical manager, explains: "What we are adept at, and often get asked to do, is design these modules for the specific purpose that our customers require on their rigs. Of course, there are exceptions as one of our customers may want more than one of their installations fitted with the same concept, but in normal cases our designs are different."
By combining its advantageous location in the heartland of the Scandinavian oil and gas sector, its ability to meet clients needs and a staff of expertly skilled technicians, AS Nymo has forged a reputation for excellence, and works very hard to maintain its position at the forefront of the industry.
AS Nymo
Services: Platform, module, and subsea construction
---