Ascom Separation
Issue 03 2012
---
Advanced thinking made real
Separation technologies have long since played a crucial role in the oil and gas process chain, but modern challenges mean that this market is ever evolving.
Founded on solid experience within the upstream oil and gas separation business, for the last three years Ascom Separation has dedicated itself to creating a portfolio of high performance advanced technologies for the separation of gas, oil, water and sand. The basic principle for many of the company's technologies is to use density difference to separate individual constituent elements by means of a centrifugal force. Key applications for Ascom Separation's technologies include compact topside processing and subsea solutions for remote oil fields or de-bottlenecking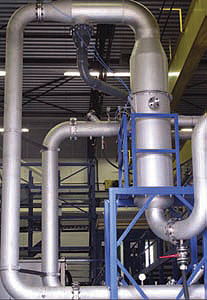 aging assets.
Whilst it may be a relatively young company in industry terms, Ascom Separation is operating at the very forefront of these requirements, specialising in pressure vessel based technologies, as well as in-line arrangements. Managing director Mika Tienhaara highlights how the business has been able to differentiate itself in such a short period: "All of the people within our company are professionals with a background in the oil and gas upstream sector, which gives us a real insight into this market. We also work in co-operation with our sister company ProLabNL, which is an advanced test and process simulation facility.
"This enables us to run technologies under realistic conditions and to test our prototypes, as well as verify performance. If we can map the level of performance under real conditions then we can feed this into our simulation and performance prediction models. Having this strong correlation means we can use computational fluid dynamic (CFD) to easily simulate different cases and predict the performance that can be achieved. There are no other technological providers within this niche that utilise this kind of advanced testing facilities, which gives us a real advantage," he reveals.
With its local market in the Netherlands relatively limited for separation technologies, Ascom Separation has quickly established itself as an international operator working with both major independent and national oil companies, as well as global engineering contractors. The business also retains close relationships with pressure vessel fabricators, which produce the structures to house Ascom Separation's technologies. Taking a more pro-active approach than some, very early on Ascom Separation secured co-operative agreements with established manufacturers in Nigeria and China, followed by its first joint venture factory Siklon Separators in Malaysia in 2010. This consists of a dedicated fabrication facility, as well as a sales and process design office based in Kuala Lumpur. The co-operation in Malaysia has, in the short term, created a high level of activity and also resulted in the first commercial Twinline unit. This is operating at approximately 80 barg pressure at Santos' Indonesian Wortel Field, which was recently reported to be operational.
This year Ascom Separation is emphasising its efforts in establishing an international network with a number of investments and co-operations in its key markets. The first of these is to expand its fabrication capacity into South Korea, working with a local manufacturer on a new facility. Whilst South Korea may not be an oil and gas production hotspot, it is home to many shipyards building floating production units, often on an EPC basis. By fabricating on a local basis Ascom Separation sees clear advantages in ease of integration from a logistical point of view, as well as enabling it to secure close contact with its clients. Elsewhere, Ascom Separation is forming a new fabrication joint venture in Oman in the Middle East.
Perhaps Ascom Separation's biggest coup though is its new agreement with Brazilian EPC and equipment manufacturer Jaraguá Equipamentos in Sorocaba, Sao Paulo district. Elaborating on the importance of this market to the company's overall strategy, Mika says: "Brazil is one of the biggest single markets for field development at present, not just in fabrication, but also engineering and R&D activities, which play a decisive role. This is due to very strong regulations around local content and promoting development within Brazil itself. Among Brazilian companies, Jaraguá Equipamentos is very much focused on advanced technologies, but what it lacks in its portfolio is separation technologies. Therefore, this agreement not only strengthens its own position, but also provides us with an entry point to the Brazilian market where we can deliver locally on fabrication, engineering and technology."
This is another example of how Ascom Separation's open thinking separates it from its competitors. As opposed to retaining all development activities within its headquarters in the Netherlands, with the basic technologies well established the business is keen to run local programmes with national oil companies focused on their specific needs. In that respect Mika highlights some of the current areas of interest for the business in accordance with market trends: "With subsea processing moving into ultra-deep waters we see a real need to come up with smart compact solutions, which is also something that is needed within the emerging field of offshore heavy oils, as well as mature fields.
"Across the world we are seeing that there is very little light crude and easy field development left, meaning that the areas left to explore are primarily heavy oil, which requires more subsea processing equipment to be placed on the seabed. This presents a different type of challenge as the density difference between heavy oil and water becomes smaller, meaning that we need to adapt our technologies accordingly and continue being ahead of the competition on innovation. We are also seeing an increase in the number of mature fields in the market, and with these assets you often see an increase in water and sand production meaning that these facilities need to be retrofitted and upgraded with modern technologies to ensure they remain viable."
With each of these separate elements coming together as part of Ascom Separation's underlying ambition, Mika concludes with his outlook for the future: "We would like to become the leading technology provider within upstream oil and gas separation for both compact topside and subsea processing. As such, we intend to grow rapidly and fundamental to this is our ability to offer the best technology from a local standpoint by having close partnerships with well established companies, delivering compact technologies to clients that trust our capabilities."
Ascom Separation
Products: Advanced separation technologies
---