Asian Geos Sdn Bhd
Issue 05 2013
---
Investigating opportunities
Established in 2003, Asian Geos Sdn Bhd (AG) is a Malaysian company providing geotechnical investigation and geophysical survey services, supporting the local and international oil and gas sector.
Initially the company was focused on building its capabilities and reputation working with Petronas Carigali, Murphy Oil, Petrofac, and Newfield, as well as oil majors, ExxonMobil, Total, and ConocoPhillips.
Ten years on, AG is a leading player in Southeast Asia, and the second largest offshore geotechnical drilling services provider in Asia in terms of soil drilling rigs and assets. It currently holds long-term contracts for offshore geotechnical services with Petronas Carigali and Murphy Oil. These contracts are strategically important to AG as a locally based oil and gas support provider.
In 2012 AG expanded into the business of 2D high-resolution geophysical surveying, which has helped to boost its revenue generation. "With the planned expansions and our entry into the underwater and deepwater markets, we anticipate the group's turnover to double within the next few years from $30 million USD currently," highlights Helmi Zulkawi, group managing director.
Helmi is in fact the company founder, and in order to elevate AG to the next level he staged a management buyout in 2011 to regain control of the business. Simultaneously he entered into a joint venture agreement with Gardline Geosciences Limited in the UK in March 2011. This saw AG participating in a 25 per cent equity interest in a special purpose vehicle established by Gardline in Singapore. In return, Gardline acquired a 30 per cent equity in AG.
"The growth potential for AG in Malaysia was rather limited, with the real opportunity actually within the rest of Asia. Hence the Singapore outfit, which is now a unit of Gardline, would be used as the platform to pursue and expand the geotechnical and geophysical businesses internationally. This alliance is a catalyst for our growth in this market, and even beyond, given the opportunity of promoting and securing international business," he describes.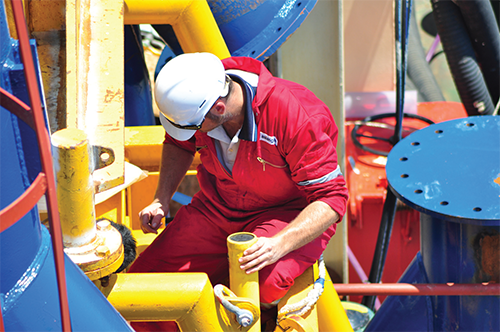 The partnership with Gardline has also enabled AG to acquire the DP vessel Geoasia, which is now being used to pursue opportunities in deepwater site investigations. The company also owns the dedicated soil boring vessel Geos, and newly acquired geophysical survey vessel AG Surveyor. These sit alongside the rest of the fleet currently operated by AG, which consists of the soil boring vessels Volans and lyzco Supplier, and survey vessel Dayang Sari.
"Our dedicated four-point mooring and DP drillships enable us to provide tailored investigations in the entire Asian offshore and coastal regions," highlights Helmi. "Our drillships are equipped with a drilling derrick positioned over the central moonpool making it a stable working platform during drilling operations. In addition, we own several mobile equipment sets to provide geotechnical site investigation and engineering solutions for jack-up rigs."
The company uses these assets to conduct offshore site investigations to acquire data that will facilitate successful foundation design, site or route selection, choice of foundation type, dimensioning, and installation and operational integrity of the proposed structure. These include production platform facilities, jack-up rigs, anchoring systems, subsea cables and pipelines, as well as various types of coastal and marine structures.
"Detailed geophysical surveys and assessments of the seabed and sub-seabed are critical to de-risking the cost-effective design of marine structures and subsea installations," notes Helmi. "The services typically involve a field data collection exercise, laboratory testing, and engineering analysis, but may also include consultation. We also have in-house capabilities to process analogue and seismic data and carry out reporting."
Traditionally offshore geotechnical drilling has been carried out using drilling systems mounted on either floating or fixed platforms at or above the water surface. However, as site investigations have moved into deeper water, there is a shift towards drilling systems located on the seafloor for greater efficiency and improved accuracy. Through a long-term agreement between Gardline and Canyon Offshore Ltd, specialists in subsea robotics, trenching and seabed intervention, AG has access to the Canyon ROVdrill. This provides the Group with an immediate solution to its requirement for geotechnical drilling, sampling, and CPT in water depths of up to 2500 metres within the Southeast Asia market.
"The demand for offshore geotechnical and geophysical services is dictated by the exploration activities of the oil and gas operators. It appears that the future looks very stimulating for the Malaysian oil and gas industry with billions of ringgit of investment going into risk service contracts, more discoveries of deepwater reserves, and upstream capital expenditure. This positive trend continues across Asia where services in the deepwater sector continues to be a key core market, while the shallow water sector remains very active but highly competitive," describes Helmi.
"We would like to retain our current dominant position as the leading preferred provider of offshore geotechnical and geophysical survey services in Malaysia. We therefore would strive to ensure that we are able to retain our existing framework contracts with Malaysian clients, especially Petronas. Another important aspect has been the development of our engineering capability. AG has recently formed a geo-consultancy unit to undertake geotechnical engineering studies and reports that are beyond the routine offshore engineering analyses. As the demand for seismic hazard effect and other dynamic studies is increasing, we are planning to enhance the testing capability of our soil laboratory to include advanced testing facilities for dynamic and cyclic loading testing capability by the second quarter of 2014," he concludes.
Asian Geos Sdn Bhd
Services: Geotechnical investigation and geophysical survey services
---