Audex Pte Ltd
Issue 104
---
Notable work
Audex Pte Ltd has enjoyed a successful and highly productive 12 months since it was last featured in European Oil & Gas Magazine in November 2012.
As an industry leader in engineering, procurement, construction (EPC) and project management consultancy (PMC), the firm has further strengthened its position in the Middle East as well as in Singapore with even greater notable projects.
"The past year has been an exciting journey for the company. We have successfully completed two tank terminals, amassing approximately 340,000 cubic metres of storage capacity and have also opened a 30,000 square metres workshop and fabrication yard in Fujairah," Mr. Leong Hoi Hoong, general manager of Audex said.
Another major project that Audex has recently secured is a piping fabrication and installation works contract in Jurong Island, Singapore. This involves the conversion of existing tanks for chemical storage, a new truck loading bay and the revamp of supporting ancillary facilities. "Though there is an emphasis to finish the project on time and within budget, workplace safety is of utmost importance to the company," highlights Mr. Leong. He also reports that this project is currently "on schedule and en-route to achieving a zero loss time incident record."
As of today, Audex's primary business is offering integrated engineering, procurement, construction and commissioning services (EPCC) for storage facilities in the oil and chemical industries. In this area, the firm has earned an excellent reputation for delivery of premium quality and value complete engineering solutions that meet or even exceed global industrial standards. Ultimately, partnering with Audex, clients can enjoy solutions that encompass the delivery of cost-effective, competitive pricing and unrivalled customer service.
In 1994, Audex was incorporated as a joint venture firm between Chiyoda Singapore and Plant Engineering Construction Pte Ltd. Over the years, it has greatly progressed to become an international, leading multi-discipline company with top-rated global standards in its field. During the middle of 2011, Audex's renowned reputation was additionally strengthened when it became a wholly owned subsidiary of PEC Ltd – a leader in international business provision for integrated trade facilitating services. This acquisition boosted Audex's success as the firm began leveraging on PEC's leading expertise, technology, strong financial standing to expand its business activities into greater worldwide markets and participate in larger upcoming projects.
Owing to a great synergy between the parent company and Audex, another major triumph of Audex's is the completion of Horizon Terminal Limited's $100 million oil terminal in Fujairah, which was commissioned at the end of May 2013. Handling Class-1, Class-2 and Class-3 petroleum products, this terminal has the capacity to store more than 240,000 cubic metres of oil and will further establish the Emirate as a key regional hub in the oil and gas industry.
"Audex was awarded a contract for the engineering, procurement, construction, testing and commissioning works for EFDTT terminal, primarily intended for facilitating Horizon Terminal Limited, a wholly owned subsidiary of Emirates National Oil Company Ltd (ENOC) LLC," explains Mr. Leong.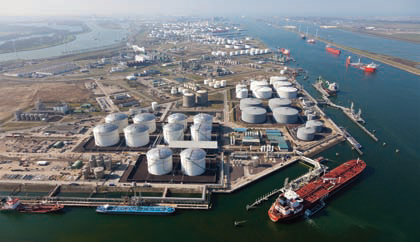 Working within a period of 22 months, Audex achieved a fruitful project mechanical completion for Horizon Terminal Limited's oil terminal and this was according to the tight schedule set. As a result, Audex was awarded a certificate of recognition in appreciation of the valuable contribution made to this project in 2012, as well as another certificate of recognition for best EHS performance in 2013.
With a list of past achievements under its belt, Audex has attained the status of a prominent and leading complete engineering service provider to global major industries. Nevertheless, the firm believes in striving for even better results and is fully aware of the latest opportunities, even in the Asian market.
"We are continually looking for opportunities to expand our EPC activities abroad through both new and existing customers and to ensure excellent delivery of our complete engineering solutions," elaborates Mr. Leong. "Through our combined efforts, Audex has managed to secure and complete projects in the South East Asia region and also the Middle East. In the meantime, we have also progressed into the African market."
When Audex last appeared in European Oil & Gas Magazine, the firm anticipated a specific increase of oil and gas activities in Indonesia, China, Vietnam and Myanmar over the next five to ten years. Subsequently, Audex has indeed made tremendous advances in these areas since then.
Mr. Leong elaborates further that with the discovery of several deepwater fields in Indonesian waters, this region "has quickly become Asia's top country for gas reserves, around 3.18 trillion cubic metres," and with this, "Indonesia's oil and gas industry has fast tracked," through "attracting many investors from around the world."
With Audex's expertise, vision and knowledge, it has been commissioned for several FEED design and EPC projects in Indonesia since 2007. Following the completion of a FEED project for an oil storage terminal expansion project in Indonesia, there are several ongoing discussions with one of the largest crude oil producers in the state for upcoming design projects in Surabaya.
On top of these developments in Indonesia, even greater opportunities have emerged in China. Presently, Audex has established offices in China, in Chengdu and Shanghai. In 2014 and ahead, Audex will be penetrating the Chinese market with additional projects through its team of highly experienced and certified engineering specialists.
"According to present developments, it is no doubt that we have witnessed a stable and steady growth in the Middle Eastern market over the years," added Mr. Leong. "Our future goal is to continually enhance our standing as a major EPC player in the oil and gas, as well as petrochemical industries, by tailoring complete engineering services according to industrial requirements."
Audex strongly believes in developing its commitment towards every client around the world and looks forward to deepening their partnerships in a long-term manner. The firm looks ahead to go the extra mile to achieve excellence, and will continue to work towards expanding its presence in new and existing markets as an oil storage terminal specialist so as to provide fit-for-purpose as well as cost-effective solutions for every industrial client.
Audex Pte Ltd
Services: Engineering, procurement, construction and commissioning
---