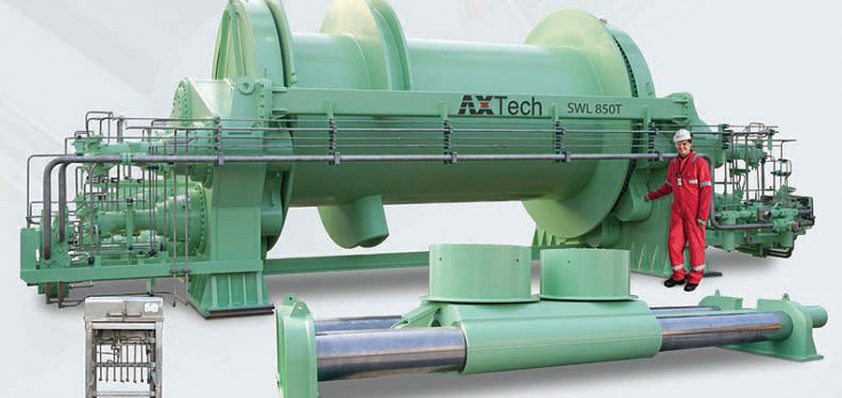 AXTech AS
Issue 03 2012
---
Far from standard
Built upon a frontline of key personnel with established industry experience, AXTech AS was founded in 2004 as a specialist in heavy lifting and handling equipment for the marine and offshore industry.
Today the company works primarily within three targeted business areas, the largest of which is subsea construction. AXTech's other core areas are riser handling solutions for floating production units, and large systems for lifting and over-boarding from vessel to sea, and sea to vessel.
The company has retained its traditional headquarters in Molde, Norway, where project management, sales and administration, and a heavy proportion of engineering is performed, but has also in recent years extended its network to two other strategic locations within the country. This includes a new start-up office facility in Kristiansund in 2011, which is strategically positioned in line with high volumes of offshore activity.
However, AXTech is also looking much further afield than just its home market, as managing director Richard Myhre reveals: "Since the end of 2011 we have formerly registered a new subsidiary office in Rio de Janeiro, Brazil, which we are building upon step-by-step. Most importantly is for the company to achieve all of the authorisation available for import, export, project management and after sales, and then as we secure direct contracts through that local facility we will look to employ the staff required to deliver these.
"Formerly we also have three established centres with agents, one of which is also located in Rio de Janeiro. The others are in Houston, US, and Singapore. In Malaysia we are working together with a local company primarily for after sales and inspection services in that region, and have established an engineering subsidiary company in Poland," he adds.
Given AXTech's areas of expertise, the company's largest client base consists of major subsea construction companies such as Technip, Subsea 7 and DeepOcean, and FPSO operators like BW Offshore, OSX, Bluewater, Maersk and Teekay. This is supported by co-operative working in new market areas that have stemmed from subsea construction such as the industry of subsea mining and trenching. To this end, AXTech has built up a strong relationship with Newcastle-based Soil Machine Dynamics (SMD), which in 2011 saw the company land its largest contract to date.
The overall scope of this was for the provisions of three Launch and Recovery Systems (LARS) for the handling of Seafloor Production Tools (SPTs). The LARS themselves consist of A-frames, winches, sheave units and hydraulic power units, with a handling load capacity above 300 tonnes between vessel and seabed at a maximum operating depth of 2500 metres. With the contract well underway ahead of its scheduled completion of the end of 2012, Richard highlights the progress that has been made: "The project is continuing as expected, and has actually grown outside of the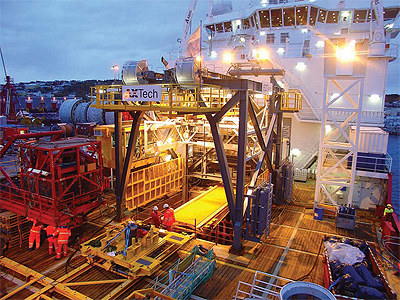 initial agreement in terms of size. By summer this year we expect 70 to 80 per cent of all deliverables to be finished. As a result of this success, we are now looking at similarly sized contracts in the near future, although these are likely to be for a completely different product and market, but remaining within our three targeted segments."
Designing equipment that is capable of dealing with such large loads at great water depths has been an exciting challenge for AXTech, but one that is in keeping with the company's strengths to date: "Our concept is definitely for very large, tailored and specifically engineered equipment, which is often designed for special performance or high load demands. Although we may have a relatively short company history, I think the company is already recognised by clients as having experience in solutions that are outside of the normal range of things," comments Richard.
This is perhaps testament to the fact that AXTech has overall seen steady growth since day one, with its main limitation to organic growth due to the variety in timescales and well spread nature of its contracts. This success is partly driven by the rising oil prices coupled, with the overall global need for energy, and therefore the move to exploring reservoirs that are deeper and smaller than those commercialised in the past.
"Already we know that the turnover for 2012 will be at least double to that of 2011, and we also have significant orders for work all the way up to 2014," reveals Richard. "Therefore at present we're ahead of our ambitions to see steady growth of around 15 per cent per year. As a company our focus is primarily on the client, and where they are present, but in general we are targeting areas such as the southern Far East, Asia, Brazil, where we believe many of the opportunities over the coming decade will stem from."
In order to best take advantage of these, and secure the next phase of AXTech's evolution, the company recognises that one of the most important aspects is to maintain the personnel skills it was built upon. With many of these in short supply in the market though, AXTech is keen to ensure that its offering is as attractive as possible to prospective employees. Likewise, the company is also actively expanding into locations where engineers are more readily available, such as its facility in Poland. This provides it with the flexibility of an independent engineering resource undertaking specific tasks, that is also closely linked with the overall workings of the company as a whole in delivering innovative engineering solutions.
AXTech AS
Services: Lifting equipment
---