Backers Maschinenbau GmbH
Issue 08 2012
---
Star quality
Supported by great trust and superior long-term cooperation between itself and its clients, importers and suppliers, Backers Maschinenbau has grown over the years into a flexibly designed, future orientated business.
Built upon its most important guiding principle, that quality is when the customer, not the product, returns, the company's starscreen technology has gone on to be successfully employed over 20 years of production
With a history that dates back through seven generations of the Backers family, it was in 1956 that the first white turf cutting machine was designed and constructed by one Hermann Backers. In the subsequent decades these machines became a bigger fixture in the market to the point where, by 1990, 300 of these machines had been made and supplied, a figure that to this day represents the largest number of mobile tracked-traction turf cutting machines in the trade. During this time the company also manufactured more than 70 different items of earth leveling equipment and 15 items of earth moving equipment.
Today the business is overseen by managing director, Heinz Christian Backers, the man responsible for designing and constructing the first starscreen machine back in 1989. It was following the introduction of larger starscreens measuring 300 millimeters in diameter, that the company was first able to establish this technique on a wider basis.
As a result of ongoing improvements, these starscreens are now utilised in an extensive number of applications with the equipment able to screen turf, compost, shredded timber, tree bark, topsoil, subsoil, stony ground mixtures and railway track ballast. As of today, the product range includes wheeled mobile, tracked mobile, combined wheeled and tracked mobile sledges, as well as grab mobile starscreens with a screen deck (2-fractioning) or with two screen decks (3-fractioning). In the meantime, stationary starscreen equipment has been specially designed to be integrated into larger plants and environments, for example quarries and recycling enterprises.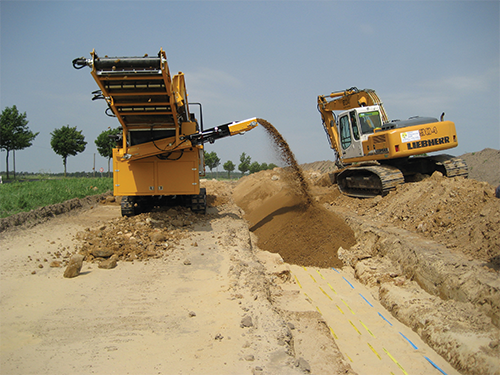 Some of the more recent developments in the company's evolution occurred in the years 2005 and 2006, first with the introduction of its mobile tracked-traction starscreen machine, the 3-ta17 Tiger. With a screen width of 1.7 metres and weighing in at 30 tonnes, this represented Backers Maschinenbau taking its starscreening technology to a whole new dimension. It was around this time that the company also unveiled its 3-mbtc sieve-screen mixed unit for road construction and civil engineering purposes. It was then during the first few months of 2006 that the company went about further extending its product range with a sieve-screen mounted grab lift vehicle.
When it comes to the company's work on behalf of those clients operating within the oil and gas sector, there are two particular models of its starscreen range that have become almost invaluable. Backers Maschinenbau's pipeline padder is its starscreen 2-ta model, which has been developed to be positioned on tracks and is able to screen into two separate fractions. Able to drive along the ditch of the pipe in question, the machine has been designed in such a way that it is able to screen along hilly terrains up to ten degrees.
The actual capacity of the pipeline padder is very much determined by a series of factors including the terrain, screening size and the type of material being used to pad the pipeline. At a level of 15 millimeters the machine's capacity can register at up to 150 tonnes per hour, whereas at 20 millimeters this increased to approximately 200 tonnes per hour. At the other end of the scale, the finest size that the machines can screen is five millimeters.
The starscreen 2-ta is predominantly used for pipeline padding, however it can also be used to screen other mineralical material such as building rubble or organic materials like compost and wood chips: "The fundamental advantage of using the starscreen rather than other solutions on the market is the fact that not only is it able to screen dry materials, but also wet material of a fine size and a height throughput," Heinz explains. "Furthermore, the machine, due to its manageable size and height of only 3.3 metres, can be easily transported between locations making it a reliable, flexible solution to a customers' pipeline padding needs."
The other model often utilised for oil and gas based operations is the starscreen 3-mtbc, a lime/chalk (powdery) mixing unit. First developed in 2005, the machine works to stabilise the soil with lime, cement or other additives prior to the construction of underground projects and roads. What customers find is that the use of the 3-mtbc greatly reinforces and improves the quality of the soil, with the shifting-off of the course material being of great advantage since all particles larger than 60 millimeters are removed. The actual percentage of the mixture can be adjusted between one and ten percent in combination with the machine unit, while the machine can easily maneuver through difficult terrain thanks to its crawler-type undercarriage.
In addition to stabilising soil, liquid soil/bed can also be produced by adding a mixture of compound and water. This excellent self-compacting building material is used especially in the construction of pipelines, roads, underground construction, canalisation and the construction of dikes. Mixing trucks are used to transport the liquid soil directly to the construction site.
A standardised filler material that is utilised where the filling and sealing of pipes is required, liquid soil/bed hardens after a predefined period. Although it hardens relatively quickly in comparison to other materials, often able to be accessed after ten-to-fifteen hours, the final strength of the material is rather low. What is often found is that after application, less digging and road reconstruction work is required than if alternative materials are used. This results in a reduction in work time and overall construction costs.
Liquid soil possesses unique characteristics that make it extremely practical to use. One of the biggest advantages of this material is that when in liquid form the soil can reach virtually every hollow area, spreading out evenly to produce a hardened mass that fills the area completely leaving no holes. Liquid soil used in the construction of pipelines is also advantageous since the pipes are only subject to a minimum load that causes the pipes to sink less. This provides the roads with more stability as they react to elevation and sinking equally. Therefore the effects of road traffic on the piping are greatly reduced, lengthening the amortisation period for not only the pipe but also the road.
With a mixing output of 150 tonnes per hour the starscreen 3-mtbc is a highly flexible and efficient system that is able to shift both mineral and organic materials. The mixing unit can also be easily replaced with a second fine screen deck. In addition to this the machine also boasts the option of deciding with it is used for sifting and stabilising, or for sifting into three fractions.
What has remained consistent throughout the company's existence is its commitment to maintaining the highest levels of quality throughout its operations. It is this approach that has helped successfully establish the business and its products in numerous export markets including Germany, the Netherlands, Belgium, France, Italy, the UK, Spain, Portugal, Sweden and Norway, as well as Japan and Australia where sales are conducted through its distributors.
Backers Maschinenbau GmbH
Services: Screening and separation machinery
---