BHDT GmbH
Issue 103
---
The whole solution
With the pressure for business development and growth at an all time high, BHDT has been taking growth in its stride.
Having expanded into its role as a key manufacturer and supplier to the oilfield market, European Oil and Gas Magazine spoke with project manager Wolfgang Lussner in June 2012 about BHDT achieving a balance between its traditional approach and future progression, and 16 months on, there have been significant changes at the business.
Between 2009 and 2012, alongside customer growth and product development, BHDT actively pursued its premises growth with the purchase of a new workshop and new properties for future expansion. The challenge, reiterated by Wolfgang in the previous feature, was to maintain the high quality and reliability that it is renowned for, whilst increasing its speed of operation.
In an industry that relies on the highest quality materials, manufacture and testing, it is essential to have state-of-the-art production processes. To conform with the standards required and expected by customers and industry, one of the steps in the process of manufacturing high pressure systems and components is to perform destructive material tests and non-destructive examination at its premises, alongside an array of other standard examinations. Since entering the market, it was of fundamental importance to BHDT to improve all aspects of the different processes needed to deliver such critical parts as, for example, high pressure piping for swivel systems on FPSOs.
Whilst retaining overall interest in design, purchasing, fabrication and quality control, in the time since the last interview, BHDT has invested €5.9 million into its growth with two main developments. The first of these investments was made with the focus of equipping the business to tackle the increasing demands of quality assurance imposed by the industry and demanded by its customers. BHDT has used its investment to commission a new building of 700m2, constructed solely to house its development and growth of product control. BHDT now provides the additional space to nurture and grow in this area, with the testing of industry specific high-pressured materials in a uniform fashion alongside the manufacturing process.
By drilling to the core requirements of its customers, BHDT has displayed understanding in its desire to provide the market with adaptable components and systems based on quality. Using the same strategic approach for the design and development procedures of its products as it does with business strategy BHDT is showing outstanding results both in production and growth.
Its policy to improve the business as a market leader for the entire product field by using top technology and quality has been supported in its investment in an innovative fatigue testing machine, which offers high frequency pulsation testing of new materials with pressures to 4000 bar, allowing the business to meet the global demand of the capacity increase that the industry is experiencing.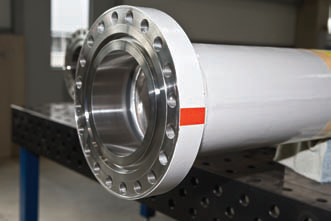 Alongside quality, its president Dr. Harald J. Aichhorn recognises the importance of the development of technology, and has actively sought to further this area of the business. A large part of the investment, mentioned previously, has been made in the acquisition of two new deep hole-drilling machines – doubling the capacity of its deep hole-drilling. The increase of its high precision drilling operation allows BHDT to comfortably meet the demand to manufacture high-pressure tubes up to 21m in length with a drilling diameter from 20 to 200mm. The modern production equipment and the knowledge of its highly trained work force permit the treatment of a range of materials, whilst allowing very small fabrication tolerances.
BHDT produces a wide product line of flanges in all sizes, including weld neck, blind, cladded and swivel flanges, but has further developed its range of compact flanges. This design offers outstanding benefits in situations where weight and stress are critical factors in pipe design. In comparison to the ANSI flange connection the compact flange range can save up to 80 per cent of weight, withstanding high bending and tension loads without leaking. A massive benefit of this is the reduction in time spent on retightening bolts following such stresses on these joints in systems. BHDT is also offering a 100 per cent leak free connection in its range of metal-to-metal connections with special steel seal rings, providing three sealing surfaces in one joint. The development of this range is providing a secured future for high-pressured installations.
Having developed a key working relationship with the specialist coating company, Stieg GmbH, the last 16 months have continued to show increased demand within the oilfield equipment market. The willingness of the company to adapt to demand and produce industry ready products is proving an influential trait in the market.
In recognising the importance of knowledge development, and adhering to its direction of working closely with its customers, BHDT has recently involved itself in workshop training. This equips it to offer in-depth instruction on an array of its products.
As the industry rolls into 2014 BHDT is looking towards its own role. Continual growth, and developing its core infrastructure to maintain its position as an industry leader will feature heavily in its scope, and by working closely with its customers BHDT is continually reviewing their fundamental needs, which will drive the business forward through the next year.
BHDT GmbH
Services: High-pressure equipment and high-pressure components
---