BJ Services Company
Issue 03 2010
---
Poised for growth
Operating across virtually every major oil and gas-producing region in the world, BJ Services Company is widely recognised as a premier supplier of field development and production enhancement services to the energy industry.
Established in 1872 by inventor Byron Jackson, the company went public in 1990 and has since grown to offer one of the most diverse oilfield service portfolios in the market. By providing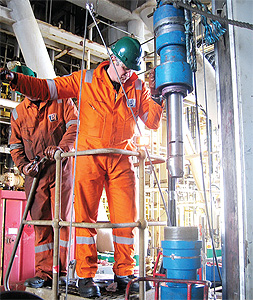 industry-leading technology with high levels of customer service, environmental stewardship and safety, and through careful and selective acquisition of other oilfield technology providers, the organisation has been able to strengthen its position and influence in more than 50 countries worldwide. Currently, BJ Services Company globally employs 14,500 people with a range of specialist expertise in industrial and production chemicals, process and pipeline services, tubular and casing running, completion tools and fluids, pumping services and tool services.
Following the aim to be considered the best service company on the continental shelf, the BJ Services Norwegian division has been operational for 44 years. Its predominant focus lies in safe, efficient delivery of well intervention services and cementing technology, but expanding service capabilities is a constant goal. Speaking in December 2008, Arild Helleren, who had recently taken over the managing director position in Norway, stated his vision for the company: "Although we are a complete services company, at present we are mainly known for cementing, completion fluids and coiled tubing services in Norway. In order to raise customers' awareness, we will take the corporate menu and gradually begin to talk to the customers and relations we have, becoming more visible in the market. By showing references on work previously completed and promoting our proven technology from the global market, we anticipate that people will start realising our potential."
Since then, BJ Services has successfully weathered an industry-wide challenge in the form of the global economic crisis and a down-cycle in the global oil and gas market. Arild explains: "When we last spoke we had just laid out our short, medium and long-term perspectives, and I believe that these helped us maintain our successful position in the market. Even during the downturn, we retained specialist personnel we knew we would need when the market came back to normal levels – as it always does. This attitude has greatly paid off, as we have secured arguably the largest coiled tubing intervention contract in Norway, if not the North Sea. Obtained in October 2009, during the medium-term phase of our strategy, we have potentially doubled our financial base for 2010."
This project is a multiyear coiled tubing service contract for Statoil ASA, covering all aspects of its operations on the Norwegian Continental Shelf. Covering four years of service with a further two two-year options to renew, the project provides BJ Services with the opportunity to prove and even extend its coiled tubing technologies and experience. Statoil ASA persistently challenges its suppliers to provide the best energy solutions with the lowest environmental impact. These challenges fit nicely with BJ Services' goals and capabilities. Through its Coiled Tubing Research and Engineering Centre and a variety of global, regional and district laboratories and engineering teams, BJ Services has dedicated considerable resources to developing and proving efficient, useful
coiled tubing tools and technologies that save customers time and money, and minimise impacts on the environment. Indeed, as a result of this prestigious contract, the company will be assembling a substantial portfolio of new equipment and assessing the need for further recruitment for the start date in October.
"This significant contract sends a distinct signal that the industry is starting to take off again, and we are now entering the long-term phase of our strategy," says Arild. "We look for continued growth in our key product lines as well as considerable new opportunities to solve problems that are only just appearing as fields mature, as environmental conditions change, and as operators begin to develop more challenging oil and gas fields. BJ Services provides extensive experience with mature fields and extreme conditions, and is a leader in helping customers develop and optimise shale and other unconventional gas fields, which are growing in importance across Europe. Our broad technology portfolio and job history demonstrate our leadership positions in these areas, while our size gives us benefits that smaller companies cannot match, in terms of global technology and knowledge transfer."
Moreover, BJ Services is expecting to build on its global brand following its acquisition by Baker Hughes (expected to close in March/April 2010). This merger combines the leading pressure pumping business of BJ Services with the diversified international franchise of Baker Hughes to enable more effective tendering for integrated projects and accelerated international growth for both entities. The companies have worked together on a number of major contracts over the years and this move facilitates the aim to be more efficient, effective and diversified in serving clients. Chad C Deaton, chairman, president and CEO of Baker Hughes commented: "BJ Services broadens our portfolio by adding products, technologies, and talented people that are key to helping our customers unlock value in their reservoirs, particularly in unconventional gas and deepwater fields. It will better position us to drive international growth and to compete for the growing large integrated projects by incorporating pressure pumping into our product offering."
Such a move has strengthened BJ Services and its ability to compete in the market, while its existing service expertise speaks for itself when it comes to obtaining new clients. The Statoil ASA project is a clear accolade for the company setting it apart from its peers and enabling both internal and portfolio growth. "Of course, we are always looking to develop and prove new technologies that will solve problems for our customers. BJ's success is built on our renowned excellent performance and quality, as well as flexible customer service and problem-solving ability. As a result, the BJ Services brand has a lot to offer the market, and there are copious opportunities for the future. We are in talks with a number of customers and are confident our services will continue to meet the demands of the industry," Arild concludes.
BJ Services Company
Services: Pumping, tubular and pipeline services
---