Boa Group
Issue 03 2010
---
Navigating Success
The Boa Group is a family business, which has been providing offshore services since the 1970s. The company started its activities with operation of harbour towages and general services to the marine industry along the coast of Norway.
Today, the main activities for BOA are:
Sea transportation on barges on a worldwide basis, in particular offshore modules, drill barges, rigs and other floating objects needing transport by float-on float-off methods
Load-out and launching of heavy objects including dry-docking of rigs
Rig moves and general supply to the offshore industry
Subsea installations and construction work
Provision of harbour towages and terminal operations in the ports between Trondheim and Kirkenes
Coastal towages along the Norwegian coast, mainly in the middle and northern parts of Norway
Salvage operations along the Norwegian coast. Since 1975, the Group has successfully carried out more than 130 salvage operations, most of them on a 'No Cure – No Pay' basis. The company is a member of the International Salvage Union (ISU), where membership is only awarded to companies with a certain record. All tugs used for salvage operations are equipped with salvage pumps. Other salvage equipment from its main storage building as well as rescuers/divers/staff can rapidly be brought to the emergency area by means of helicopter owned by the affiliated company, Helitrans AS
Provision of divers for underwater inspection and maintenance
Officially titled Boa Holding AS, the Boa Group's operations and fleet are managed by Taubatkompaniet AS, a Norwegian organisation that was founded in 1975. The main office for Taubåtkompaniet AS and the Boa companies is situated in Trondheim, Norway, and its experienced staff and crew offer clients service on a 24-hour basis, 365 days a year. From this main office in the central part of Norway, the company is engaged in locations all around the globe, assisting leading offshore operators in a great variety of operations, including chartering operations and engineering.
Over the past 35 years, the Boa Group has gradually expanded and is today operating a diversified fleet of about 40 units consisting of modern tugs, offshore vessels, three modern and unique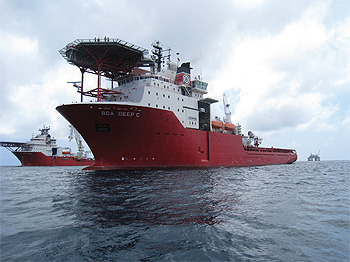 construction vessels and both flattop- and semi-submersible barges. The group also operates two custom-built seabed logging ships, one delivered in December 2008 and the second vessel delivered in July 2009. The Boa fleet also includes three Ropax Vessels operating worldwide.
As a result of this extensive range of vessels and experience, Boa is known for its ability to successfully undertake a wide-range of projects, such as sea transportation on barges on a worldwide basis, with a focus on offshore modules, drill barges, and rigs as well as other floating objects needing transport by float-on float-off methods. The company can also load-out and launch heavy objects including dry-docking of rigs, and organise rig moves and generally supply the offshore industry.
The group also has an extensive new building programme under way. For example, in July 2009 Boa Galatea was delivered from Bergen Group Fosen. Boa Galatea is the world's second purpose built EM survey vessel and the vessel is chartered by EMGS on a long-term contract.
The client's survey capacity is substantially increased by the vessel's high speed, large fuel capacity, extensive storage capacity, low fuel consumption and extended weather operation window. The vessel's features include sheltered deck and workspaces, a cinema, a helicopter deck, a hospital ward, conference facilities, a gym and modern workstations with broadband connection.
With regards to newbuildings, the Boa Offshore AS division – that was created back in the early 1980s – has an impressive order book. The programme consists of four VS491CD design AHTS, four VS495 DEM MkII design MPSVs, one MT6007MkII design PSV and two MT6007 design SBL vessels. All of these are state-of-the-art, designed to meet all new requirements for the offshore industry, with focus on safe operation, low fuel consumption and minimised emissions.
The newbuilding programme also includes a barge fleet renewal and extension, all with a new design developed by the company's group of in-house engineers with the support and input by clients and partners. A total of eight large semi-submersible barges and six flat-top barges have been ordered. Of these, three semi-submersible barges and four flat-top barges have been delivered. The remaining semi-submersible and flat-top barges will be delivered over the next few years. The latest newbuilding order by Boa Offshore AS is for four Rampart 3200 design tugs, all of which are scheduled for delivery in 2009/2010.
As highlighted above, the Boa Group can offer clients the option to charter its vessels, and its Chartering Department consists of first hand experience in the full range of support activities to the shipping-, oil- and offshore industries.
The chartering team includes the following services, to name a few:
Spot and term requirements for PSV/AHTS vessels
Offshore construction support (ROV/diving support/crane operations)
Heavy-lift transports, basis tug and barge combination
An exciting new development for Boa Offshore occurred in July 2009, when the company increased its activities within subsea installations and offshore construction services through a newly established company called Boa Marine Services Inc, located in Houston, Texas. Boa Marine Services will provide construction and contracting services related to fixed and floating offshore platforms and subsea field developments. The services will be based on the Boa Group's own fleet of vessels and barges, its long experience, and long term relations with its clients. The services provided by Boa Marine Services will include transportation and installation of modules, structures and platforms, topsides transportation and installation, including topsides float-over operations, jacket load-out, transportation and launching operations, abandonment and decommissioning, subsea clean-up and dive support, subsea construction and WROV inspection, maintenance and modification services, towing services, MODU and FPU moves, harbour and offshore floater and shuttle tanker support, floater support, anchor handling and mooring installations, dry docking by submersible barges and supply services and lifting operations.
Boa Marine Services will have a local team of skilled project managers and engineers bringing together design, procedures and equipment in the execution of projects and operations. Together with the head office in Trondheim, Norway, Boa Marine Services will provide its clients with long term solution-oriented services, in a safe and cost effective manner.
Boa Group
Services: Offshore services
---