Britoil Offshore Services
Issue 05 2011
---
Hands on approach
"Our current fleet is made up of 30 anchor handling tugboats, two towing tugs, seven material barges and one light product tanker," reveals Stephen Hill, corporate manager of Britoil Offshore Services, "we also own our highly automated shipyard in Batam, Indonesia where we build all our own new builds."
With over 25 years of experience in anchor handling, towing and transportation Britoil is well versed in the handling of modules, offshore structures, cranes and heavy lifting equipment: "Our main clients are construction companies related to the offshore oil and gas industry," Stephen explains, "we operate within the development stage of oilfield lifecycles while doing a small amount of work in the commissioning stage. The nature of our fleet means we operate mainly in the offshore construction sector.
"The company's main business is the ownership and management of its fleet of tugboats and material barges," highlights Stephen, "we have great expertise in the area of supporting pipe-lay operations. We also offer services related to towing and we have undertaken a lot of this work throughout the years, be it from modules on our own barges or third party rigs and semi-subs. We also do a limited amount of salvage work."
The company's main competency is in the area of anchor handling together with the transportation and logistical control of pipes for pipe laying operations. With a worldwide reputation for completing projects on time and to budget without incurring loss or damage, specifically built pipe barges allow the company to offer a complete operational package backed up by 25 years of expert experience.
Britoil Offshore Services' shipyard, PT Britoil Offshore Indonesia, was originally set up as a maintenance and repair yard where the company could moor its vessels and carry out any repairs necessary. Traditionally its vessels were built in China, however after experiencing a number of issues involving delivery time and the quality of work carried out the decision was taken in 2005 to invest in the Batam yard so that the company could build its own vessels there.
"We made a concerted effort to develop the yard to European standards using a very high tech model," Stephen adds, "we have a totally automated panel line and all our pre-fabrication equipment is from Europe making it a very high quality shipyard. In conjunction we also have a design department which allows us to design and 3D model all the vessels we build using the Tribon modelling system."
Britoil Offshore Services has a diverse range of vessels each with their own unique specifications, the smallest of which is the Britoil 18, a shallow water anchor handler that has two diesel engines producing 720 BHP each. The largest vessels within the company's fleet are the Britoil 120 and Britoil 121 that can each generate up to 12,240 BHP. Delivered at the beginning of 2011, these ocean going, anchor handling and towing tugs can hit top speeds of 15 knots, have an endurance of 11,700 nautical miles and comes with Converteam DP 2 equipment as standard. Two new 7200 BHP anchor handling vessels, the Britoil 70 and 71, are currently being commissioned and will be ready in May 2011 while the Britoil 72, a sister vessel to the aforementioned pair, is under construction.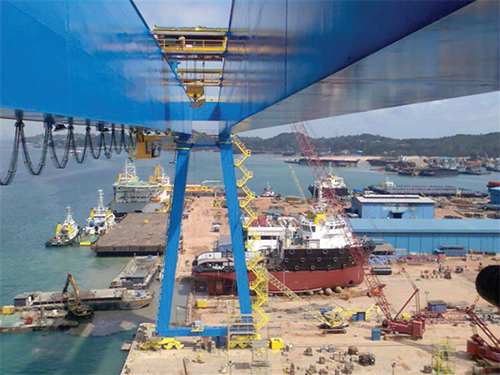 "One of the main things that makes us stand out from our competitors is that we maintain a very new, modern fleet," Stephen enthuses. "Our average fleet age is less than five years and this gives us better reliability. In order to maintain this young fleet we have to continue building new vessels and adding them to Britoil's fleet. By building our own vessels we can incorporate the latest technical features that the market is asking for and this strategy sets us apart from a lot of other companies.
"In addition to this we also place a high emphasis on crew retention and providing detailed and comprehensive training with a particular emphasis on safety. In March 2011 the company opened its own training centre in Manila, where it sources most of its crew, and this runs alongside a cadet scheme the company set up to ensure it obtains good highly qualified officers. When potential officers leave college Britoil brings them aboard its fleet as a cadet and in turn the company gets a steady stream of qualified, enthusiastic employees."
Looking at the market as it stands today, Stephen sees a number of positive signs that should pave the way for a increasingly successful future for Britoil Offshore Services: "Our fortunes are intertwined with the price of oil and, baring any major shocks, this is expected to rise continuously over the next five years or more. We also foresee a situation in the not-too-distant-future where the demand for oil and oil industry services will exceed supply and this will be the driving force that keeps oil prices up and keeps business growing."
To capitalise on growing markets, Britoil Offshore Services is looking at various plans to expand in terms of both its fleet and its shipyard facilities as Stephen professes: "From the fleet side the intention is to diversify more into the exploration and production sectors of the oilfield lifecycle. To do this of course Britoil has to continue to diversify its fleet and the company is now looking into building a number of platform supply vessels to incorporate into its fleet while maintaining its anchor handling activities.
"Asia is certainly going to continue to grow as a net importer of oil and the result of that will be an intensifying of investment by Asian countries in their oil and gas industries and that bodes very well for the services Britoil provides," Stephen concludes. "As this market expands, Britoil Offshore Services is in an ideal position to consolidate and expand on its already strong presence in the sectors it operates in, however the company does want to continue to have a global reach. It has participated in operations on South America, West Africa, Europe and Australasia and definitely wants this trend to continue."
Britoil Offshore Services
Products: Anchor handling, towing and transportation
---