C-MAR Group
---
Master mariners
Founded by two master mariners in 1989, the C-MAR Group is an internationally renowned service provider offering a comprehensive range of specialist capabilities
Aiming to provide clients with a life of asset service, the C-MAR Group is divided into four divisions – Marine, Engineering, Training and Consultancy, and is capable of delivering client-specific solutions on a global basis. Well-established in the marine and energy industries, the C-MAR Group works with its clients to maximise their operational efficiency, as well as addressing the challenges of these markets. Today the company has 14 offices in ten countries, employing approximately 150 office personnel and 1000 offshore marine crew and subsea engineers.
"We're the only company in the world that provides the scope of services that we do," explains Mike Hawdon, group marketing manager. "These services cover the full life of a vessel from shipyard assistance, vessel design and construction, and initial sea trials right up to crewing, vessel management and upgrades, and failure modes and effects analysis (FMEA)." Within its engineering department, the C-MAR Group combines subsea and dynamic positioning expertise to create integrated engineering solutions that meet the challenges of the modern marine, and oil and gas industries.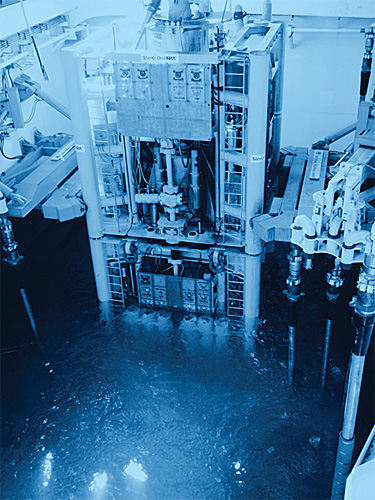 Currently the C-MAR Group is focusing on fully utilising its global facilities, as well as building on each aspect of the business across this geographical network. "Because of the wide range of services that we offer, often even long-established clients aren't aware of the full scope of our capabilities. For example we are very established in the Middle East on the consultancy side of the business, but are now looking to further develop the other divisions to support this. Through our different divisions we can operate as a one-stop-shop for many clients, and one of our key aims is making these customers aware of exactly what we can offer their businesses. Although we can provide all of our services remotely to any country, with the scope of the business that we supply, having the range of offices that we do gives us a far greater capability to offer our life of asset services. Naturally it is much easier to work with clients through a local presence, and in some of the countries we operate in, this capability is essential," elaborates Mike.
One of the C-MAR Group's core competencies is in dynamic positioning (DP) services, as Mike highlights: "The DP sector of the marine industry is very fast growing, and this is one area that historically the C-MAR Group has really specialised in. Drawing on the experience of the company founders, we've become experts in all aspects of DP services across our four divisions, including the crewing, management and technical requirements of these vessels. As a company we have thousands of mariners on our books that are very experienced in working on DP vessels, either from an engineering aspect or as marine officers, so we pride ourselves on that fact that very few companies can compete with our expertise and service range with regards to these vessels."
With more and more vessels being built and launched with DP capabilities installed, the C-MAR Group's DP training services are becoming ever more sought after. The company operates five DP training centres in London, Croatia, Mumbai, Singapore and Brazil, offering both basic and advanced courses for DP operators, as well as tailored courses for onshore personnel involved in dynamic positioning. "We are one of the leading providers of Nautical Institute accredited DP training courses in the world," notes Mike. "This year we are set to train approximately 2500 DP students, including both students from major vessel operators, owners and agencies, and private students looking to gain work on DP vessels." These DP centres also provide technical services to the marine industry, though consultancy for the design and operation of DP vessels and FMEA's.
Despite the economic downturn, the C-MAR Group has seen substantial growth across all divisions of the business, with new staff being taken on in many offices to meet the demand for the company's services. "Although we felt some of the effects of the recession through our clients, it didn't actually affect us directly. In particular new-build shipyards faced substantial difficulties in gaining bank loans for projects, which in turn affected the rest of the industry. We have remained incredibly busy throughout most aspects of the business, with some of our offices achieving major levels of growth in line with market demand," says Mike.
With this in mind, he concludes with the C-MAR Group's strategy for continuing to develop the business: "Particularly the marine crewing aspect of the business is one area we aim to focus on in the future. Currently our main crewing office is located in Aberdeen, but we are in the process of establishing a similar facility in Singapore to enable us to meet client demand on a local basis. Our Brazil office has been open for several years now, and is growing rapidly in securing new business including several exclusive agreements with Brazilian shipyards to provide all of their FMEA's. We're also undertaking a substantial amount of subsea and engineering work within the area. Although we're looking to continue to build on the growth of all of our global facilities, we are particularly concentrating on our services in Brazil, the Middle East, India and the North Sea in 2011, with the aim to develop new clientele and increased turnover in those areas."
C-MAR Group
Services: Marine, engineering, training and consultancy
---