Centravis
Issue 106
---
Piping hot
The history of the company dates back to 1960 when the first extrusion line was constructed at its plant in Nikopol, Ukraine.
Centravis Ltd emerged in 2007 as a result of the integration of the manufacturing, service and trading assets owned by UVIS group, a family company with a primary focus on stainless steel tubes and pipes distribution. Heavy investment during 2007-2010 led to the upgrade of equipment improving efficiency, productivity and widening the product range.
Currently the company's product portfolio covers general tubes and pipes for the oil and gas industry, heat exchanger tubes, hollow bars, boiler tubes, instrumentation tubes, furnace tubes, and Ni-alloys. The range offered varies in size from 4 to 245mm in diameter with wall thickness 0.2 to 35mm, and tube length up to 27m.
A major direction for investment relates to the hot shop, where a state-of-the-art extrusion line with a 44 MN extrusion press and new induction furnaces were installed. Its main suppliers are SMS Meer and the former company IAS, now also a part of SMS Meer. Production of tubes up to 245 mm with standard tolerances as D3/T3 is feasible on the new press and the maximum length of hot finished tubes is 15m.
As Viacheslav Erkes, sales director of Centravis, explained: "Centravis is the sixth biggest producer of seamless stainless steel tubes and pipes worldwide. With a portfolio that includes over 1000 reference sizes of more than 100 types of corrosion and heat resistant steel grades we are striving to provide the highest quality tubular products combined with the best service, pricing and terms conditions worldwide for all consuming industries."
This is due to a clear company vision and strategy centered on sustaining cost leadership, focused on customer needs, ensuring a comprehensive service. "To achieve this we have implemented huge investments, and an additional investment programme will follow," explained Viacheslav.
As a result of the recent investment programme, Centravis widened its product offering both in steel grades and dimensional range, and continues to master new high-tech products to meet requirements in accuracy, length and surface finishing. The business has recently successfully mastered duplex/superduplex grades both in hot and cold finishing, developed thin-walled tubes (219mm in diameter with wall thickness 6mm, 168mm in diameter with wall thickness 3.5-4mm, 159mm in diameter with wall 3.5-4mm), as well as up to 15m long furnace/heater tubes (with a necessary grain size without additional heat treatment) destined for the petrochemical industry, significant expansion of its U- tubes range and range of tubes for automotive applications.
"In 2013 the company received NORSOK M-650 and ISO TS 16949 certification, strengthening its position in the oil and gas industry in Scandinavia and the UK, as well as in the automotive industry and providing an opportunity to operate worldwide. Centravis' laboratory was certified according to ISO 17025, which enables us to perform the most complex and demanding orders and serve our customers. As a result we received a number of interesting projects for furnace tubes, tubes for nuclear power generation, and instrumentation tubes," stated Viacheslav.
"Alongside increasing our product offering customer service has always been one of the most important values for Centravis. We are a flexible, small company, but are able to perform big projects. No matter where the customers are located, we provide top grade customer service worldwide. This is achieved through a network of sales offices in Russia, Ukraine, Uzbekistan, Germany, Switzerland, Italy, the US and agents in Brazil, the Middle East, Korea, Australia and others, meaning that the business supplies to markets worldwide in a geography that covers 70 countries. Our geographical location coupled with our understanding of CIS and Western business standards and habits enables us to occupy a unique position in the world market of seamless stainless steel tubes," said Viacheslav.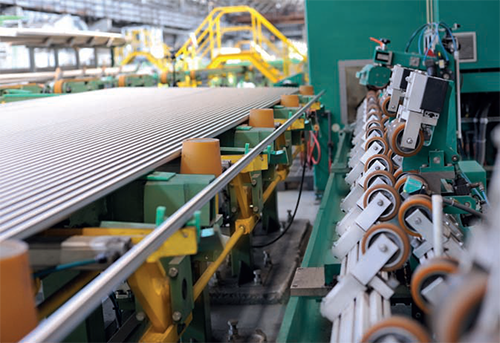 In line with the long-term strategy, Centravis has implemented additional service and customer interaction tools, including on-line tools to check stock availability. Due to the production capacity, the business is able to offer short lead times, technical advising and online quality certificate verification service, amongst others. In 2013 the company established the sales engineers service aimed at providing support for key products such as tubes and pipes for oil and gas, nuclear and thermal power generation, automotive and aerospace sectors.
Despite the global stainless steel tubes and pipes market remaining stagnant during 2013 Centravis achieved planned performance with growth in all key markets, with product sales increasing 12 per cent year-on-year and 65 per cent exported outside The Commonwealth of Independent States (CIS). Throughout the year, Centravis was able to continue the implementation of the development strategy with high value added segments, such as sales increase in nuclear power generation tubes.
Commenting on the performance of the business, Viacheslav said: "The company has remained the leading supplier of seamless stainless tubes to the CIS market, especially for nuclear and thermal power engineering. In 2013 we were awarded several major contracts for the supply of steam generator tubes valued at $20 million. With the growth of business in CIS, we have maintained sales momentum in the EU, through the North American Free Trade Agreement (NAFTA) and the Middle East. We have secured several major projects in the automotive, oil and gas and power generation industries."
As the company looks towards growth Viacheslav commented: "Brazil is an interesting market from the point of view of downstream and upstream oil and gas consumers, however our presence is relatively limited. In 2014 we plan to extend in upstream segments by gaining more insight into customer needs through following the certification and approval process and providing the recently developed products, including the 15 meter long furnace tubes and pipes to the market."
As the market opens, Viacheslav indicated the importance of growing the business: "Major resources in our R&D department are focused on reduction of production cycles, developing new products, increasing equipment reliability, and environmental efficiency. But alongside the products, in the fast growing market of today, human resource has become a significant competitive advantage, enabling better results. There are difficulties in attracting fully developed professionals for positions in production as this market is quite narrow. Therefore, the main focus of our company is creating conditions for keeping succession in the work, with young promising qualified employees geared-up to meet the business challenges."
The company operates staff training and development programmes designed to enhance the talent pool, covering staff development at all levels. Technical training is arranged in the company providing national certificates, ensuring highly skilled production staff. "We have established a Corporate University based on the principles of self-improvement and action based learning. This is a full-scale series of courses based on the cases and business practices, focused on balanced development of management talents incorporating management tools mastering, leadership skills and decision-making as well as the art of strategic thinking."
Through the university a new programme, launched in October 2013 has been developed for middle management. Participants receive training from experienced and successful leaders and have the opportunity to demonstrate their own capabilities. Additional programmes include strategic and operational management and leadership skills, and a language school. "Every employee has an opportunity to join the training process, enabling professional growth and to becoming more effective in the position," added Viacheslav.
In 2014, Centravis is aiming to further increase its sales volume, as Viacheslav concluded: "The key focus markets for this target will include CIS, NAFTA, the Middle East, Asia, Africa, and Brazil. Major growth is expected in instrumentation tubes and hollow bars, furnace tubes, specialty heat-exchanger tubes, boiler tubes and general tubes and pipes for, amongst others, the oil and gas industry. We are confident that we can fulfill orders of any complexity, based on the individual requirements of each customer."
Centravis
Services : Global supplier of high-quality solutions in seamless stainless steel tubes
---