Chemoil
Issue 11 2011
---
Energetic expansion
Established in 1981, Chemoil has spent the last 30 years creating an integrated operations network that can today be found in locations including New York, Los Angeles, Houston, Singapore, Panama, United Arab Emirates, the ARA (Antwerp, Rotterdam and Amsterdam) region, India and the Gulf of Mexico:
"Chemoil is the most widespread marine fuel supplier in the world, one that boasts unrivalled geographical coverage," states Peter Grunwaldt, director of global sales and operations for Chemoil. "The company is also involved in logistics services using its own barges and in storage through its own terminals. It has its own risk management group and is actively looking to diversify further with moves into the aviation and bio-diesel business."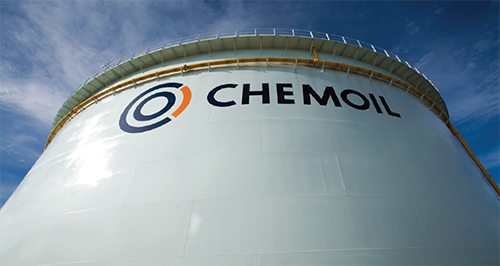 Traditionally the company has always held a strong position in the US, where it has long been established as a key industry player. However, through expansion over the years it has managed to tap into other regions, covering the biggest bunker hubs in the world such as Singapore, Fujairah and Rotterdam: "In Singapore the company operates the Helios Terminal on Jurong Island. Last year Chemoil was number six on MPA's* list of suppliers in Singapore," Peter continues. "Meanwhile, in the Middle East, Chemoil operates the GPS-Chemoil terminal, which will be heavily expanded in size, a task that will finish at the start of Q3 next year."
A particularly exciting area of the business is Chemoil's delivery of comprehensive bunker hedging and risk management services through its Chemoil Fuel Risk Management (CFRM): "It is a goal of the company to be able to assist its customers in the field of risk management in conjunction with the selling of marine fuels. Our clients can approach Chemoil and not just buy fuel that will run their vessels, they can also call upon the company's expertise in managing the exposure of these costs," Peter says. "It won't be much of a surprise to anybody that the shipping industry has been undergoing some difficult times in recent years, with freight rates becoming increasingly depressed at a time where costs continue to rise. What the CFRM allows the company to do is assist in removing the uncertainty from a customers' purchasing strategy and deliver hedging instruments and tailor made risk management solutions."
In September 2011, the company announced that it would be taking another bold step on the path to growth with an expansion into the supply of aviation fuel through its newly formed division, Chemoil Aviation. The initial focus will be the selling of aviation fuel to midsize commercial operators and corporate aviation businesses. This move allows Chemoil to leverage its existing business platform as well as its vast marketing and supply expertise to further diversify the company, in turn expanding its presence in the global downstream fuel market.
At the heart of Chemoil's future plans is a three-pronged strategy for growth that revolves around the company's products, infrastructure and core markets. Not only is it making moves into expanding its product portfolio beyond marine fuel, the company is also working to integrate the sale of new products into its existing business. It plans to use it existing infrastructure to provide value-added services to consumers. The company's infrastructure is itself to be utilised through a programme of investment in its existing and new terminals, pipelines, barges, shipping and other assets. Furthermore, if the right opportunity arises, Chemoil would consider venturing into new geographical markets, and this could be completed either through acquisitions and strategic partnerships, capitalising on development opportunities and marketing to strategic customers.
"Chemoil has had a decent 2011 so far, a fact that owes much to being strategically placed in all the major marine hubs in the world where traffic volumes remain relatively strong," Peter explains. "We strive to streamline things by creating synergies with the other people and divisions within the group (the main shareholder of Chemoil is the commodity trading giant Glencore, and Japanese trading house Itochu Corporation). This plan makes up part of the company's aim to become more efficient in terms of making profit. Though Chemoil is making gains in this area of the business with each passing day, it still needs to become better versed at extracting value per metric tonne of fuel delivered. This is our primary goal – not necessarily moving more volume, but becoming more efficient and consequently more profitable.
"By achieving these goals Chemoil can become even more competitive in the industry and find its true place in the market. What this means is that the company needs to spend the immediate future getting its house in order, so to speak. Bringing in talented, highly motivated and determined people will enforce the foundation and help push the company forward. With all of its strengths of character there is no reason why the new Chemoil cannot become even stronger and more profitable and that is where its focus today lies."
Chemoil
Services: Marine fuel supplier
---