CLYDEUNION Pumps
Issue 11 2011
---
A new phase
CLYDEUNION Pumps is one of the world's leading pump companies and regarded as a centre of excellence in pump technology, hydraulic design and engineering. Due to the pedigree of the companies that combined to create it, CLYDEUNION Pumps is actually now one of the most experienced specialised engineering companies in the world.
CLYDEUNION was formed under the direction of Clyde Blowers Capital chairman and chief executive Jim McColl out of two major acquisitions – the £48m purchase of the former Weir Pumps business in Cathcart, Glasgow from the Weir Group in May 2007 and the acquisition of Union Pump as part of a $1bn deal with another Fortune 500 company, Textron, the following year. SCF Partners, a US-based private equity firm, played an integral part in supporting the combined businesses.
The company has grown rapidly, and now manufactures in seven countries with 25 service centres worldwide, and recently announced continuing impressive growth for the year 2010 – with profit increased by 28 per cent and orders up 18 per cent. Employee numbers increased to 2037 – almost 900 of these at Cathcart.
In August 2011 Clyde Blowers Capital announced that it had reached an agreement to sell CLYDEUNION Pumps to American Fortune 500 company SPX Corporation. CLYDEUNION will continue to be run as a stand-alone business with a head office in Glasgow, under the leadership of the same management team.
Jim McColl, when commenting on the sale, highlighted the success that CLYDEUNION has seen under his stewardship: "When we bought Weir Pumps from the Weir Group and saved it from almost certain closure, we made certain promises, all of which have been kept.
"We promised to retain and grow the workforce – we have increased the staff from 535 to 891 at Cathcart, and to 2037 globally, all high-level jobs. "We promised to take on apprentices – we have taken on over 100, including 22 this year.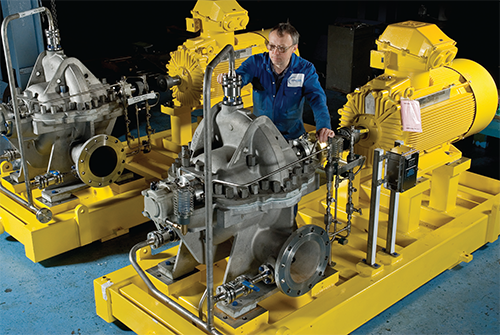 "We promised to grow the business – we have increased turnover from £44.7m to over £400m in the current year.
"We recently committed to buy the site at Cathcart from Weir Group for £25m, which was important for the long term stability of the company, and we have invested cash in new machines and new test facilities at the site.
"We've created a world-class business headquartered in Glasgow with a world-class facility, and really good people. We've also put in place the infrastructure for education and life-long learning – the ability for people to upskill, to better themselves in their earning capacity.
"We also leave CLYDEUNION with a very healthy order book, and in the ownership of a trusted buyer that will take it to the next level."
Illustrating that the change in ownership has spurred CLYDEUNION onto further success, barely four months after the arrival of its new owners, the company signed a multi-million dollar contract with GS Engineering & Construction in Korea to supply pumps for installation on the TAKREER Inter Refinery Pipelines (IRP-II) Project in UAE. This package involves the design, engineering, manufacturing, assembly and test of 32 units of heavy duty API610 between bearings (BB) type pumps. These will be used as pipeline pumps for refined products such as GASOIL, ULG91, ULG95, ULG98, JET A1, and JP8. The equipment on this project will be supplied from Clyde Union Pumps facilities in Penistone, UK and Battle Creek, US.
The end user, TAKREER, signed an Engineering, Procurement, Construction and Commissioning (EPCC) contract awarding the Inter Refinery Pipelines (IRP-II) main package to GS Engineering & Construction Korea on October 21, 2010.
The pipeline has been designed to establish a reliable and safe network of pipelines for hydrocarbon product movement between the refineries and storage terminals for commercial distribution. It will connect several major regional hubs including Ruwais Refinery and Abu Dhabi refinery with Musaffah Terminal (central products distribution hub), Abu Dhabi International Airport, Al Dhafra Airbase, Al Ain Terminal, Madinat Zayed Terminal and Shuweihat Power Plant.
This contract signals CLYDEUNION Pumps' intent on gaining a foothold in the competitive and demanding Korean EPC market and follows on from success earlier in 2011 on the Harvest Energy Black Gold Oil Sands Project in Canada, another contract awarded via GS Engineering & Construction Korea.
These contracts follow other major developments in 2010, including an order for the world's largest concentrated solar project, and several award wins, including a Scottish Engineering Award, an FBBA award and an Engineer of the Year award at British Pump Manufacturers Association (BPMA) annual dinner.
The British Pump Manufacturers' Association (BPMA) is a trade association representing the interests of UK suppliers of liquid pumps and pumping equipment. CLYDEUNION Pumps, as a member of the BPMA, joins other leading companies in the field of pumping technology in the UK with a commitment to product quality and development, value for money, safety and after sales service. Today CLYDEUNION Pumps represents over 300 years of engineering expertise, and with a change of parent company and several major contracts underway, enters 2012 on what seems an exciting path to the future.
CLYDEUNION Pumps
Products: Pumps
---