DEIF AS
---
Taking control
Established in 1933 by Erling Foss and his two partners, DEIF's (Danish Electro Instrument Factory) original main activity consisted of assembling and manual mounting of electromagnetic measuring instruments, focusing on precision and robustness.
Today, DEIF is owned and managed by the founder's son, Toke Foss and the products have multiplied and become extremely more advanced.
Speaking from his office in Skive in Denmark, Mads Peter Aagaard Madsen, DEIF's PR co-ordinator, explains further about the current structure of the company: "The company is divided into two main areas – the power and marine division, and wind power technology division – where we manufacture and market control and instrumentation solutions within decentralised power production as well as marine and offshore activities. We've always been involved in providing instrumentation solutions since our inception, though it was only in 2004 that we penetrated the wind power market.
"Apart from supplying switchboard instrumentation, bridge instrumentation and renewable energy controls, we also focus a lot of our efforts on engine and gen-set controls. A key differentiating factor of our products is the fuel saving design, which not only saves both our customers and the end users lots of money, but also goes easy on the environment."
DEIF has always been driven by the vision to set the global standard of control and instrumentation solutions that can secure efficient, safe and environmentally friendly power production and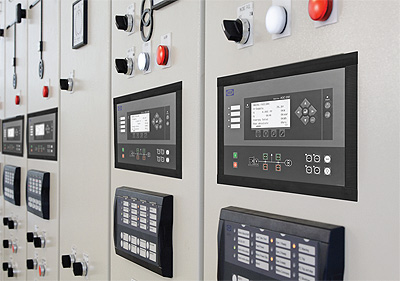 marine transportation. It believes that durability, future proofing and hassle-free performance are increasingly important parameters for choosing the right supplier. Consequently, DEIF never compromises on quality, providing reliable solutions – even under the harshest weather conditions. 'Power in Control' sums up what DEIF is all about. The mission underlining its production is to consciously enhance the competitive advantage of its customers by always delivering state-of-the-art solutions. These are based on superior product quality and flexible functionality combined with outstanding service and commitment.
DEIF's unsurpassed technical expertise in the field has not only earned its reputation, but constantly new markets as well. Mads highlights how the company has continuously looked to develop solutions to cater to new markets: "We have invested a lot of our resources into penetrating new markets with tailored solutions and we see India and China as very promising areas for us. For example, our engine and gen-set controls is an area into which we have channelled a lot of our R&D resources to ensure they are suitable in such areas. In Asia, the temperature can vary significantly than what we're used to here in Europe. We need to be able to cater for such markets, like China, where applications will need to withstand freezing temperatures of -20˚C or -30˚C in the winter, and up to scorching readings of 50˚C and 60˚C in the height of summer, not forgetting the humidity that accompanies it. We need to be able to develop advanced applications that can excel in such trying environments."
He adds: "We are renowned for our Advanced Gen-set Controller series that covers the mains power export/import segment within the gen-set controls portfolio. Our AGC 3 is a very versatile controller and suitable for the control of up to 256 gen-sets, which is a rather unique feature. The AGC can be combined with other modes, making automatic shifting between peak shaving and emergency operation possible. This model can also control several mains power supplies.
"Another model under this segment is our AGC 200, which is a range of controllers containing all necessary functions for protection and control of a diesel engine. The range contains controllers that are dedicated for any application, right from single gen-sets in island mode, to very complex power plants with 16 generators, eight bus tie breakers and one mains breaker. The development of this controller is the most recent achievement for us and we are very proud of it. We are confident that it will gain interest very quickly. The AGC 200 family is the range of controllers that we really are looking to penetrate the Indian market with."
With thoughts on the future, Mads concludes: "We are very confident that DEIF will not only be able to penetrate new markets, but will also be able to gain strategic positioning in these areas. In addition to strengthening our reputation in the marketplace, we are also concentrating our efforts on reinforcing our environmental stance. We are aware of the market needs and would also like to play a responsible part in the agenda. One of our strategies, in the next few years, is to be recognised for our green profile and sustainable solutions."
DEIF AS
Products: Control systems
---