Dolphin Heat Transfer
Issue 11 2010
---
Industry pioneers
Dolphin Heat Transfer (DHT) is a company located in Ajman, UAE, specialising in heat exchanger products for the oil and gas market.
It is part of the Dolphin Group, a collection of companies that manufacture thermal products for the industrial, air conditioning, marine, oil and gas and automotive sectors. Having had a tough time over the last year, DHT's business has picked up again and the company is planning to exhibit at ADIPEC 2010.
Sales director Mr. Moiz NJ goes into more detail about the company: "DHT was established in 2004 to serve the oil and gas industry. We specialise in the design and manufacturing of shell and tube heat exchangers, air-cooled heat exchangers, pressure vessels and finned tubes. The company has state-of-the-art fabrication and machining facilities at Ajman Industrial Area spread. All of our operations are American Society of Mechanical Engineers (ASME) U and S certified, National Board R and NB certified, and run according to ISO 9001:2008 industrial standards."
The company is able to offer products that fit exactly to customers' needs, either through an extensive selection of units as in the case of plate heat exchangers (PHEs) or by customised tailoring as in the case of the company's shell and tube heat exchangers. These latter heat exchangers are manufactured at the company's own facilities in Sharjah, first using design software to lay out complex designs and discover the optimum solution before being fabricated using CNC drills, TIG / ARC welding machines, orbital welding machines, grinders and microprocessor-based telescopic expansion machines.
By contrast, DHT is a regional reseller of PHEs from US-based engineering firm Mueller. The most significant benefit offered by these types of heat exchangers over traditional shell and tube types is the greatly reduced requirement for space; it also offers greater heat transfer efficiency, lower maintenance requirements and lower overall cost. There are two main plate designs available – ACCU Therm and Free Flow, each bearing its own specific benefits.
"The main strength with this company is the integrated ability to design, engineer and manufacture a high quality product under one roof," Mr Moiz explains. "The other strength is to offer faster delivery and lower transportation costs for clients in the Middle East. We also provide clients in Middle East and North Africa region with AGCC certificates that exempt them from custom duty, which is another major advantage on price. Our main customers are most of the major oil and gas companies as well as engineering, procurement and construction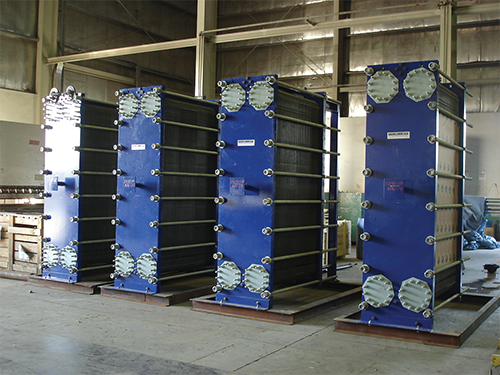 (EPC) contractors in the region. These include Abu Dhabi National Oil Company (ADNOC) Group of Companies, Qatar Petroleum, Qatar Fertilisers, GPIC Bahrain, SABIC and Saudi Electricity to name a few."
Dolphin has a number of unique facilities that enable it to stay one step ahead of the competition. For example it possesses the first and only brazed aluminium plant in the whole GCC, enabling it to produce brazed aluminium products such as radiators, oil coolers and intercoolers for automobiles and industrial applications in house. This facility has seen use by customers dealing in major vehicle manufacture as well as various other industries such as HVAC, sugar and marine.
It is also the only company in the country that has four facilities for manufacturing finned tubes, which are essential for the building of air-cooled heat exchangers. "These investments allow DHT to build all the key components of our heat exchangers in-house, thus having better control over product quality and delivery. It also allows us to keep our prices competitive," comments Mr Moiz.
Dolphin Group's dedicated research team drives the company's product development, and Mr Moiz elaborates on the importance of this: "Innovation and new product development are the key factors in DHT's rapid growth in a short period of time. DHT has developed and implemented several new innovative ideas, both in design as well as fabrication of heat exchangers. This results in benefits to the customer in terms of competitive pricing and shorter deliveries."
Nonetheless, the market has been at a low point for a long while now with many oil and gas operators have put projects on hold and have yet to reinstate them. This has a delayed but equally strong affect on many supply companies in the industry, with DHT being one of the many.
"While conditions continue to be challenging," explains Mr Moiz, "we expect an upturn next year when all of the planned investments by the oil and gas companies start getting converted into active projects. We are already seeing some signs of this happening this year itself. The high growth rates are a result of strong marketing efforts, introduction of new products and the expansion of existing facilities. It is also thanks to the strong, long-term vision of senior management and our chairman, Mr. Nooruddin NJ."
He goes on to conclude with a positive outlook on DHT's future: "We definitely see ourselves as a major partner to the oil and gas companies in the region over the near future. We are also working toward tie-ups and collaborations with several major American and European companies that will provide synergy to all players concerned. Proof of this commitment is the current expansion of an additional 250,000 sq/ft facility in UAE and 1.67 million sq/ft of facilities in India."
Dolphin Heat Transfer
Services: Heat exchangers
---