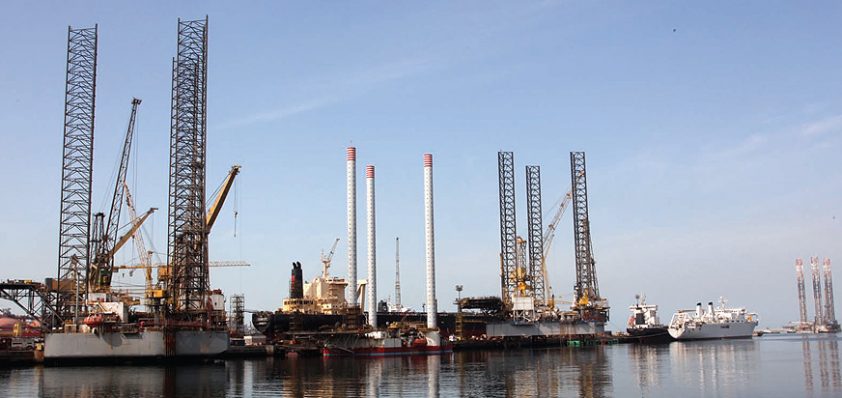 Drydocks World
Issue 03 2012
---
Raising the bar
Located in one of the rapidly developing regions of the world and on a busy trading route, Drydocks World's Dubai shipyard is one of the most prolific shipyards in operation today.
The shipyard is the largest facility in the Middle East and is the flagship company of Dubai World subsidiary Drydocks World. A ship repair yard of choice, it is also the preferred location for vessel conversions, new building and offshore construction.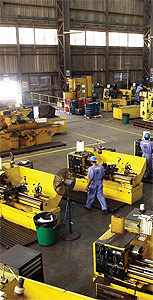 Conceived as an ambitious project under the guidance of H.H. Sheikh Rashid Bin Saeed Al Maktoum, the late Ruler of Dubai, the facility on an average handles 350 vessels in a year, most of them ULCCs (Ultra Large Crude Carriers) and VLCCs (Very Large Crude Carriers). It completed 25 years of operation in 2008, and the shipyard has repaired over 6600 vessels so far.
In order to address the wide-ranging needs of complex and sophisticated vessel conversion projects, the shipyard had made significant investments in facilities and equipment. Recent investments include a modern cryogenic room with advanced valve testing equipment and a state-of-the-art pipeshop. Furthermore, with a view to becoming the foremost and leading pipe fabrication facility in UAE for servicing marine and other industry sectors, the shipyard has plans to build its expertise in fabrication of cladded pipes, titanium and heat exchanger tube bundles in the near future.
In 2010, the shipyard also continued on its excellent safety record and received its 7th consecutive British Safety Council Sword of Honour. It also successfully completed the Council's Five Star Safety audit in 2011. The shipyard is accredited to OHSAS 18001 by LRQA. It continues to have an excellent track record in maintaining and managing quality and environmental standards.
As a well-established supplier to the maritime, oil and gas industries, Drydocks World offers a very wide range of products and services, which includes vessels for sale, speculative vessels for sale, offshore, ship repair, conversion, new building, ship lift, afloat repair, general engineering services, property leasing, floating crane, plant and equipment leasing, rig building, shipping and ship chandlery.
For the offshore sector specifically, the Drydocks World Dubai yard has completed 23 vessel conversion and modification projects since delivering the yard's first major project FSO Nkossa 1 in July 1996. The largest conversion FPSO Frade, had a man-hour consumption of nearly 13 million. The shipyard has progressively augmented its capabilities, particularly its steel and pipe capacity, to address the increased loads associated with conversion projects. In 2009, the shipyard added two new VLCC berths with a wide jetty to facilitate FPSO conversion activity and has further expanded and upgraded its pipe shop with modern equipment in 2010. Its projects have varied in scope and scale and have increasingly become more sophisticated in recent years. The yard's first FSRU conversion project, FSRU Toscana, was implemented with meticulous planning and high quality surpassing the industry standard.
"Our services to the offshore, oil and gas industries have gathered momentum in recent months, following the re-alignment of our business strategy," noted Khamis Juma Buamim, chairman of Drydocks World. "We have been providing wide ranging services to the offshore industry and we have expanded our capabilities to address growing market demand. We are delighted to have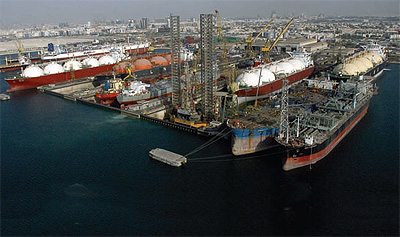 simultaneously achieved productivity goals, along with organisational re-structuring and adjustment."
Khamis Juma Buamim made these remarks at the successful delivery of two anchor handling tug supply vessels (Greatship Vidya and Greatship Vimla) from another of Drydock's facilities – this one in Singapore. This yard offers a full spectrum of integrated maritime solutions, including repair, conversion and shipbuilding.
In addition, Drydocks has yards in Graha, Nanindah and Pertama on Batam Island in Indonesia. These are dedicated to rig building, shipbuilding and repairs respectively. The strategic location of the yards allows Drydocks to provide efficient, cost effective and integrated maritime solutions for both regional and international customers.
Nevertheless, as the largest facility in the Middle East, Drydocks Dubai's facility is constantly pursuing new contracts, and within the past three months it has been awarded a contract with Aibel, the leading Norwegian provider of services to the energy industry, for building a wind power offshore platform structure, and a contract with Singapore based AET, a global leader in petroleum shipping, for two tanker-to-marine capture vessel (MCV) conversion projects.
"We are extremely happy to sign this prestigious contract with AET as part of our well-articulated strategy of building our presence in the oil, gas and energy industries. We already have an established reputation and strong expertise in carrying out sophisticated vessel conversion projects for world-leading companies. Our thrust on expanding our knowledge base and creating a technology-driven state-of-the-art facility has borne fruit and we are able to effectively serve the industry," confirms Khamis Juma Buamim.
Drydocks World's sterling reputation in the industry was further enhanced late last year when it was presented with the prestigious Ship Repair/Shipyard Award at the Seatrade Middle East & Indian Subcontinent Awards 2011 ceremony. Commenting on the achievement, Khamis Juma Buamim said: "We are happy to have received this award adding to our portfolio of achievements and awards. It is indeed a proud testimonial to our commitment towards providing value added services to our customers by implementing operational excellence in production techniques and project management. We also lay stress on continuous improvement and hope to raise the bar on our performance while maintaining our excellent credentials and international leadership in the field of safety, quality and environment."
Drydocks World
Services: Ship repair, shipbuilding, rig building, FPSO conversion, offshore fabrication, fleet operations
---