Drydocks World
Issue 107
---
Technical Capability
Since the company was last featured in European Oil and Gas Magazine during February 2013, Drydocks World has continued to nurture its reputation as a leading name within the maritime sector.
With over 30 years of industry experience behind it, the past 12 months have seen further success for the company, with new multi-million dollar contracts, world-class construction projects and history-defining lift operations.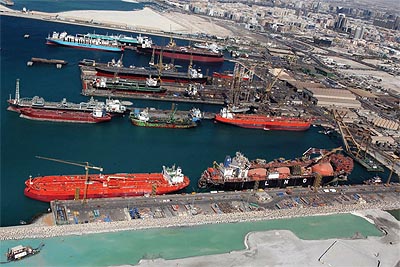 The Dubai based company is a subsidiary of its parent firm Dubai World and is located in a prime position within one of the world's fastest developing regions. Its flagship Dubai shipyard is the largest facility in the Middle East and has developed a prolific reputation for its execution of new build projects, conversions and offshore construction. Drydocks World is an impressive facility that handles some 350 vessels per year, the majority of which are ultra-large crude carriers (ULCC) and very large crude carriers (VLCC). However, the yard can boast an eclectic portfolio of completed projects including refit and refurbishment for classification checks for the iconic MS Queen Elizabeth 2 (QE2) from January 2013.
Within the final month of 2013 alone, Drydocks World was able to win prestigious contracts and execute industry-leading lift projects. By the opening days of December 2013, Drydocks World announced that it had signed a letter of intent (LOI) with Offshore Innovation Management Ltd for the construction of a series of AJ 62-X135, multi-purpose jack-up rigs, with projects slated to commence in 2014. Commenting on the significance of the project via press release, H.E Khamis Juma Buamim, chairman of Drydocks World and Maritime World said: "This is an extension on winning 'Expo 2020.' Congratulations to our leadership on achieving this landmark event, which is bound to have a significant impact and will substantially boost returns for the economy of the UAE. We are delighted to have signed this LOI to construct these high performance rigs, which can provide a broad range of services including the provision of accommodation and construction services, heavy lift support for hook-up and commissioning activities during installation of new topsides or in the installation of subsea structures. We have considerable experience in catering to the specialised requirements and exacting quality standards of the offshore oil and gas industry and have made deep and meaningful inroads into these rapidly evolving sectors in recent months. This is in line with our business strategy to target this market segment aggressively with added value services."
The 86m by 95m AJ 62-X 135 rig design stands a towering 185m in height and weighs an imposing 26,000 tonnes. The three-leg design offers multi-purpose functionality and will provide both accommodation and facilities in accordance with NORSOK European standards for between 208 and 490 people in single cabins depending on rig configuration. The rig is able to operate in waters of up to 135m in depth with an air gap of 25m and boasts the significant advantage that it is able of undertake 100 per cent up-time regardless of weather conditions, unlike semi-submersible accommodation and construction rigs. The design also features a 3000 ton Huismann crane for offshore heavy lifts, a large free working deck with full crane coverage, a heli-deck for use by AW 101 helicopters and provision for a full helicopter crew of 21 personnel and full safety equipment for all onboard employees.
Similarly, the award of the Dubai Expo 2020 mega jack-up rig is a major milestone for Drydocks World. Gusto MSC, which is one of the major partners in this project, has designed the CJ 80 rig and it will be the first of this design and will the largest jack-up rig ever built. Designed to be operated in harsh environments including the Norwegian Sector of the North Sea at a maximum water-depth of 175m with a 25m air-gap. The 101m X 110m, 5500 m sq unit will be classed by DNV and will meet all rules and regulations in force within the Norwegian and UK sector of the North Sea. The design draft is 8.5m, minimum operational water depth is 20m and length of legs is 232m. It is designed to accommodate a total of 160 persons preparing the unit to be used as a drilling and production unit. The rig will be equipped with the latest available state-of-the-art drilling equipment to be able to drill to 40,000 ft drilling depth. The rig will be equipped with a total of four high-pressure (7000 psi) mud pumps.
As well as winning sizable new contracts, Drydocks World has distinguished itself through the execution of several high-profile projects. One of which, was the 10,000-ton topside lift of the first gravity base of the world's largest offshore semi-submersible HVDC platform structure, DolWin beta. The massive structure was lifted a total height of 52.8 m from the bottom of the dock. The ambitious lift was part of the mating operation of the topside components with the unit substructure. The operation consisted of lifting the topsides via strand jacks and floating the substructure in the dock before carefully moving it under the lifted topsides. These were then lowered with precise guidance and subsequently locked with the underlying substructure. Dedicated teams from Drydocks World, Aibel, ABB and TenneT worked tirelessly for months to achieve this engineering and docking spectacle. "We have taken our engineering excellence to greater heights through this unique and remarkable feat," said H.E.Khamis Juma Buamim. "It is a significant first and speaks volumes of our strengths in terms of technical capabilities. I am sure that the future will bring even more challenging assignments and we will handle them with equal ease. This heavy lift is a hallmark anywhere in the world, and in our involvement with offshore projects. In the months ahead we look forward to greater achievements in our operations that will place us on par, if not ahead, with the best in the business."
Moving into 2014, Drydocks World is in a prime position with a strong order book throughout the year and beyond. Furthermore, the company can expect to expand its business following in-depth talks with Foresight Ltd to help the company develop its rig business. Commenting on this and the future of Drydocks World, H.E. Khamis Juma Buamim says: "We are delighted that more and more companies are acknowledging the emerging clout of UAE in the maritime and energy, oil and gas arena. We are emerging as a strong contender in building drilling rigs and jack-up barges for the offshore oil and gas sector, and have proven our mettle with some highly successful projects of great international significance in recent times. Moreover, there is sustained interest from companies across the globe in the world-class Dubai Maritime City, which holds a cornucopia of businesses with maritime interests, creating vital synergies for the growth of the industry, which is emerging from the global financial meltdown."
Drydocks World
Services: Offshore engineering, ship repair/maintenance, rig building and conversion, maritime clusters, yacht repair and navy vessels, associated services
---