E.ON Gas Storage GmbH
Issue 03 2011
---
Plenty in store
As a subsidiary of E.ON Ruhrgas AG, E.ON Gas Storage (EGS) GmbH pools decades of experience and the E.ON Group's competence in gas storage throughout Europe.
Founded in 2008, EGS comprises all of the storage activities of E.ON Ruhrgas, as well as the storage facilities of distribution companies E.ON Hanse and E.ON Avacon. Today EGS is one of the largest operators of storage facilities in Germany with in excess of seven billion cubic metres working gas volume over its 15 sites. The company also operates four sites in Hungary, with over four billion cubic metres working gas volume, one facility in Austria, and has one under construction in the UK.
As a major European company in the gas storage sector, EGS has carefully aligned its product portfolio in line with the individual needs of its client base, which currently numbers roughly 20 customers. Peter Klingenberger, CEO of EGS, expands upon the packages and services currently offered by the company: "Our fast churn product is designed for a fast turnover of gas in and out of the facility, whereas our medium churn package has an 80 day in, 20 day out cycle. We also have a more long-term product, which is tailored to the seasonal demand for gas. The type of material that the reservoir is made up of dictates the products available at each facility. In more porous rock strata like sandstone, it takes longer to inject and release the gas so this is used for long-term storage, as compared to the cavern systems, which are ideal for quick release."
In order to facilitate its client's procurement of storage capacity, EGS has introduced a new 'click & book' order system. Following an initial credibility check, the individual client, as well as anyone else operating within that company, can on a click and book basis go online and order storage products from EGS as part of a standard bundle.
Utilising several old depleted gas fields as one storage facility, EGS' Austrian interest, known as 7Fields, provides a unique combination of different market access opportunities through its pipeline link to the German NCG market area, and further planned connections to Penta West and the eastern control zones. Capitalising upon this attractive location, EGS is launching a new type of long-term storage product – the 7Fields XLT. Compared to the company's conventional products, the 7Fields XTL offers more of an investment-like venture with clients providing the cushion gas required for storage operations. Designed with a long-term view in mind, the 7Fields XLT product provides clients with a 20-year storage period and combines the flexibility of EGS' booking capacity with the cost benefits of asset investment.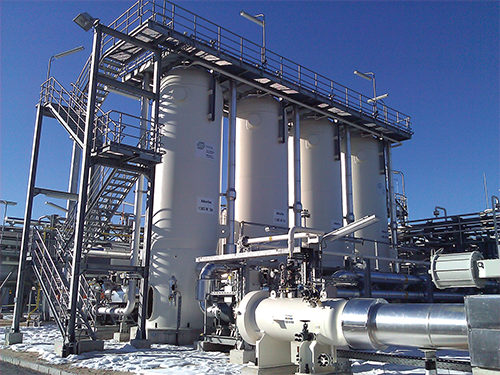 Peter elaborates upon some of the other major projects EGS is currently undertaking, both on the national and international market: "We are in the process of constructing a new facility at Holford in Cheshire, UK, which comprises eight storage caverns with a very fast churning capability. The site is due to become operational in early 2012, and we predict it will be a perfect fit to the increased production from the LNG terminals. Currently these terminals have a 110 million cubic metres a day withdrawal rate of LNG, and although there are many dedicated LNG tankers on the market, they don't have the same storage capacities that we do. Therefore we see the Holford facility as being very compatible with the market trend for increased reliance on LNG in the UK, and additionally we are developing a larger facility at Whitehill on the east coast to accommodate this."
Less then 20 km from the German North Sea coast lies the Etzel gas storage facility, where its close proximity to the gas import pipelines from Norway and gas transit routes near the Dutch border makes it one of the main hubs for natural gas trading in Europe. The Etzel Gas-Lager underground storage facility has bee present since 1986, and was recently developed further with expansion work being completed in early 2010. With demand for natural gas continuing to grow, storage facilities are playing an evermore important role in ensuring a reliable and uninterrupted gas supply. In recognition of this need, EGS is developing another natural gas storage station at Etzel (ESE – Erdgasspeicher Etzel), which will contribute to the overall ambition of increasing storage capacity at the site.
"Within the German market, we are in the construction phase of the Etzel ESE facility, which is a 20 cavern project totalling in excess of one billion euros of investment. This site is being developed in conjunction with major partners such as East German gas supply company Verbundnetz Gas (VNG), and Austrian oil and gas company OMV. Once operational gas from the Etzel ESE facility will be released into two systems – the 60 km BEP pipeline, which will bring gas into the Netherlands, and the NETRA pipeline, which is connected to the German market," highlights Peter.
The global need to reduce CO2 emissions and use energy in a more efficient and environmentally friendly way is well documented, and a challenge that EGS is working to address. "I see the storage facility of the future not just storing natural gas, but also hydrogen energy from the growing number of wind farms and solar panels," describes Peter. "Rather than halt energy production, we are looking into ways that we can store excess power produced by these renewable systems in favourable conditions, so that it can be released at times when there is no wind or sun."
EGS is also investing in carbon capture storage (CCS) solutions, which capture CO2 released during combustion or industrial processes, and then transport it to suitable locations where it is injected in underground storage facilities, as opposed to being released into the atmosphere. As part of this focus, EGS is taking part in a major investigation into CCS technology currently being carried out in Rotterdam. Although at present the CCS process itself is relatively expensive EGS is working closely with partners like GdF and Statoil, the latter having long experience of injecting CO2 underground, to look at how this process can be made more cost-effective and practical on a commercial scale.
It is this expert understanding of both industry and customer concerns that enables EGS to continue to develop products that are tailored to the projected market conditions in the years ahead. Although the market is currently experiencing a short-term challenge in the form of large volumes of gas, which has resulted in very little seasonal spreads, this is a temporary phase with market conditions expected to return to normal. Beyond this, EGS is focusing on further internationalisation of its product, both within current markets of the UK, Hungary and Austria, and securing new opportunities within countries such as France and Italy.
E.ON Gas Storage GmbH
Services: Gas storage
---