Expro
Issue 05 2013
---
Right first time
With six drill stem testing (DST) contracts in Egypt last year, international oilfield firm Expro is continuing to look East with its sights firmly set on Saudi Arabia, Libya and Algeria in 2013.
Following the success it enjoyed in 2012, with significant demand for its drill stem testing and meters in the Middle East and Africa, the well flow management company is expecting sizable growth during this year. It is an established provider of drill stem testing services, with more than 400 DST jobs successfully completed in more than ten international countries, including Nigeria and Malaysia.
Expro has also provided some of the world's major oil and gas producers, such as Shell, BP, and Texaco, with DST solutions. For example, the company's capabilities were recently utilised in Egypt, leading to a gas discovery in South Abu El Naga 2. The gas well was viewed as an area with high potential and the data delivered from the DST enabled the client to confirm another producing zone had been found.
Expro's core DST tools have a track record for excellence that has been proven over the past 20 years. The company is anticipating future developments and has added new DST tools so it can provide integrated solutions across phases of exploration and appraisal for any well.
Hussein Elsisi, business development manager for Middle East and North Africa, recently spoke of the company's expansion and success: "We are seeing a healthy growth in our DST activity in the Middle East. More and more companies recognise the benefits of working with a business that offers the complete well test package with some of the industry's most reliable technologies, including our multi-function and single cycle DST tools."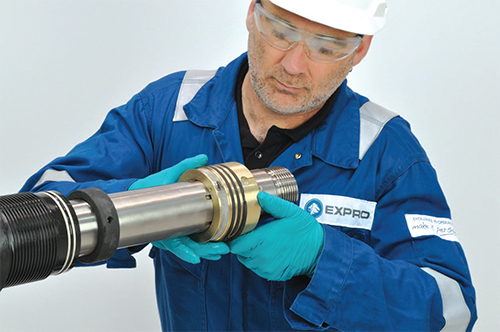 With operations in the major hydrocarbon producing areas of the world, Expro is committed to the development of long-term relationships in the regions and countries it performs in. In the region of the Middle East and North Africa, the company aims to give customers the highest level of service by providing a team of experts that cover well testing, metering, slickline and cased hole services.
Expro has also opened a regional training facility at its Katammia base in Cairo, which will enhance the development of employees. The company believes service quality is about getting it right first time, and Expro's employees of more than 5000 people across 50 countries are expected to take ownership and pride in their work. The business is committed to investing into the career development and improvement of its staff, not only so the employees can reach their own potential, but to also support its aim to lead the way in well flow management. Expro's core values are people, performance and partnerships, all of which ensure long-term relationships are maintained through its consistency of excellent customer service and commitment to clients around the world.
To keep in line with increased opportunities available, Expro has continued to invest in its core testing business to ensure a high quality of service. The organisation's expertise across the lifecycle of a well reinforces its ability to support customers in reaching their goals, from exploration and appraisal through to abandonment.
By utilising some of the industry's most reliable technologies and committing to the development of market-leading new technology, Expro can offer an innovative and complete package for well testing to its customers. The company's drill stem testing offering plays a major part in this, with multi-function and single-cased hole DST tools provided for the exploration and testing of wells. The range of services offered for well flow management allows Expro to provide integrated solutions to its global customer base.
The company has grown rapidly in recent years and, due to its dedication to worldwide customer satisfaction and quality service, has become a market leader in the subsea and offshore arena.
Expro
Services: Oil and gas industry services
---