Frames Gas Processing
Issue 03 2011
---
Sweet energy: the process of elimination
Although natural gas itself is a valuable asset, it often contains less favourable elements such as free liquids, heavy hydrocarbons, and corrosive components like sulphur and carbon dioxide (CO2).
Removing these contaminants is a challenging, yet necessary, process in order to prevent a negative influence on downstream processes and equipment. Since 1983, Frames has been designing and building technologically advanced high quality process and control systems for the international upstream oil and gas industry that remove these negative components. Once separated, these components can undergo treatment to become marketable in their own right.
A privately owned company, Frames is headquartered in the Netherlands, with offices worldwide to manage its global interests, which includes a client base of virtually every major oil and gas production company. Frames operates in a wide area of the gas market from sour gas and associated gas through to stranded gas, deep-sea gas, underground gas storage and floating production storage and offloading (FPSO) units. In order to expand its portfolio into new markets and technologies, the subdivision Frames Gas Processing was established in 2008 with a specific aim of creating innovative solutions for the oil and gas industry. Rudy de Quay and Frank Vergunst work as a team guiding this subdivision.
One particularly groundbreaking system currently being launched by Frames Gas Processing is Vitrisol – a patented technology for the removal of hydrogen sulphide (H2S) gas at any operating pressure. This is one of several contaminants often present in gas from natural gas fields and associated gas from oil fields, which if present in too large quantities, can sour the gas. Sour gas needs to be sweetened before transportation and processing to prevent excessive corrosion of piping and equipment, stress on the system, and environmental emission problems. Many of the existing sweetening processes are large, expensive and require frequent servicing, which makes the Vitrisol system an attractive option.
Elaborating upon this innovative process, Frank, says: "The Vitrisol system can remove even deep H2S gas to a lower level than the four part per million (ppm) pipeline specification. This is a 100 per cent selective process for the removal of H2S gas, which is a key advantage as you can then carry out further processes, for example for the extraction of CO2. Once bonded to the H2S, the Vitrisol enters into a sulphur recovery system where sulphur is produced at low temperatures and pressures. This is a much more compact system than many in operation today."
Vitrisol is a university-developed technology from the early 1990s, which was acquired by Frames Gas Processing in 2008. Since then the company has performed laboratory and pilot tests, and completed its first contract with this technology in the biogas industry. With Frames Gas Processing now in the process of introducing Vitrisol to the oil and gas industry, Frank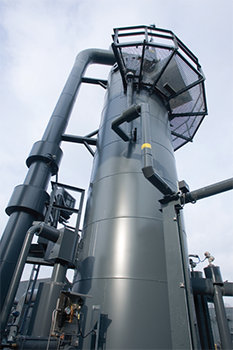 highlights the variety of different applications the system offers: "Increasingly the stranded gas fields that are being produced by the oil and gas industry contain much higher volumes of H2S and CO2 than in the past. This is because operators initially were producing from the more easily accessible gas fields, but are now increasingly moving into the acid gas fields. This trend means that there is a real need for systems like Vitrisol, not only on land but also in offshore locations such as the FPSO market, where H2S removal is vital to achieve a better operating atmosphere and reduced environmental impact."
With this reference from the biogas industry, through its sister company Frames Biogas Processing, behind it, the advanced nature of the Vitrisol technology means that Frank is optimistic about its take up in the oil and gas market: "Lead process engineers, field development managers, and concept design engineers all recognise a need for a system such as this. We are a member of the Dutch Institute for Sustainable Process Technology (ISPT) and through partnerships with other companies within this group, such as Shell, we are looking to put the Netherlands back at the forefront of sulphur removal technology."
Beyond the Vitrisol system, Frames Gas Processing also offers a broad range of other conventional and innovative technologies to remove souring components from gas. These include absorption, biological, membrane, desalination, and amine and chemical solvent processes. Once the gas is cleaned it is the ready to be processed for its specific application. One newer concept in this field is gas to wire (G2W), which is where natural gas is turned into electricity via an onsite power generator, reducing the need to transport the gas itself. Other processing technologies offered by Frames Gas Processing include small-scale gas to liquid methods, which enables refineries to convert waste gaseous products into commercially viable products, and liquefied natural gas (LNG).
In order to produce both reliable and high quality process systems, Frames Gas Processing focuses on energy efficiency, minimal and marketable by-products and high recovery rates. Even given the demanding industrystandards, the total cost of ownership of these systems is competitive, which in turn maximises sustainable value. The company has considerable expertise and know-how behind it from Frames almost three decades of experience in the oil and gas industry.
Despite being a relatively new company on the market, Frames Gas Processing has grown significantly as part of the general rapid expansion of Frames. Within just two and a half years Frames Gas Processing's activities are already exceeding capacity of its Netherlands office. Utilising the Frames network of eight global offices, as well as an additional four sites within the Netherlands, Frames Gas Processing is looking to expand further into the international markets of East Asia, Russia, Europe, the US, South America, and the Middle East.
In support of these ambitions, Frames Gas Processing will present a technical paper at both the Gastech 2011 conference, and the Gas Processors Association (GPA) conference held in March, where Frank has a long history of attendance, to showcase its Vitrisol system. "I expect a really positive response to this technology, particularly within the Middle East where large amounts of H2S are present in pre-processed gas, which can help to make their current systems cheaper, more efficient, environmentally friendly, and more compact. This really is a groundbreaking technology for which there is a genuine commercial need in the market, and could have a real impact on field development plans."
Despite having this new patented technology to its name, Frames Gas Processing is not content to rest on its laurels, and is instead continuing to work with its industry partners to identify the markets next niche markets. As the oil and gas industry evolves, so does the technology that supports it, and with this in mind Frames Gas Processing is already preparing itself for the next challenge. "At present we are looking into stranded gas fields, tight gas, coal bed methane, and shallow gas, which are all areas where production is becoming more difficult and which require the development of alternative technologies. These are the sorts of projects that we are looking to influence with our technologies, with plans to first introduce these systems into the biogas industry, before moving into the oil and gas industry in the next year or two. Over the next five years we predict more and more projects needing these kind of systems that make up our portfolio, and beyond that, the creation of new business through turning by-products into commercially viable products," concludes Frank.
Frames Gas Processing
Products: Process and control systems
---