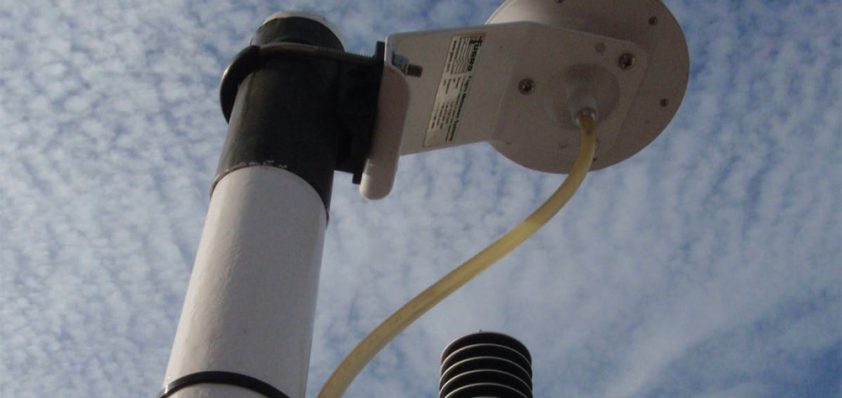 Fugro GEOS
Issue 03 2013
---
High quality data
Metocean solutions to reduce risk
For operators working offshore a good understanding of meteorological and oceanographic (metocean) conditions serves to reduce uncertainty in engineering specifications, help in operational planning, reduce costs and enhance safety and operational efficiency.
The provision of high quality metocean data is often the first step in the development of offshore or coastal engineering and renewable energy projects.
With over 30 years' experience in its field, Fugro GEOS is the world's leading supplier of metocean services for these applications. The company's solutions are designed to provide easy access to crucial metocean and environmental data to assist customers in the planning and execution of their projects. These incorporate cost-effective, high quality and technically advanced measurement, consultancy, information, monitoring and forecasting services.
Focus on deepwater assets
As well as the measuring and monitoring of environmental conditions, Fugro GEOS provides customised services that measure the structural responses resulting from environmental forces. The structural monitoring side of the company has grown significantly over the last year with investment in riser measurement products and a move from purely sales to offering a rental and temporary installation service, which many operators have found attractive.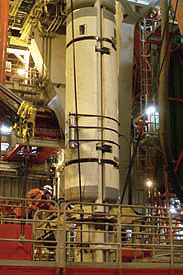 The collection of meaningful subsea data at depth is a major challenge due to power and data transmission constraints, which has led Fugro GEOS to develop a data acquisition system specifically for this deepwater environment. This is known as DeepData – a versatile, modular subsea data acquisition system that collects and analyses structural related information from a variety of sensors at depths of up to 2500 metres. Options include self-logging to internal memory for subsequent analysis and real-time, where data is transferred investment in riser measurement products and a move from purely sales to offering a rental and temporary installation service, which many operators have found attractive. to a topside computer. The scope for DeepData is restricted only by the practical constraints of deployment and installation and typical applications include risers, wellheads, jackets and pipelines.
"We've always provided riser monitoring equipment but until recently some operators had considered it to be a desirable addition rather than essential; that perspective seems to have changed," says Mark Calverley, consultancy director at Fugro GEOS. "We're now increasing our measurement equipment pool extensively in order to meet changes in market requirements. Since the Macondo blowout in 2010 we've noticed more clients measuring wellheads for motion fatigue, for example. Our geographic penetration is expanding and there's an obvious focus on deepwater assets."
Offshore metocean monitoring systems
Amongst Fugro GEOS' offshore equipment are systems that monitor metocean conditions and provide critical data for vessels, platforms and other installations to enhance operational efficiency. Fugro GEOS has designed and commissioned environmental and marine monitoring systems for a number of FPSOs around the world including Total's recently inaugurated floating utility at the Usan oilfield in Nigeria.
"Today we see that operators are working directly with our metocean specialists in order to deliver integrated monitoring systems that really are fit for purpose," notes Mark. "In the past, operators may have selected systems simply because they offered the cheapest solution that met specifications. Systems were typically 'standalone' and would often be part of telecommunications packages."
The disadvantages of these systems being supplied amongst telecoms packages include the fact that commissioning may take place many months in advance of the platform or vessel being on location at the field and the possibility that a comprehensive maintenance package is not considered.
Fugro GEOS is developing its environmental monitoring and oil spill response capabilities with the aim of providing a more coherent service. "Fugro's environmental capability has broadened following the recent acquisition of EMU Ltd and we're now aligning that capability with our metocean services to offer strong turnkey solutions in oil spill contingency and response," explains Mark.
Data delivery
With easy access to metocean and environmental data at the heart of Fugro GEOS' development, the company has a common data platform known as Metis. This web-based presentation solution is built upon geographic information systems (GIS) technology and enables metocean data from different sources to be viewed in a single display. This includes all types from model data to aerial photography and satellite imagery to point data.
Elaborating on its latest developments, Mark says: "Metis has been very well received in the market and our development team has been busy addressing client requirements. We have made good progress with the core development of the system and will shortly be releasing a new version of Metis. This will see a step change in performance with a much smarter and slicker interface. The wider benefits of Metis are being noted throughout oil company organisations and a number are looking to implement it on their projects."
There certainly appears to be no slowing down in the demand for Fugro GEOS' metocean and data management expertise with the company having recently won a major contract in Mozambique, East Africa. Business is also strong in deepwater markets such as West Africa, UK and Norway, and activity is picking up in the Gulf of Mexico.
Alluding to the future, Mark concludes with how he sees other opportunities for Fugro GEOS to further expand its service applications: "Our work in data management and collecting data in remote locations can be applied more widely and the ability to display that data within Metis is a key asset. We have the capability to integrate many different types of data and this adds significant value for our clients."
Fugro GEOS
Services: Meteorological and oceanographic solutions
---