Geotechnical Engineering and Marine Surveys
---
Looking up
Geotechnical Engineering and Marine Surveys (GEMS) Group is an integrated group of specialist offshore service companies providing offshore geotechnical, geophysical surveying, meteorology and oceanographic studies, and engineering and support services to regions throughout the world.
Founded in 2004 with the acquisition of a small Belgian hydrographic survey company specialising in dredging support services, the GEMS Group has expanded its operations rapidly over the past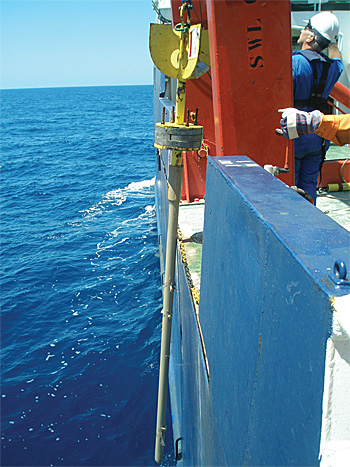 six years increasing turnover by more than 30 times and today has subsidiary companies throughout the world. It works in a variety of market sectors including oil and gas, submarine telecommunications, ports and harbours, offshore renewable energy, dredging and coastal reclamation.
After its foundation GEMS quickly established two subsidiaries in the UK; GEMS (UK) Ltd, specialising in the field of offshore geotechnical site investigations and foundation engineering, and GEMS Survey Ltd that aimed to accelerate the group's growth worldwide for geophysical and metocean surveys. By 2007 it had set up regional divisions in Egypt, Nigera, Qatar and the UAE, enabling the group to offer better services to clients throughout West Africa and the Middle East.
Today, GEMS has successfully executed projects across the globe from North and South America to Africa, and from Europe to Asia Pacific. The Group has worked with most major oil and gas operators and also government authorities including, importantly, extensive services related to the United Nations Convention on the Law of the Sea (UNCLOS) and exclusive economic zones (EEZs). This includes desk studies such as background research, marine survey specifications and contractual terms as well as marine surveys such as bathymetric studies, accurate seismic velocity determinations and project management.
To carry out its work GEMS operates eight primary vessels, each with a different area of expertise. The MV Albatros 1 is the group's first vessel and has been modified and refitted for geotechnical site investigations; MV Investigator is similar to the Albatros in that it is geared up for geotechnical drilling and surveying but offers greater capabilities. The MV Kommandor Jack and MV Aquarius are both long-term specialist geophysical surveying vessels permanently fitted for high specification oil and gas, renewable and cable route surveys. In addition specialist seabed geotechnical testing and sampling can be carried out along with the latest state-of-the-art deep water Autonomous Underwater Vehicle (AUV) survey equipment.
MV Askelad is an oceanographic survey vessel based in West Africa with deepwater capabilities; MV Sylt is designed for inland waterway, port, harbour, wind farm and near-shore investigations; MV Oostende XI is a small coastal surveying vessel with onboard 5.3 tonne deck crane; and the MV GEMS Researcher, built in 2003, has been designed as a multi-functional platform to provide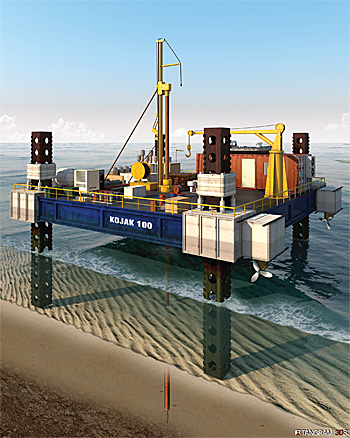 support services across the portfolio of GEMS' work.
The group's body of activities can be categorised into four divisions, namely geotechnical, geophysical, metocean and nearshore services. With its geotechnical division, GEMS has worked with most of the oil and gas majors including ExxonMobil, Shell, Total and Chevron and provide site investigations and foundation engineering with the MV Albatros and MV Investigator, using onboard wireline cone penetrometer testing (CPT), sampling and soils laboratory equipment.
The geophysical division offers an extensive range from hydrograhic surveys to integrated geoscience solutions. Extensive experience in this area has enabled the company to tailor each project for maximum efficiency, meaning it is able to pass on cost and time effective solutions to its customers. Meanwhile the metocean division ukis also experiencing rapid growth including environmental surveys, as well as oceanographic measurement and analyses of wave patterns, currents and chemical properties for customers in any aspect of the offshore industry.
GEMS assures clients of the quality and reliability of its work by implementing a rigorous in-house integrated management system (IMS) that pursues the aims of quality, health, safety and environment (QHSE). To further qualify this, it also has a number of industry standard accreditations to its name including ISO 9001:2008 for management quality, BS OHSAS 18001:2007 for occupational health and safety and PAS 99:2006 for multiple management standards integration. Working in ecologically sensitive regions, the company also commits to environmental policies guided by ISO 14001:2004.
GEMS is of course looking to continue offering its services to new customers in new locations. By continuing to be innovative and invest in its people, vessels and specialist equipment, the future for the GEMS Group looks to be very bright indeed.
Geotechnical Engineering and Marine Surveys
Services: Offshore geotechnical investigations and engineering, geophysical surveying and metocean studies
---