Global Gas Solutions (GGS)
Issue 08 2010
---
Made to measure
Peter Himschoot and Karl Aerts established GGS during 2006 in Essen, Belgium.
Though a relatively young company, both its founders and wider engineering workforce have many years of experience within the oil and gas sector. Its areas of expertise lay in measurement of custody and non-custody fluids, filtration, and pressure reduction for clients in the natural gas and petrochemical industry. These include end-users, EPC contractors, and ship builders. It is further capable of a far wider range of tasks including consultancy, engineering, site supervision and project management.
Speaking with European Oil and Gas in July 2009, founder and current managing director of GGS, Peter Himschoot, elaborated further on the basics of the company: "This company has been built on years of experience gained within a well-known Belgian supplier of natural gas meters and stations. Our employee level grows by 200 per cent every year and we currently have 15 engineers who specialise in niches such as mechanical, electrical and instrumentation engineering, gas quality and analysis, programmable logical control (PLC), supervisory control and data acquisition (SCADA), project management and document control."
The company's reputation has grown extensively in its four-year existence; today it is gaining a number of high profile and important jobs throughout the world. Projects currently being carried out include: the design and supply of filtration, pressure regulation and metering station for the world's largest solar hybrid plant located in Algeria, for Spanish company UTE Abener Hassi R'Mel Construction; overseeing construction of the natural gas section of Rotterdam's new bio-ethanol plant for UTE Abener Inabensa Paises Bajos; and the design and supply of a complete gas treatment facility for Belgium's main distributor of gas, Fluxys NV.
GGS has completed offshore work as well for a range of different companies. It installed gas-metering stations aboard a large number of regasification vessels for Belgian shipping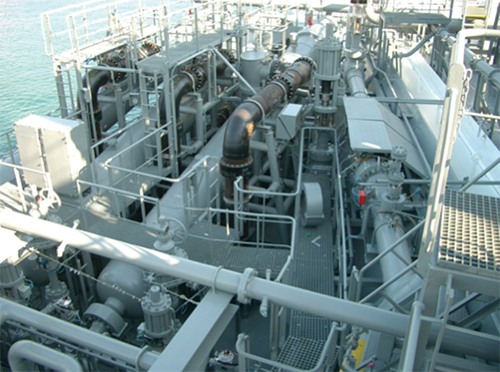 company Exmar, and is currently undertaking a similar project for Golar Norway's Freeze vessel. The offshore sector is something the company hopes to further expand in. Being already active in the offshore market, GSS hopes to focus further on it because the sector demands a high level of support – precisely its strength.
Recently the company name was broadened to GGS Oil & Gas Systems, this allows GGS to provide a wider range of services to its customers, who are active in both oil and gas business. As a result of this new market position, the company started its first prestigious oil project for the design, supply and construction of the main pump metering system for Abu Dhabi Company for Onshore Oil operations ADCO in June 2010.
One of the major reasons behind the success of the company is its micro-managing of projects. The company has dedicated project teams to work on jobs and is careful not to shift personnel around. This is a major advantage because it keeps site activities to an absolute minimum, leading to a trouble free start-ups of systems and stations.
A further strength of the company is that it is a privately owned business. This means it has the ability to provide its customers with rapid query responses and a flexible, comprehensive service that does not rely on third party financiers. Though small, GGS is unafraid of vying with much larger competitors and that often results in lucrative contracts. Being unattached to a parent company also means GGS has no restrictions on its product portfolio, so it is able to utilise the best possible equipment for any situation. This is particularly important because each of GGS's projects is tailor-made to fit the requirements of its customers.
Aided by its desire to remain a modestly sized business so as not to become too impersonal, GGS has promoted its name through excellent work and service. To further assure potential clients, it currently possesses the ISO9001:2008 quality management award, as well as an OHSAS:18001 certification.
The future for GGS looks a prosperous one. Peter concludes: "Owing to continuous growth we're experiencing, GGS is building new premises in Belgium with more space for skid construction and testing facilities. Furthermore we're expanding GSS's agencies even further; we already have agencies located around the world and we are planning to add several more in the coming years." Its recently developed partnerships, and the opening of an in-house division serving the Middle East and Gulf region, named GGS ME, suggest the company is well on its way to achieving its goal.
Global Gas Solutions
Products: Oil and Gas Metering Solutions
---