Group VH
Issue 11 2011
---
A faithful partner
"Much like the vast majority of companies operating within the oil and gas industry, Group VH did indeed feel the effects of the economic downtown.
However, the company is now very much on the way up again with business volumes increasing to some of their highest levels ever," states Peter Pedersen, sales, marketing and export manager of Group VH. "In line with this, the company's stock levels have returned to peak numbers with new products being added on a regular basis, for example a new range of PTO truck pumps."
One year short of its 25th anniversary, Group VH is a service Partner for axial piston units from Bosch Rexroth AG in Germany as well as an expert provider of repairs and sales of replacement units for all sizes of pumps and motors. Customers in the oil and gas industry include the likes of Maersk and Mobile Hydraulic with over 85 per cent of company turnover being derived from export sales. These customers also benefit from the ability of Group VH to mend high-grade components in a matter of hours, even in circumstances requiring immediate repairs.
During the height of the financial crisis, as the vast majority of the company's clients put projects on hold, Group VH turned its attention to those markets not as badly effected: "What the company did at this time was look towards Eastern Europe for new customers, targeting Russian speaking countries rather than pressing those that had seen a dramatic loss in activity," Peter continues. "The company's presence in this region grew considerably between 2008 and 2010, something that really helped it come through a period of difficulty elsewhere."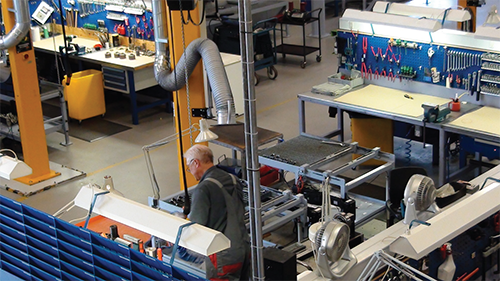 Though its other core markets have since gone some way towards recovering from the effects of recession, Peter is quick to highlight that Russia and its neighbouring countries remain of particular importance to Group VH: "Three years ago the company made significant moves to penetrate this market and to this day it remains an area of great potential. The economic climate there is very favourable, a situation that can probably best be seen in their tendency to pay for services in advance, something that is not seen that often now in other regions. Clearly this is something that only takes place when the customer has complete confidence in the company it is being served by and that trust is something Group VH has always worked hard to build."
Holding 189,000 original items with a total value of more than 3.3 million euros, Group VH has built up a massive stock portfolio, a feature of the group that has placed it in a strong position to service its long list of clients: "The ability to get a hold of hydraulic gear parts in Europe is arguably as difficult now as it has ever been with most stockists keeping their inventory levels down to a minimum," Peter explains. "Group VH however did the exact opposite, building up its stock levels in anticipation for the moment when the industry began picking up again and clients suddenly wanted its products and solutions into order to build new units and repair those in need of work.
"One of the fundamental ways the company managed to undertake this bold strategy, and a key reason for its continued success over the years, is the fact that Group VH has always retained a strong financial footing. Everything it does it does on its own without having to call on banks or investment companies for support. Further to this, customers are equally attracted to the flexibility of the company and its ability to rapidly and effectively respond to their enquiries motorsand requests. By replying to all correspondence within two working days, Group VH ensures no customer is left waiting for a response and together with its vast range of products it works to ensure that these same customers come back time and time again."
With the oil and gas industry entering an exciting and unpredictable period of development, Peter is clear as to where he hopes to see Group VH in the years ahead: "The goal since day one has been to further the company's image as a respected provider of spare parts and replacement units, one that is renowned for being on hand to support its customers when problems arise. While nobody expects Group VH to suddenly become the largest player within its field, it is hoped it can further strengthen its current position. With that in mind its focus now turns to securing new partners in areas all over the world to join Group VH in serving local developing markets in the same professional and expert manner that it has done so for a quarter of a century."
Group VH
Services: Servicing of hydraulic pumps and motors
---