Hamworthy
Issue 08 2010
---
From quayside to worldwide
From its humble beginnings in 1914 on Poole Quay in Dorset, the Hamworthy Group has developed into a market-leading global company providing specialist equipment and services to the marine, oil & gas and industrial sectors.
Through a mix of market-led organic development and strategic acquisitions, Hamworthy has built a business that's now regarded as a global leader with enviable expertise, providing specialist equipment and services to a broad range of markets.
With market-leading products and systems, ship design expertise and a global service network, Hamworthy supports the entire merchant fleet. In particular, the company is an expert in systems for oil and gas carriers and for cruise ships, providing innovative cargo handling and water management solutions for these specialist markets.
For the oil and gas industry, Hamworthy supports production facilities with systems that address issues of process efficiency and environmental compliance. Although the group has a strong marine heritage, many of its products and systems naturally find industrial applications.
As part of the Oil & Gas Division of Hamworthy, the Oil Separation Business is an established supplier of oil and water separation technology, including VIEC® technology, high efficiency compact separation, interface level and water profilers, laboratory services and CFD modelling.
An innovative solution made available from Hamworthy is the Vessel Internal Electrostatic Coalescer (VIEC®), which the company regards as 'the natural choice to improve separation and the quality of produced oil and water'.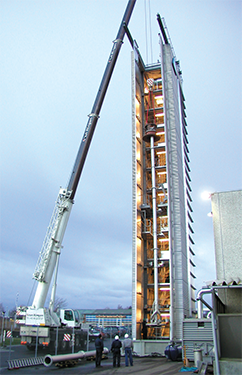 VIEC® solves the often experienced problem with emulsions and capacity limits in separators. It enhances the speed and efficiency of the separation process by forcing small water droplets to merge and form larger, faster sedimenting drops. Until the development of VIEC®, electrostatic coalescer technology has been unavailable for use inside the inlet separators. With new electric and mechanical developments of a unique patented technology based on insulated electrodes that can operate fully exposed to oil, water as well as gas inside the separators, the VIEC® technology moves coalescer performance upstream to the inside of the separators. Experience from several offshore installations, with oils ranging from 11-40 API, has shown that VIEC® greatly improves both the oil and produced water quality.
As a complementary product to the VIEC® technology, a combined interface level and water profiler has been developed. The iPhase® provides accurate measurements of the oil in water concentration inside the hydrocarbon separators by measuring the electrical conductivity of the water/oil mixture surrounding each sensor. Hamworthy is also collaborating with Jorin Limited in order to offer comprehensive solutions for assessment of separation efficiencies for process equipment managing produced water.
Another reason why clients go back to Hamworthy is its ability to perform in-house characterisation and testing of oils in its own lab. This, combined with expert knowledge of chemistry, sophisticated separation and fluid dynamic modelling, general overall knowledge of the process as a whole and hands on operational experience, means the ability to tackle almost any challenge a customer might have.
When combining this with proprietary high-tech internals, it is able to customise separators and separation systems to help customers enhance and increase production, reduce operational costs, and cut weight and space requirements.
Computational Fluid Dynamics (CFD) is a sophisticated modelling tool applied to simulate flows, such as oil, water and gas, inside a piece of equipment or system. It is used extensively for different process equipment applications and Hamworthy offers this as a service to the offshore market. Many of the products at Hamworthy Separation Technology have been developed using CFD in combination with laboratory and full scale testing. The company can offer its customers sophisticated but comprehendible models of their equipment and systems to be built up and analysed quickly.
Hamworthy Oil Separation knowhow represents the missing link bridging the gap between the research done by universities and the decisions taken during operation. With its experience and hands-on approach to operational problems and challenges it is able to meet the requirements for relevant petroleum tests and ultimately improve the predictability of separation phenomena.
As a group, Hamworthy's solutions benefit offshore facilities engaged in every stage of oil field development, from exploration and drilling through to production and transport, including fixed and floating production platforms and shuttle tankers.
Still headquartered in Poole (UK), today the Hamworthy Group has design, development and production facilities in the UK, Norway, Denmark, Germany, Singapore, and a modern assembly plant in China. Wherever it operates, the group remains committed to continuous improvement and to its promise – to always deliver.
Hamworthy
Products: Specialist oil & gas equipment and services
---