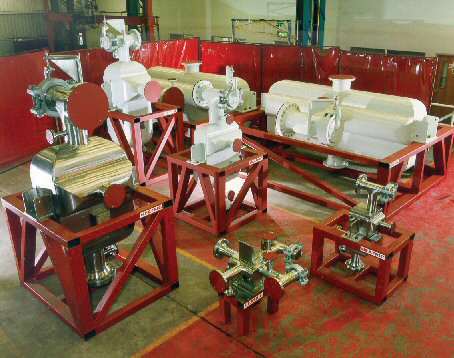 Heatric UK
Issue 10 2010
---
Heat of the moment
Established as a division of international engineering group Meggitt PLC, Heatric UK is a specialised manufacturer of printed circuit heat exchangers (PCHE) and, to a lesser extent, formed plate heat exchangers (FPHE).
Having been in operation since 1990, the company has delivered over 1000 contracts primarily to the offshore industry and established a reputation for itself with a unique product and reliable service.
Heatric's most well known item is the PCHE, a heat exchanger made from chemically etched sheets of metal, which offers a number of advantages over traditional 'shell and tube' exchanger methods. Being four to six times smaller in size, it offers savings on space and weight whilst offering comparable performance; this is extremely beneficial to offshore rigs and vessels where limitations are far more stringent than onshore buildings, making Heatric's product more than competitive in this area. Furthermore, it is very versatile as it can be manufactured in large sizes and is susceptible to complex internal patterning.
When manufacturing PCHEs, the company's engineers employ a solid-state joining process known as diffusion bonding. Renaud le Pierres, business development engineer at Heatric, explains the advantages of this process: "By applying pressure, temperature and time, the diffusion bonding process facilitates grain growth, therefore you achieve a yield that has the same property as the barren metal. This makes it different from other kinds of welding such as brazing and other fusion processes that cause issues such as localised stress because of dissimilar metal properties."
The PCHE has been Heatric's flagship product since its founding 20 years ago and has been used by a wide range of system builders such as WorleyParson, Foster Wheeler and Kvaerner, as well as end users including Shell, ExxonMobile, and PetroNas. Earlier this year the company won a £3.5 million contract with MODEC to deliver 18 PCHEs for a brand new floating production storage and offloading (FPSO) vessel being built by MODEC, chosen because of the technology's compact nature and effectiveness in withstanding high pressures.
However, the company is keen to stay a market leader and in 2005 developed a new product, the FPHE. This is a standard thin-plate heat exchanger but manufactured using the diffusion bonding process, therefore giving it the same advantages over competing products in the marketplace as the PCHE. Because some metals are resistant to chemical etching, the FPHE was developed to alleviate this problem.
Despite being Meggitt's UK division, Heatric does carry out business internationally and engages with companies across the world. For example, the company will soon be delivering a large amount of units to Brazil's national energy company Petrobras. It also has sales offices dedicated to handling specific regions, including one in Houston, Texas, designated for the Americas. Though these are purely sales points, not design offices, the company finds them an essential component of Heatric's service.
Another aspect of the company is its deepening customer services, as Renaud explains: "We have got a growing business in aftersales, for example with maintenance of items we have installed. We can also undertake system optimisation procedures; because our units are a bit different from the standard product, we can help the user integrate it better. By optimising closer temperature, for example, efficiency is increased. Effectively we can reduce the size of equipment altogether then work hand-in-hand with system builders to accommodate our product with maximum benefits."
Because so much of the company's business is within the oil and gas industry, and because this sector slowed down massively during the financial crisis, Heatric did see its business impacted quite heavily during 2009 and had to reduce the size of its workforce. However, 2010 has seen the market regenerate once more and Heatric is back on track with new projects and future development prospects.
During 2006 the company went through a major expansion project that saw a 50 per cent expansion of the shopfloor and the implementation of integrated quality management systems. With the present and future looking bright, this expansion means the company is already in good stead to capitalise upon increasing production rates and interest in their business.
Some of this interest is coming from outside of the oil and gas market. Since the crisis Heatric has seen increasing opportunities for growth in other areas where heat exchangers are fundamental components, such as the renewable energy, nuclear and chemical markets. It has already carried out minor projects in this area, but major projects may yet be a while off whilst operators continue to assess Heatric's capabilities.
This all amounts to a company that will continue going from strength to strength. Heatric has a team of relatively young yet fully experienced engineers, as well as support staff with a history in other sectors of the heat exchanger business. As part of the Meggitt group it also has a sustainable financial backing, giving it the opportunity to expand where necessary.
Taking this into account, it is no surprise Renaud concludes on an upbeat note: "We have plans to increase the business steadily over the next five years, and have good prospects lined up in regions such as Australia, the Middle East and Brazil that give us hope. In five years, we actually expect our revenues to have doubled."
Heatric UK
Products: Heat exchangers
---