Heimdals Plastprodukter
---
The perfect combination
As the largest entrepreneur working with prefabrication and installation of complete composite packages in Norway, Heimdals Plastprodukter delivers tailor-made solutions to a client base that includes Statoil, Aker Solutions, Elkem Solar, Xstrata, Aibel, Transocean and Ocean Rig.
Heimdals Plastprodukter AS and OPS Composites AS are 100 per cent owned subsidiaries of the oil and process services company, OPS AS. The group consists of three further complimentary mechanical companies that are situated in the southern part of Norway.
OPS Composites represents Ameron Bondstrand GRE composite pipe systems in Norway for the offshore and onshore market, and worldwide services for marine activities. Vidar Westergren, managing director of OPS Composites explains: "We are in a global network with our Ameron Bondstrand GRE pipe systems."
Located centrally in Sørlandsparken – an active area for industry, eight kilometres east of Kristiansand town centre – Heimdals has two modern facilities spanning 1400 square metres with a ceiling clearance of seven metres. Both manufacturing and testing is performed in its new modern facilities. Heimdals' activities mostly consist of composite pipe systems, tanks, single skin and sandwich composite construction, and process equipment.
Heimdals' managing director, Reidar Anderssen, provides an in-depth overview of the firm's interests: "Our main business is composite materials: particularly the design, construction and installation of composite pipes, as well as the repair of steel structures/piping using thermoset composites. However, we also undertake a considerable amount of work with thermoplastic materials.
"By far, the largest part of our operations is the manufacturing and installation of composite piping systems ranging from 1"to 80" for a wide variety of applications. We serve the offshore marine and the industry markets, mostly operating in Norway, on-and-offshore. We're more global within the marine market."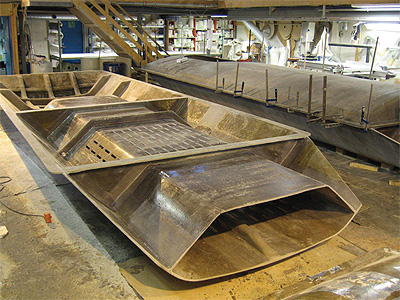 He goes on to describe the company's operations in more detail: "We also work closely with our customers in terms of developing our products, installation and managing the maintenance system. For the most part, we have long-term relationships with our customers; some of our projects started ten years ago and we've continued those contracts by carrying out maintenance on the installations. The maintenance side of the business has become more important in recent months due to the financial crisis, although we have not seen much in the way of economic problems in our company. The marine market is strong, although the industrial market is slightly more quiet."
The company also provides a perfect set up for composite prototyping, helping customers with design, finite element analysis, and reaching weight and functionality targets using advanced composites. This includes ROV tools, downhole equipment and sub-sea structures. In each of these fields the business' success has continued unabated, with a turnover of approximately ten million euros in recent years.
Heimdals' 50 staff members take on all manner of tasks within the fields of thermoplastic and thermoset composites for a variety of industries, off-and-onshore. Having accumulated a great deal of industrial experience, the business can offer consultancy within its field of expertise, as well as advice on effects regarding corrosion and wear, cost and project analysis, and engineering.
From the beginning, Heimdals has focused on quality and education, and continues to invest considerable resources into these concerns. This enables it to be at the forefront of competence and advanced developments, partly regarding certification demands. To this end, the organisation is increasingly concentrating on research and development, as Reidar explains: "We are constantly increasing our R&D efforts as it is becoming more and more important to us, and will continue to play an important role in future endeavours."
Holding Heimdals in good stead is its size and wealth of experience, which helps the organisation to stand out from its competitors: "We respond fairly quickly to our customers and we are flexible, partly because we are a relatively small company. We know what we are doing in production, as well as with regards to the technical aspects of using composite materials."
The nature of Heimdals' working material also adds to the business' fortitude, as Reidar comments: "More and more people need to recognise the advantages of using composite materials for piping, construction and high-end applications in the offshore, industry and marine markets. Composite products normally require no maintenance, they're very lightweight and, on top of all that, they often provide the most inexpensive solution as well"
In respect of where Heimdals hopes to be in five years, growth and progression is on the cards. "We will look at attending some conferences this year, and of course we will visit the biggest exhibitions within the composite area," Reidar shares. "We have a new product that we want to develop a little further, which we hope to launch this year, and our engineering and development activities will be strengthened by the addition of one or two new employees this year. We will aim to increase our market share and expand, so we can have a bigger engineering department and undertake more complete work. Taking care of the whole chain from developing to installation and maintenance – delivering the whole package – is important to us."
Heimdals Plastprodukter AS
Products: Composite and thermoplastic materials
---