Heis-Tek
---
Lift me up
Heis-Tek was established in 1994 in Norway, and today is a nationwide supplier of lifts and lift services.
Despite the company's relatively young age, its employees are very well versed in the industry – with most of them having over 20 years' experience in the lift business in terms of maintenance, repair, assembly and construction of lifts. The Group employs approximately 50 staff in management and installation positions.
Development, construction/engineering, sales and installation of lift systems are all part of the offering from Heis-Tek, as are elevator products and service contracts related to all aspects of lift products to onshore markets as well as for ships and the offshore sector.
In fact, offshore lift installation (in terms of design, construction and assembly) is an area of priority for Heis-Tek. It performs service, maintenance and control of elevators on fixed and floating rigs and all types of ships. The Group has also delivered several elevators in the EX zone. Heis-Tek also offers products and expertise in the modernisation of older elevators, and it performs everything from small repairs to total replacement. In the past, Heis-Tek has provided complete lifts including a shaft that had been prefabricated on land and hoisted aboard. This method ensured rapid and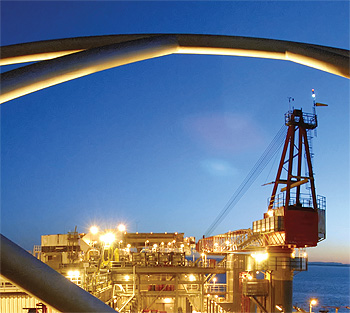 rational assembly without hot working and with a minimum of intervention in other processes on board.
In the offshore area, project design and construction is undertaken at the company's head office. The staff here have built up a solid and comprehensive base of experience that ensures customers receive an innovative and high quality product that can live up to their expectations. Offshore assembly takes place primarily at Heis-Tek's department in Bergen, where Heis-Tek places great emphasis on delivering quality products from well-known suppliers of elevator equipment, which the company has learned from experience are reliable and require little upkeep.
Nevertheless, even lift materials of the highest quality need inspection and maintenance in order to ensure safety and reliability on an ongoing basis. To meet this need, well-trained and expert Heis-Tek engineers perform service and repairs on lift installations offshore.
In addition, preventive maintenance in the form of a maintenance agreement with service intervals adapted to the lift and assembly environment provides several advantages to lift owners, such as the fact that any defects can be detected before they cause failure. It is also more economical to replace worn parts before they cause damage to more expensive components. A maintenance programme will also include a continuous condition assessment, which facilitates the planning of any repairs, updates and modernisation.
A maintenance agreement with Heis-Tek ensures proper maintenance at the right price, and many blue-chip oil and gas companies are reaping the benefits of these contracts, including big names such as Phillips Petroleum and BP.
Of course, Heis-Tek also works onshore and since its foundation the company has installed several hundred lifts in this area. The business supplies elevators for all building types and purposes, and can offer advice and guidance to clients, as the type of lift they specify does depend on several factors. It is here where clients really benefit from Heis-Tek's experience, as it has worked in almost every type of building, from apartment buildings to nursing homes. The number of floors, the architectural design and aesthetics, the expected amount of traffic, whether it is a goods or persons lift or a combination of the two, plus a number of other parameters all must be considered before the right solution can be formatted.
Alongside new builds, Heis-Tek can perform the reconstruction and modernisation of elevators. Older lifts often don't satisfy today's security, design or energy efficiency requirements. Heis-Tek's modifications can consist of anything from simply replacing doors to more extensive changes such as improving the lift machinery. The installation of modern technology means fewer components and reduced maintenance costs. For example, frequency regulation of the elevator machinery will result in reduced power consumption and less wear on the lift, as well as increased ride comfort. Based on the extent of the rebuilding, it is often possible for clients to achieve significant reductions in operating expenses combined with increased safety and improved comfort.
Each of these reconstruction projects is undertaken in consultation with the client, and it is only imagination and budget limits that restrict what can be achieved. Heis-Tek can even adapt the floor surface, wall covering and door furniture to its customer wishes.
Since the beginning of 1994, Heis-Tek has delivered almost 1000 lift installations across the country, both large and small. In 2005, Heis-Tek recorded a turnover in excess of NOK 36 million, and the company continues to go from strength to strength. Recognised as a major player in the service market, it can claim many municipalities and other large property managers in both the private and public sectors as regular customers. The company is continuing to prioritise customer satisfaction and retention in 2010, and is looking for even more growth over the next five years.
Heis-Tek
Products: Lifts and services
---