Horizon Terminals
Issue 04 2011
---
Store credit
Horizon Terminals Ltd (HTL), the independent terminal arm of ENOC, manages more than five million CBM of storage with a network of nine terminals ranging in location from South Korea to Morocco.
It provides worldclass terminal services for bulk liquids storage as well as a range of value-added logistics services. HTL is wholly owned by ENOC Group, a company owned by the Government of Dubai. With an increase in demand in the bulk liquid terminal business, Emirates National Oil Co. LL (ENOC) created HTL in order to consolidate its existing terminal investments, and expand the business globally.
Saleh Al Nazari, business development and commercial manager of HTL, gives more details about the organisation: "We have various terminals located around the Mediterranean, Middle East and Africa, which are self reliant, with their own team of personnel. They cater to the immediate needs of their local area, and are also supported by a local commercial and management team.
"What we do on the corporate side in Dubai is provide assistance to them. We are only here to assist and manage from our site and we design individual strategies and policies that meet the needs of each terminal."
This flexible approach is one of the key strengths of HTL, as Saleh notes: "We tend to be a bit more responsive to any new potential products, new leads and so forth. Being from the Middle East gives us better links with the various entities that are operating in this region, and we have been able to get certain projects such as the new one in Morocco, and others, off the ground because of these contacts."
Saleh went into further detail about the new Moroccan facility: "This is due to be commissioned in June this year, 2011, and it's designed to distribute and supply clean products to the local market, to supply products for the trade in the Mediterranean area and to provide storage and bunkering.
"The products available from the refineries in Morocco are not sufficient for the local market so they need a terminal in order to facilitate the import of products. There is a great opportunity for us to do trade in the region also by providing storage; where clients will bring in products to offer break bulk, blend or to consolidate cargoes in other instances."
Once the Moroccan terminal is up and running, HTL will look to augment its position in the Mediterranean region along with Africa, as Saleh explains: "Our target areas are the Mediterranean and Africa because we have identified those two regions as being short of storage facilities. These would each require different models, as we see the Med area as being used more for trade as opposed to local imports, whereas the projects in Africa will be geared more towards meeting the needs of local markets.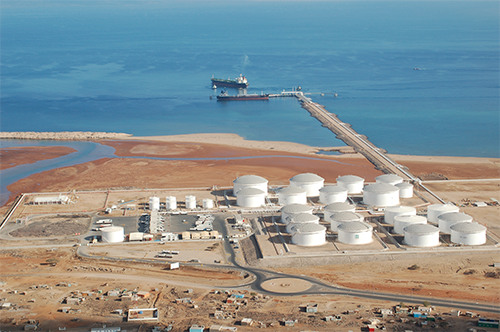 "We believe there is good potential for growth here, which will serve our strategic objectives in the short to mid term. We are looking at a few locations in these two areas and we hope we will have some news on them in the near future."
As many of its customers rely on HTL for the supply of critical products, Craig Garbutt, group operations manager notes the importance of maintaining the equipment in the terminals and closely monitoring their day to day running: "We are often providing a business critical 24/7 service whereby the customer can't accept any interruption at all to their supply. In terms of operating our terminals effectively, firstly we need to ensure that we have well trained, competent personnel running the facilities that are focused and committed on providing constantly high levels of service. In addition, we also conduct periodic criticality assessments on our infrastructure to identify points of failure, which we can then assess by ensuring either critical spares are available or standby equipment is available should a problem arise.
"After that we have a robust asset management system, which needs to include goodpreventive and predictive maintenance regimes to ensure our infrastructure is maintained to the highest standards and inspected to the latest industry codes."
Maintaining these standards is an ongoing process and Craig highlights that safety starts with the design phase: "What we tend to do is to endeavour to engineer out any potential risks to either safety or the environment, and if that's unfeasible then we engineer in the appropriate control systems. For example, when we put anew tank down we put an impermeable HDPE membrane underneath to prevent any under floor leakage (if there was a corrosion issue on the tank). The biggest risk within our industry sector however remains a loss of containment followed by some source of ignition, so that's where our primary concern is and that's where a lot of our effort is focused.
"We have a group environment health and safety department, an EHS department and we have a very robust and proactive set of audits that take place on the terminals on an annual basis. The audit process is quite important to ensure that we identify potential issues and risks in areas where we can improve our equipment and that drives forward both safety and operational efficiency of our terminals."
This total focus on safety requires serious investment into staff training. Craig says: "In our industry this is quite a hot topic, as the competency of our personnel is becoming more and more important. Horizon Terminals is currently embarking on a competency assurance issue in its programme for our operations staff, which we envisage that we will roll some time later in 2011. This involves making sure our staff understand the requirements of what their job is and their responsibilities are, and can actively demonstrate that they have the right competency to execute those responsibilities.
"As automation comes in and we start to rely more on technology, then the competency of our staff changes as well. That's why it's important to have the correct training programmes in place that reflect the change that is taking place within the business."
With ambitious aims for further expansion, HTL is moving forward at a good pace. Saleh concludes with his vision for the company over the next five years: "By 2016 we want to be the leading terminal storage providers in the Mediterranean, the Middle East and in Africa. We can do this either through greenfield projects or acquiring existing terminals and expanding them.
"In addition, our focus in the future is going to be more on the petroleum side, rather than the chemical side, because we see more growth and sustainability in petroleum storage. We have not really explored the LPG market yet but as more people are going into gas processing, storage and logistics maybe in the future we will go into that as well."
Horizon Terminals
Services: Bulk storage of oils and liquids
---