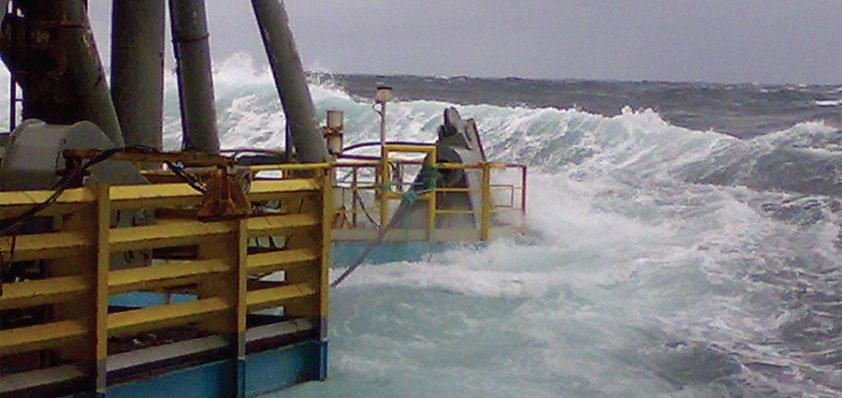 Interocean Marine Services Ltd
Issue 04 2010
---
Oceans of promise
By keeping a close eye on the market and adapting accordingly, Interocean has successfully carved out a niche for itself as a rig mover, boasting a turnover of £7 million – despite being formed just three years ago, in 2007.
With two experienced individuals at the helm, the company has since completed 270 rig moves, currently undertaking about two per week. European Oil & Gas Magazine spoke to managing director Sean Johnson, who came from a marine engineering background to form the Aberdeen-based business, in order to find out more about the young company. "Interocean was established in September 2007 and operations began two months later," he says. "We started by relocating mobile offshore drilling units and, though we have since expanded into other areas, this constitutes about 90 per cent of our activities. Our other services include audits of rigs and boats, and subcontracting of rental and mooring equipment.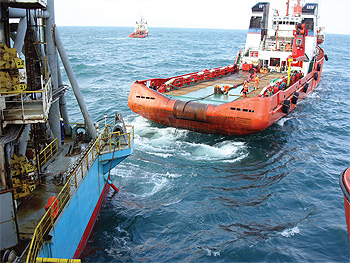 "We started off by working for drilling contractors, like Transocean and Northern Offshore, and once our activities were in full swing then production companies, such as Synergy, Petro Canada and AGR, entered the equation as well."
On the drilling contractors/rig owners side, Interocean's main clients are Transocean, Northern Offshore and Dolphin Drilling; on the producers side, key customers include Petro Canada, Petrofac, Chevron, Kosmos and Nobel Energy; and on the turnkey company/drilling specialists side, it works with AGR, Senergy and ADTI.
Interocean's high profile clients are attracted to the company's in-depth know-how and capabilities, as director Keith Nelson reveals: "Our main strength is our very experienced management team – myself and the other director have each been in the offshore sector for over 20 years. We have a great deal of expertise in various sectors of the offshore industry, with rigs and boats, which gives us a lot of strength to support clients. The competence of the tow masters we send out to undertake the actual rig moves is a also a key quality of ours, as is spending a lot of time on training, briefings, instruction."
In fact, Keith says the business, which is supported by a 40-strong workforce, is introducing its own training and competence manual for rig moving very shortly: "It's about selecting the right people to start with and putting them out with experienced tow masters to develop their skills and knowledge. There's constant client feedback upon the completion of every rig move and we bring trainees into the office regularly to discuss the rig moves and what they've learnt."
Elaborating on Interocean's offering, Sean continues: "We are a complete service provider, so we offer an integrated rig moving package. Interocean provides the marine aspects of that, NCS Survey supplies the navigation and positioning side, and Viking Moorings provides the mooring equipment side. The expansion of services within the rig moving business to build an engineering department enables us to undertake mooring and riser analysis. The next step is to move into other mooring installations, including FPSOs, and then look at renewables, such as wind farms."
With thoughts remaining on future work, he discusses a new contract with Chevron UK: "Chevron UK will be quiet on the rig moving side for the remainder of the year but there are a lot of vessel audits and forward planning for campaigns scheduled for later on. With our clients, we like to maintain close relationships; the client has a dedicated contact person – we appoint a project manager
for each client, and they manage about four or five clients. The idea is that the customer has a single, focal point within Interocean – a person who works on its project and stays in touch, as required."
It is thanks to such close co-operations with customers that Interocean has been able to sustain a new business during the toughest economic time for two decades. Fortunately, the company's fortitude and hard work will likely be rewarded towards the end of this year and beyond. "The industry is just coming out of a slow patch from the middle of last year but cautious optimism is present," Sean reports. "Generally the rigs that are active are remaining at work and some of the rigs that weren't working are going back to work. At the end of the year, there may only be a handful of rigs not in use. It's due to our loyal customers that we have emerged successfully from the recession. We believe in maintaining relationships with clients, so we upheld our competitive rates through the crisis and offered a value-added service. We give as much as we can during a project and do whatever we can to assist."
In terms of where the business would like to be active in the coming years, it seems certain that Interocean will flourish in new regions as it deploys a gradual-growth development plan. Indeed, Keith sees plenty of scope for expansion: "We're mainly active in the UK sector, though there's quite a bit of work along the west African coast and the Caspian Sea, and a smaller amount of potential work in South East Asia. We'll continue to expand in these areas and in five year's time, I'd like to see us being more geographically spread, with perhaps offices overseas in core areas. I'd also like to see a greater number of trained and approved tow masters at work, and I want to see different business streams in Interocean; one that we're working on at the moment is vessel conversions, and this is perhaps a side of the business that can be extended."
Interocean Marine Services Ltd
Services: Marine, engineering & safety consultancy, and operations
---