Island Offshore Subsea
Issue 04 2012
---
An island unto itself
Founded in 2005, the objective of Island Offshore Subsea (IOSS) upon its establishment was to develop a light well intervention (LWI) service as stipulated by its parent company, Island Offshore Group.
Utilising the first purpose built LWI unit, the Island Frontier, IOSS' service was subsequently marketed primarily at those operating on the UK Continental Shelf, soon after which an alliance was established with Aker Wellservice and FMC Technologies.
"One of the company's first major milestones was the landing of its first contract with Chevron on a lump sum basis, which was undertaken in April 2005," states Robert Friedberg, managing director of IOSS. "Completed in the scheduled time of seven days, the success of this project, as well as two later wells, eventually saw Island Offshore awarded a six year contract with Statoil on the Norwegian Continental Shelf that commenced in 2006. Still ongoing to this day, this contract has since been expanded with the arrival of two other units, the Island Wellserver and Island Constructor."
Following the award of the Statoil contract, Island Offshore was awarded a three-year contract, with a possible two-year extension, with BP UK, primarily to carry out work West of the Shetland Islands and in the Central North Sea. It was during the early stages of this contract that the Island Wellserver and Island Constructor were first put into service, in 2009.
"Since 2009, the company has acquired what is its forth unit, a sister vessel of the Island Constructor, the Island Intervention," Robert continues. "Meanwhile IOSS' well intervention activity has been expanded to include other activities including tree-on-wire, plug and abandonment and top-hole drilling, areas that all require the attention of specialised units and personnel. Furthermore, IOSS will be expanding into both deeper waters and other areas such as open water completions and open water-coiled tubing. The basic philosophy driving the business into these areas is to maximise the utilisation of LWI monohull units in a cost effective way, which will ultimately take some of the work scope away from large and costly drilling units.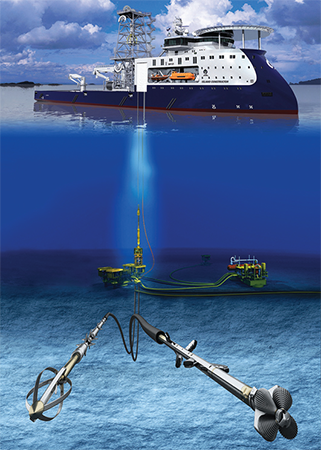 "The use of monohull units in LWI work is a relatively new activity, one that in previous years has been undertaken by large drilling rigs. Today a significantly higher volume of wells are being achieved to a considerable lower cost, however, tool development is required in order to enhance this service even further," Robert explains. "What Island Offshore is doing is taking definitive steps to broaden its knowledge and expertise within the intervention business.
"One such step it has taken can be seen in the acquisition of Penetrators Canada Inc. (www.maxperf.ca), a Canadian company with the MaxPERF technology for increased recovery from existing oil and gas wells. What it is doing now is taking this technology into new markets, while also working on the development of new technologies within this segment. Meanwhile the company is also carrying out developments on existing MaxPERF tools to cover specialist needs within the plug and abandonment segment of the business. This includes milling holes in completion and casing strings to check pressures in annulus or for setting cement plugs behind casing."
The company's expansion into new segments is something that will ultimately make its units more versatile, which in turn allows IOSS to improve its own competitiveness: "Arguably the biggest strength of the company is its continuous strive towards making the service more competitive and focus on new methods to enhance oil recovery from subsea wells," Robert highlights. "Therefore the strongest area of growth within the company has been within technology, including down hole technology.
"What is also important to recognise is that Island Offshore Group possesses the world's largest fleet of advanced well intervention units. Every year, Island Offshore, in partnership with its alliance partners, conducts well intervention work on more than 50 wells. That is by far the largest intervention frequency in the world and is even more important when considering there is a clear trend for oil and gas companies to expand into harsher environments and deeper waters that can be as deep as 3000 meters."
With close to 6000 subsea wells in existence world wide, it has become clear is that a highly sophisticated and integrated service, very much different from traditional methods of drilling activity, is required to take the industry forward: "During its seven years in existence, IOSS has helped bring two generations of well intervention units into service. This legacy is due to continue with the launching of a third generation that has been developed in such a way that it utilises all the experience the company has gained from conducting in excess of 180 well interventions. In response to the changing trends of the oil and gas market this generation of well intervention unit will be specially equipped to work in harsh environments and deeper waters, yet will still carry out its work at an attractively low cost," Robert enthuses.
As IOSS and its more than 100 employees prepare for a future that will see the company expanding its global reach into regions including Western Africa, the Gulf of Mexico and Brazil, there is a very clear goal that Robert wants to achieve: "Over the next five years it is the company's mission to develop into what will be recognized as a operating entity, driven by technological advances. IOSS will also take on and introduce its innovations into more diverse operating environments, thereby reaffirming its commitment to improving its service and competitiveness."
Island Offshore Subsea
Services: Well intervention services
---