K Line Offshore
---
Venturing deeper
K Line Offshore AS is a ship owner and operator, active in the offshore support vessel market.
The company was founded in Arendal, Norway in October 2007 by the major Japanese shipping company Kawasaki Kisen Kaisha Ltd, together with its joint venture partner ADS Offshore AS (ADS). Today, K Line owns more than 90 per cent of this joint venture, and its ambition is to become a significant global player. The company's fleet consists of a range of vessels, but mostly focuses on anchor handling tug supply vessels and platform supply vessels (PSV), which provide services to oil and gas operations around the world.
Katsue Yoshida, CEO of K Line Offshore, describes his business' main competitive selling points: "K Line Offshore is fully supported by the K Line group, which is one of the biggest shipping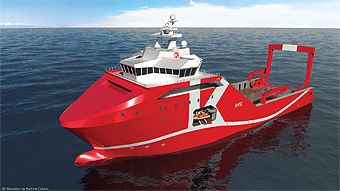 companies in the world, operating more than 500 ships, including container ships, car carriers, bulkers, tankers, and gas carriers. This provides our business with a strong financial backing, and with this support, K-Line Tokyo has been developing new fields – such as CNG, offshore service vessels, LNG FPSO, drill ships and heavy lifters – rather than traditional shipping fields.
"These offshore ships are particularly useful in the energy field. Developing the new fleet has put us in a very strong position and we expect a synergy effect from our investment K Line made in various energy fields, resulting in more vessels being added soon. K Line also has a global network, operating all over the world in a number of locations. This really broadens our scope and opens up a lot of opportunities for us internationally."
The company ordered several new vessels to add to its ever-expanding fleet. Katsue elaborates: "We have six new builds on the way. These consist of two ultra large 34,000 bhp anchor handling tug supply vessels and four large 5100 DWT platform supply vessels, all of which are being provided by STX Europe. The vessels are state-of-the-art and are a very exciting addition to our existing fleet. The first anchor handler is expected to be delivered in December 2010, and the second in April 2011. The PSVs will arrive in intervals of three months from October 2010. So we expect the following three in January, April and July 2011 respectively. All new builds are designed to be environmentally friendly, following our 'clean design' guidelines."
Having recently passed an important milestone with the delivery of a UT755L PSV, the 'KL Arendalfjord', in October 2008, K Line Offshore is further developing the fleet. Built at Aker Brevik in 2004, the vessel has been operating in the North Sea and is steadily building its operational track record and experience. Technical management of the vessel has been entrusted to OSM Ship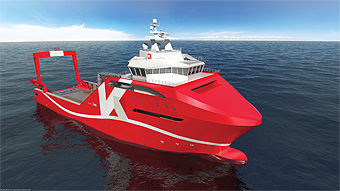 Management AS in Arendal. KL Arendalfjord has been trading in the spot and short-term markets in the North Sea, working with various charterers, such as BG, BP, ConocoPhillips, E.On Ruhrgas, Mærsk Oil & Gas, Petrofac and Venture. The vessel experienced a very successful first year in operation, and as such it has been well received by North Sea charterers. It is now steadily building its operational track record and experience, with a view to securing a long-term charter, which will subsequently expand the K funnel fleet steadily, along with the construction of the six new builds.
The new vessels are all part of the company's goal of becoming a leading global provider of offshore support services to oil and gas fields. Its advanced vessels and comprehensive range of services are ideally suited for operations in new oil and gas fields in ultra-deep water, harsh environments and remote areas. Katsue outlines the company's further plans to meet this goal: "We really want to establish the business here in Norway, and to strengthen and improve the relationship between Norway and Japan. K Line has long-term contracts with a number of LNG carriers, two of which are with Statoil. We also have another medium-term contract with a Norwegian power utility company to deliver wood-pellets from the US east coast to Norway. That contract will start in October 2010, with two dedicated K Line vessels. Following these important projects, we will work step-by-step to develop business with Norway."
Despite some setbacks in the oil and gas industry, as a result of the recession, Katsue is confident that K Line Offshore is on target to meet its goals. He describes the industry conditions at present and how the company intends to develop in the future: "I think 2010 will be slow but steady and after 2011 I expect to see marked improvement in the market. Our ships are high-end, quality vessels that are recognised for their superiority in deeper water, so I see growth for K Line Offshore in the future. We are focusing on consolidating our position here at the moment. My current mission is to ensure that K Line Offshore secures new contracts. Once we have secured a strong position in this market, I will begin to consider the second stage of our development, which will include an expansion programme."
K Line Offshore
Services: Ship building
---