Kenz-Figee
---
Lifting expectations
With a history dating back to 1836, Kenz-Figee has become internationally recognised as a centre of excellence for tailor-made offshore and harbour crane solutions.
As an innovative leader in the field, its 100-strong experienced workforce provides advanced concept engineering, design and calculation capabilities, as well as in-house hydraulic, electronic and control system expertise to a broad customer base. State-of-the-art technical tools, including 3D AutoCAD, Finite Element programmes and simulation software ensure that the company remains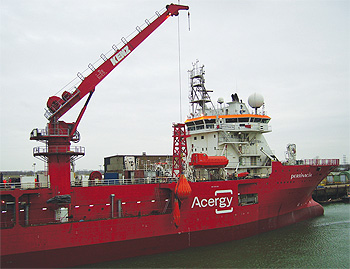 at the forefront of the industry and its ever-evolving requirements. The Kenz-Figee high performance brand was forged following the merger of Kenz, a long standing name in cranes and lifting appliances for the offshore industry, and Figee, the oldest part of the company, which has earned a worldwide reputation as a leading designer and manufacturer of various types of harbour cranes and general hoisting systems – the company has never looked back since.
The organisation's main activities cover the design, fabrication, installation and conversion of cranes, alongside the associated lifting appliances, while it also offers refurbishment, upgrade and maintenance services to those operating in the harsh offshore environment. Kenz-Figee operates under a philosophy of adapting to the client's needs, persistently seeking to meet the demanding new expectations of the industry with not only quality, but enhanced safety as well. Customers can expect a unique deliverance from the company that is based around tailor-made, new-build solutions rather than the traditional standard design service that most of its competitors adhere to. The highly skilled and knowledgeable design team are able to create cranes for use on drilling, production, and accommodation platforms, floating drilling, diving support, pipe and cable laying, and navy vessels, as well as FPSO and FSO units. Crane capacities range from 2.5 to 1500 tonnes hook load with operation to sea state six and beaufort eight offshore condition ratings.
As with any piece of equipment intended for use in the oil and gas industry, safety is of paramount importance to company, staff and customer, and as such Kenz-Figee provides a comprehensive portfolio of safety and operational features for its lifting equipment. Explosion proofing, constant tensioning hoist wires, automatic boom load centering, man-riding and high reliability diesel-hydraulic and electric-hydraulic power units are just some of the additional facilities it can provide. A key example of the company's excellence in the field of specialist engineering lies in its active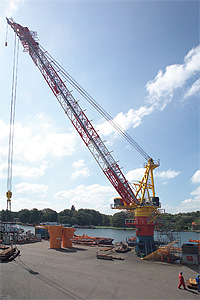 heave compensation (AHC) system that can be utilised for both subsea and above water duties. In the subsea arena the system can be used to safely install equipment up to 400 tonnes in weight and 3000 metres water depth from a support vessel or FPSO. A distinctive quality of the AHC system is that it entirely compensates all vertical excursions, to a maximum of 12 metres that result from the ship's varying movements.
Kenz-Figee looks to ensure that its customers are consistently well equipped and ready to tackle the challenges of the industry. As well as original design and manufacture, the company has a distinctive service facility that covers modifications, refurbishments and life-time extensions, as well as inspections, repairs and training, carrying out responsibility for the crane throughout the product's active life. A team of multi-skilled maintenance and repair staff serve as a 'flying squad', ensuring a swift response on land and offshore, wherever in the world a unit may need assistance. A series of mobile offshore workshops are constantly on call with tools ranging from hydraulic torque equipment to water bags and electronic load cells for on- and offshore testing. Such facilities are not restricted purely to the company's own range with it also being able to repair and maintain the cranes and installed equipment of its colleague companies. Maintaining a stock of spare parts is another way in which Kenz-Figee endeavours to cover every eventuality of the industry.
Currently, the organisation is enjoying a number of lucrative contracts with key clients in the market including BP that has an order for two cranes and the MOD, which is also expecting the deliverance of three tailor-made cranes in the coming months. Additionally, Taqa has signed a contract in recent weeks for one 40 tonne replacement crane to be used on it Cormorant Alpha platform. With customer partnerships at the core of the company's strategy, attendance at the Australasian Oil and Gas (AOG) exhibition and conference this month is essential. Running from the 24th to 26th March, Kenz-Figee is utilising the opportunity to interact with existing and potential customers, as well as its peers and competitors for future innovation. Looking to the future, the company is set to continue its prowess in the offshore industry in line with its dedication to creative solutions that exactly meet the operational and safety needs of a diverse client base.
Kenz-Figee
Products: Offshore and harbour cranes
---