Kleven Maritime
Issue 09 2011
---
Strong together
Kleven Maritime is Norway's biggest Norwegian-owned shipbuilding group. The group builds and equips large and technically advanced offshore support vessels and other ships for Norwegian and international clients, and is a pioneer of LNG powered vessels.
The history of Kleven Maritime starts in 2001, when Kværner AS made the strategic decision to leave shipbuilding. This created the opportunity to buy its shipyards at a suitable price, and since the Kleven brothers knew the potential of these shipyards, they decided to make a go of it, and together with key suppliers to the shipyard, they succeeded.
In August 2006, Kleven Maritime AS decided to focus on the two shipyards in Møre og Romsdal county and the building of technologically advanced ships. Following a huge upturn in the market and record order books, Kleven Maritime AS hired shipyard capacity in Førde in 2007. Today the company is currently made up of Kleven Verft AS and Myklebust Verft AS, and has approximately 500 employees.
Having inherited some of Kværner's experience and built upon this for the past decade, Kleven Maritime now has great expertise in project management and an extensive knowledge of shipbuilding. Its production facilities are suitable for building large and state-of-art vessels as well as for carrying out maintenance and repairs. These ships include offshore service vessels, modern deep-sea fishing vessels and coastguard vessels.
One of Kleven's greatest strengths is its flexibility, and as a result ships can be built using hulls fabricated abroad or by its own shipyards in Norway. However, in order to ensure high quality, Kleven always completes the outfitting at its own shipyards, as it believes its own expertise and experience are the best on the market. Its employees have extensive practical experience in shipbuilding and they continuously endeavour to find creative solutions for customers.
As a result of this approach, the company's services are in constant demand and as recently as June 2011 its order reserve was increased, when it signed a contract with Sanco Shipping AS for one seismic ship with an option for an additional one. With this contract, the order reserve stands at 11 ships with a combined value of about 4.2 billion NOK.
In fact, since the beginning of May 2011 Kleven has announced three new contracts with a combined value of about 1.2 billion NOK. CEO Ståle Rasmussen is very pleased with the developments, particularly this latest contract, which will be build number 355: "It is very gratifying to both Kleven Maritime and Myklebust Verft that Sanco Shipping has chosen a local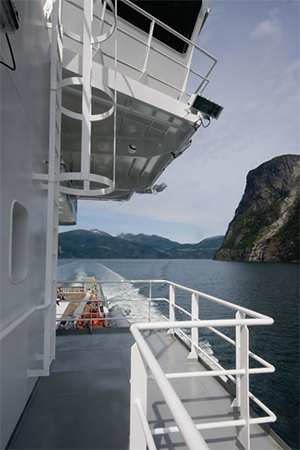 partner. I think that this also helps underline the strength of the local maritime cluster," he says. "Sharing know-how benefits all participants in the unique Norwegian cluster, and Kleven's yards are determined to contribute to the future development of this group of companies."
It is Kleven Maritime's shipyard in the municipality Sande, Myklebust Verft, which will equip the new vessels. This means Sanco Shipping, which is also based in Sande, did not have to search far to find a shipyard to help renew its fleet. It also reinforces Kleven's recent decision to go against the flow in Norwegian shipbuilding, and increasingly move its production from abroad back to its two Norwegian shipyards. "Our activities are well under control, and our building technique, based on modules assembled at our own slipway, is central to achieving the best project management. Relatively speaking, we do more work on our projects in Norway than our competitors, and have an ambition to continue this development to secure quality and precision," adds Ståle.
2011 may be looking very successful, but the company will be hard pressed to better the performance of 2010, which was a golden year for Kleven Maritime. The group delivered record results, with operating profit of 238.7 million NOK, an increase of 96 million compared with 2009, which itself was a record year. Pre-tax profit was 213.8 million NOK, an increase of 93 million from 2009.
Ståle was of course thrilled with the 2010 results, but emphasises that the company is working continuously to increase added value and profitability. "Intense and dedicated work over several years, concentrating on added value and the bottom line, produced the good results in 2010," he comments. "Skilled and hard-working employees were key to the success; as was innovation in working methods and production systems," he adds.
Ståle also praised collaboration with customers and suppliers: "Through collaboration we have found good solutions at both yards in the Kleven Group. 2011 looks promising. The order reserve will keep Kleven Maritime occupied until June 2013, and we are optimistic about future orders," he says.
Another new strategy is also bringing kudos to Kleven – due to its excellent results, for the second year running, all workers received a share of profits. The bonus programme applies to all employees of Kleven Maritime, with payments differentiated according to the results of the different companies within the group.
Kjersti Kleven, chair of the board, feels that this is step is totally justified: "I think it is only fair that that those who have created these results get to share the fruits. If we continue to improve, we will have safe, interesting jobs to offer people in the coming years as well."
It is clear that Kleven believes that building ships for the future requires an organisation that is willing to think unconventionally and is therefore committed to constantly pushing the limits by combining customers', suppliers' and its own know-how and experience.
Kleven Maritime's customers can expect a high level of knowledge-based innovation, and the benefit of working with an organisation that is highly motivated and has a genuine enthusiasm for shipbuilding. When it was formed the owners had a vision of delivering the most profitable and effective solutions to the world's most demanding ship-owners. A decade later, and the company is truly delivering on this ambition.
Kleven Maritime
Services: Shipbuilding
---