Lagendijk Constructie
---
An uplifting approach
Lagendijk Constructie has always been a family business, having been established by Mr V. Lagendijk in 1898. With over 110 years of experience the company originally started by offering a variety of painting services.
In time it developed its portfolio to include metal and repair work, and with it being located on the busy shipping channel through the south of the Netherlands, ship repairs and associated operations soon became the company's main activity.
Within its own engineering and development department, Lagendijk paid close attention to the demands and wishes of its customers, and these requirements were converted to high quality, user-friendly products. In fact, customisation remains one of the distinguishing factors of Lagendijk's services to this day. Its years of experience and development in the area of ship repair are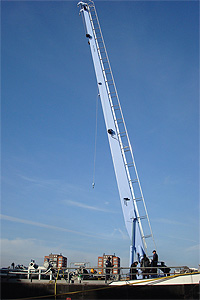 bolstered by a team of skilled and motivated staff, whose dedicated approach to helping customers with emergency repairs extends to the most complicated problems even outside regular operating hours.
Sales manager for Lagendijk Constructie, Peter Lagendijk, describes the company's activities: "The business is over 110 years old and we have around 35 years' experience of green building, an area which is still growing. Our activities are divided into the manufacture of new cranes, which makes up 80 per cent of our business, and our after-sales and service department, which accounts for 20 per cent of our work. We are active in these fields around the world, although our work is predominantly carried out in theNetherlands and our neighbouring countries such as Belgium and Germany. Aside from these areas we work throughout the rest of Europe, in countries such as Spain, Malta, Ibiza and Greece."
Each crane that Lagendijk produces is designed and precisely calculated to meet the customer's individual needs, and once designed is then placed on the ship. Lagendijk's shipyard is in an excellent location in the quiet town of Kanaalarm against the Loswal of Wemeldinge, and from here it can also offer on-site projects, a service that is provided for several yards. Once a crane is assembled, the company puts it to work with a test load of 125 per cent. If it performswell and the test is successful then the crane is complete and ready for distribution to the client. "We work under the motto that 'only perfect is good enough'," explains Peter. "This has set our business apart over the years and ensured that Lagendijk Constructie is recognised for delivering an unbeatable service."
Part of this unbeatable service comes from the company's approach to its customers, where it aims to work directly with them through every conceivable problem encountered in an operation, as Peter explains: "We work very closely with each separate client from the very beginning of a project right through to completion, and we aim to always maintain this relationship wherever possible. For example, we regularly call them to discuss exactly what it is that they want from a specific project or product and this type of close relationship has always been a key factor in our success. Furthermore, when a project is completed we have a strong after-sales service that continues to look after a client's needs well into the future."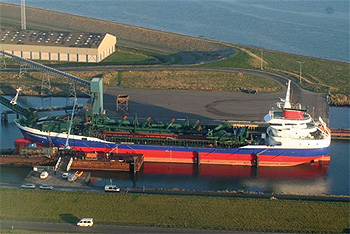 Alongside its range of crane products Lagendijk has a large portfolio of maritime related solutions that includes cutting equipment, dredging products and machine and hydraulic equipment. The latter offers a comprehensive suite of solutions that not only includes the repower and installation of new pumps and motors, but also covers winches, agitators and associated hydraulic products.
In terms of service and repairs, the company offers emergency, as well as general repairs. From its workshop, Lagendijk Constructie is well equipped to offer every conceivable maintenance service quickly and safely. For example, it regularly carries out periodic maintenance and repair work on equipment as well as crane inspection, and through a range of projects has proven itself to be highly adept at fast and professional repair or preventative work for a range of clients.
The company has recently undergone a complete rebranding and launched a new website to support the new face of the company. Peter explains what prompted this restyling: "Our old website was outdated, and we felt it necessary to bring this up to speed, not only to make it more user friendly for our customers, but also to reflect the constant improvements we strive to achieve in our product range."
The start of February 2010 also saw the company develop a new six tonne knuckle boom crane for hopper dredger. The crane is 30 degrees by the hook, and has a maximum lifting capacity of six tonnes to 7.5 metres, making it ideally suited for a wide spectrum of possible projects and operations.
Throughout its history Lagendijk Constructie has used its knowledge and experience, as well as its evident skill in its field, to achieve the levels of success it enjoys today. As the business continues to expand, both in terms of market exposure and its product portfolio, it is clear that it will remain an important player in the maritime and offshore field for the foreseeable future.
Lagendijk Constructie
Services: Crane manufacture, service and onboard maintenance
---