Lauritzen Kosan
Issue 05 2010
---
Carrying ambition
Operating as part of the Denmark-based J. Lauritzen group, one of the worlds leading suppliers of ocean transport solutions, Lauritzen Kosan provides vessels to transport liquefied gases, including petrochemical gases, energy gases (LPG) and ammonia.
The company serves customers in the energy, petrochemical and agricultural markets across the globe, having developed a strong market position in Europe and the Mediterranean. It is also expanding into the Asian market through its offices in Singapore and Shanghai.
Jan Kastrup-Nielsen, executive vice president of the J. Lauritzen group and president of Lauritzen Kosan elaborates upon the role that his subsidiary plays within the company as a whole: "Lauritzen Kosan deals mainly with smaller gas carriers between three and 12 thousand cubic metres in volume. Today, up to 75 per cent of our business revolves around petrochemical gas transport, whereas the remaining 25 per cent can be attributed to the transport of LPG gases.
"We work for some of the largest oil companies in the world, and so our business is very much focused on upholding the highest health, safety and environmental policies possible. These are the parameters by which we operate, and a large part of what we do involves building up international networks with clients built on trust."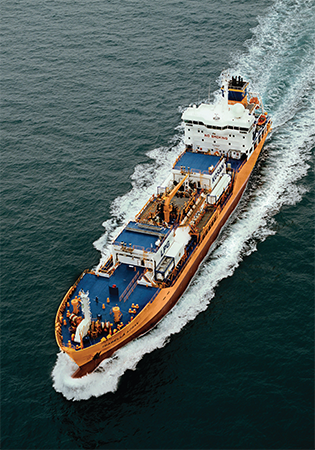 The company is also able to draw upon the support of the J. Lauritzen group which, having been founded in 1884, boasts more than 125 years' experience in the shipping industry. Jan reveals the impact this has upon Lauritzen Kosan: "The benefits we have gained through being part of the larger group have been significant. It has enabled us to put ourselves in a position where we can serve any customer in the market, regardless of their demands. We believe that the tools we have access to working under the J. Lauritzen banner make us an incredibly flexible company, whilst also echoing the group's high quality levels within our own operations."
Building upon these strengths, Lauritzen Kosan has managed to grow significantly over the past four years. This was also partly due to the company responding to a shift in the balance of power between Eastern and Western markets, according to Jan: "There has certainly been a change in the trade of gas, spurned by a huge investment in petrochemical facilities in regions such as the Middle East.
"This has naturally triggered a growth in export from this part of the world, and with that there has been an increase in the need for ethylene carriers. We acted upon this, investing heavily in new ethylene carriers – and now have 13, which comprises a fairly sizeable part of the global ethylene carrier fleet."
Whilst this new-build programme has become a vital part of the company's current strategy, the instigation of this project was not without its challenges. Jan highlights: "We had to look a while for a ship yard prepared to build our vessels the way we wanted them, which we found very important. The gas industry is not like the dry cargo or tanker sectors, because the vessels are significantly more complicated and specific to their jobs."
Lauritzen Kosan's ethylene carriers are of a particularly unique design, according to Jan: "We have created a whole new way of designing these vessels, and it is something that we have managed to receive a lot of recognition for in the industry. Most aspects of the ethylene carriers were designed by us, in-house, and in 2008 we were awarded Ship of the Year at the Lloyd's List London Awards."
Jan believes that there are significant opportunities for expansion in this area too, as he explains: "There is a continual potential in the global petrochemical trade – and this is something that will keep improving once the economy has stabilised and the consumption of plastics returns to pre-2008 levels through the recovery of the automotive and construction industries."
Despite the affects of the crisis upon the industry, Jan is pleased with the way his company has fared over the past 18 months: "I am almost surprised that we have not been harder hit in the area of smaller gas carriers – though this has most likely been down to the Eastern economies increasing their activities within the petrochemical gas sector. We have been compensated by a lot of imports from China and, whilst our earnings may have dipped slightly, our market has not been nearly as volatile as those of other sectors, such as dry cargo or tankers."
With this in mind, Jan remains positive about the future of Lauritzen Kosan. He concludes: "I expect us to further strengthen our position with vessels in the 12 thousand cubic metre range. We hope to apply expertise we have already developed over the years on our upcoming designs, whilst also developing our connections with those in the ethylene trade as well."
Lauritzen Kosan
Services LPG and petrochemical gas carriers
---