LBC Rotterdam
Issue 07 2011
---
Completing the chain
Driven by its long-term ambition to be the preferred global provider of bulk liquid storage solutions, over the years LBC Tank Terminals has established a substantial global network of terminals.
Totalling a combined storage capacity of close to 2.8 million cubic metres, this network covers key locations such as the US and China, as well as along the European coastline such as Belgium, France, Spain, Portugal, and the Netherlands. In June 2010, the Group relocated its headquarters from Paris, France to Mechelen, Belgium as part of its strategy to better serve customers and support future growth.
In addition to tank storage facilities, the LBC Group offers a range of value-added services, including blending and formulation of various products such as de-icing compounds, heat transfer fluids, coolants etc. Drumming and IBC filling, warehousing of hazardous packed goods, and container and railcar cleaning are also part of its portfolio.
Positioned within this network is LBC Rotterdam, which is located at the 3rd Petroleum harbour in Rotterdam-Botlek, the biggest port in Western Europe. The site was founded in 1957 by Dow Chemical, as its European distribution point. In 1999, the site was acquired by LBC Tank Terminals, and has since continued to serve a client base of major chemical producers and trading companies.
LBC Rotterdam boasts a total liquid storage capacity of 83,000 cubic metres split across 110 tanks, which range in size from 70 to 5000 cubic metres. This includes tanks constructed from mild steel, stainless steel and aluminium, and coated steel, giving the site the capacity to handle a wide range of products with specific focus on chemicals. Specialist handling capabilities such as heating, blanketing, recirculation, nitrogen purging and vapour return are also provided.
Access to LBC Rotterdam is available by road, rail, sea and canal, complete with the supporting infrastructure of a private jetty with a maximum draft of 10.06 metres. "Each of the LBC terminals has its own history prior to being acquired by the Group," notes Jean Pierre Baaten, director of operations at LBC Rotterdam. "They are also specifically tailored to the local circumstances and needs of the market."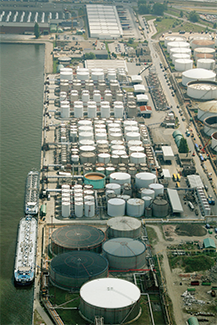 Jean Pierre highlights some of the characteristics that set LBC Rotterdam apart: "LBC Rotterdam is specialised in the handling of hazardous or speciality chemicals. One example of these capabilities is our specialist vapour treatment installation for chlorinated hydrocarbons and solvents, through cryogenic condensation. Through the means of liquid nitrogen we cool down the vapours in order to condense the hazardous product and then safely dispose of it. In this way, we are able to store chlorinated products and remain in compliance with emissions regulations. We have a vast experience in chemical handling combined with local expertise, and as such are able to react quickly and be flexible to customer demands."
Alongside its tank assets, LBC Rotterdam operates 15,000 square metres of warehousing capacity for hazardous and non-hazardous materials, liquids, and solids. Furthermore, it also incorporates a packaging installation with a total combined capacity of 60.000 Mt per year, which includes filling lines for drums, IBC's, small cans, and a white room in which drums and IBC's can be filled under pharma grade conditions. Completing the company's service portfolio is a range of product formulation facilities with a capacity of 100,000 Mt per year.
Safety is unsurprisingly at the forefront of LBC Rotterdam's management procedure and attention. As a result, the terminal is CDI-T registered, ISPS, ISO 9001 and ISO 14001 certified. It also implements a regular ongoing maintenance upgrade programme. This is in line with the LBC Group's own risk management and safety, health, environment, and quality (SHEQ) policy. Each terminal is constructed and kept up-to-date in order to operate in the safest, and most environmentally sound manner possible. Many of the terminals have their own wastewater treatment installations, and are accepted as Marpol reception stations. Depending on the types of product in storage, vapour recovery systems are installed in order to control emissions.
In terms of the future of the terminal, LBC Rotterdam is currently engaged in developing its forward strategy. As a Group, LBC is working to expand its storage capacity, and as a result opportunities for such an investment at its Rotterdam site are also being investigated. "We see that the terminal market is still expanding here in Rotterdam and Antwerp, and we do see room in that market for us to continue to develop," concludes Jean Pierre. "Also, with the major product streams changing all over the world and production capacity moving from Europe to the Pacific, there is a growing demand for tank storage within the logistic chain as these products are brought back for sale in the European market, so there is certainly a potential to expand our storage capacity in Rotterdam."
LBC Rotterdam
Services: Tank storage
---