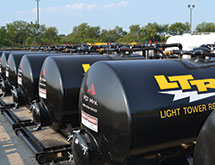 Light Tower Rentals Inc.
Issue Winter 15
---
When Light Tower Rentals (LTR) Inc. was founded in 1994, it had a grand total of eight towers for rent. Today, its more than 1,400 light towers are at work on sites across the country and the company employs more than 600 people in 14 states and all major U.S. production basins.
"Our timing was great," CEO Ted Hogan says. "We entered the market just as safety was becoming a bigger focus in the industry. Rather than lighting locations with auto headlights, our light towers can light up seven acres around a location." The expanding domestic oil and gas business also worked in favor of LTR's success, he adds.
The company's light towers are used to illuminate oil and gas drilling, completion and production locations. The towers are often used near guardhouses and around trailers. To eliminate shadows, many customers use more than one light tower.
Although it started in the light tower business, the company's emphasis is on power generation, both diesel and natural gas powered. On the diesel side, LTR provides 25, 45, 70, 100, 125, 150, 200, 250, 300, 400 and 600 kw generators to provide portable power at drilling, completions, and production sites.
"We are the leaders," Hogan says. "Our company is one of the largest independent national power generation rental companies in the United States."
LTR also offers natural gas generators, which can be powered by the natural gas generated onsite that is usually flared off the wellhead. "We convert it into a power source to do the same things a diesel generator would do," Hogan says. "It is a great savings."
Natural gas generators are less expensive to operate than diesel. With many states putting restrictions on flaring gas, it is a welcome alternative and more environmentally friendly.
The third top category for the company is tank rentals. It provides any type of tank needed, such as flowback tanks, mud tanks, acid tanks and frac tanks.
However, it is not just the quality of its light towers, generators and tanks that generates success for LTR. Ultimately, it is the quality of its service and customer relationships, and quality employees that account for its achievements.
"We're second to none with our service model and relationships," Hogan says. "We've built up business with our customers and have been blessed to be able to grow."
In addition to those product lines, the company is expanding its water services business, as well. Water that is used in drilling and completions is transported to the sites via lay flat hose, sometimes over several miles. This practice saves on water hauling expense.
The LTR rental inventory includes air compressors, pumps and super vacs. It also offers trucking services and trailer packages.
"LTR is focused on safety and protecting the environment," Hogan says. It has implemented a "Safety is our focus" initiative, for example.
20th Anniversary
Celebrating its 20th anniversary this year, LTR is in the business of helping clients achieve operational goals. It provides the highest-quality equipment and superior service to its customers, 24 hours per day and seven days a week. Its safety-focused employees work to exceed customer expectations.
The company got a big boost in 2008 when Canadian private equity company Clairvest Group Inc. provided capital to expand its operations to 14 locations. The capital infusion allowed it to open shops across Texas, as well as in New Mexico, Oklahoma, Louisiana, Arkansas, Pennsylvania and North Dakota. It is now active in the acquisitions market for expansion into new markets and regions.
"Light Tower Rentals is a high-growth, diversified specialty equipment rental and services company focused on the oil and gas sector," the company says. "Headquartered in Odessa, Texas, LTR operates 15 branches in the U.S., serving its clients' operations across most of the active oil and gas basins in 14 states."
Renting light towers is a competitive business. As light towers are not prohibitively expensive, the barrier to entering this business is not restrictive. Returns are fair, as well. Therefore, LTR excels at customer service to differentiate itself, Hogan says.
LTR began offering tanks in 1999 when it bought 400 upright frac tanks. Today, it offers frac tanks, mud tanks, acid tanks and flowback tanks, among others. "We have pretty much every kind of tank," Hogan explains. They include a vacuum unit for cleaning to make sure there are no spills. "Our customer service model carries over from light towers into tanks. We pride ourselves on having our tanks in full working order. You don't want to have a customer shut down a big working operation waiting on a $50-a-day tank," Hogan says. "We have grown that business and a lot of credit goes to the customers and our service model. The customers know they can depend on us. That's how we have grown our product offering and business."
LTR began offering water management service in January of 2013, after acquiring a North Dakota water company. It quickly rose to encompass 10 percent of its business expanding from North Dakota to the Permian Basin. "We are expanding it into other areas and gradually building that business," Hogan says. "We expect it to continue to grow."
The company excels at transferring fresh water from its source to the end user efficiently. "We manage to cut down on the number of trucks," Hogan says. This reduces emissions. "That is one of the way we help our customers be more environmentally-friendly. That is a big deal in our industry."
Recruiting Success
Mark Beckstrom, vice president of human resources, says LTR has had considerable success with its employee referral program. "Our best source of new employees is current employees," he says. To that end, LTR has created an employee referral bonus plan. For each referral who works 90 days, employees are paid $500 and they received $1,000 for referrals who serve six months.
In addition to the bonuses, referrals help new recruits feel more comfortable on the job. "They already have a friend," Beckstrom says. "It is not a strange place. They know someone who wants them to be part of the team and contributing."
About 35 percent of new hires are referrals. LTR expects to hire about 400 people in 2015. It is a competitive labor market. In the Permian and Eagle Ford Basin's unemployment is less than 4 percent and population is sparse. In the North Dakota Bakken formation, there is negative unemployment. That is to say, the population is 20,000 below the number of jobs available.
LTR excels at recruiting in this competitive labor market. It emphasizes safety with units of field technicians, training technicians and sales staff operating autonomously to make their own decisions. This creates a family, team atmosphere. The company also offers many avenues for advancement as field techs have the chance to move from into leadership positions advancing into sales, branch coordinator, manager and regional managers. "We are a bootstrap company," Beckstrom says. "Our two founders are still here with us and many in leadership positions have been field techs."
TfThe company seeks highly safety-conscious prospects good at learning and following standard procedures.
"Our first focus is safety," Beckstrom says. "We want to be a safety leader and that is a key part of our culture."
Training programs therefore emphasize safety. During the first three weeks, field employees follow a very strict training path. During their first six months, they work closely with a senior employee or trainer.
LTR is providing mobile smart devices that allow team members to log hours, place job orders and scan and understand equipment. The smart devices also allow them to request time off and learn about their benefits. About 55 percent of those in the field now have the devices with the remainder expected to receive them by January 2015.
The benefit apps have been provided by Paycom of Oklahoma City, Okla. Another LTR partner is Salesforce.com, which helps the company manage its customer relations and sales process.
President Bond
Recently, LTR appointed Pat Bond, formerly COO, as the company's president and COO. Bond succeeds Hogan in the role of president. Hogan, one of the company's founding partners, continues as CEO.
"Over the past two years, Pat has been instrumental in setting LTR on a course for continued growth, as well as integrating improvements to the company's processes and operations," said Hogan. "During Pat's tenure, LTR has achieved substantial revenue growth while maintaining its focus on delivering superior customer service and with his guidance the company is positioned on a similar path for 2014. He was instrumental in executing acquisitions which expanded the company's footprint in North Dakota and led the integration efforts. Under Mr. Bond's operational management, LTR has successfully expanded its geographic footprint, rental assets, product line categories and services offered."
With well counts increasing, more and more wells are coming online, Bond explains. These wells require artificial lift, pump jacks and other oilfield rentals. "Generators are a good business for us and our water transfer business has had good growth," he points out. "We've added some really nice processes and systems to our company that differentiate us.
"Our financial structure is very solid for future staying power and we have a heck of good management and employee base and an excellent reputation in the business," he adds.
---