Mann Tek AB
Issue 05 2010
---
Seal of approval
Founded in 1997 and located in Mariestad, Sweden, Mann Tek is a leading producer of dry disconnect couplings for fluid transfer operations in the oil, gas and chemical industry.
The company offers the largest portfolios of products on the market as well as customised solutions for specific requirements. Mann Tek designs and manufactures its full programme of couplings according to ISO 9001:2008, PED 97/23/EC category 2, which guarantees the highest levels of safety and quality products.
The company's dry disconnect couplings are ideally suited for handling liquids, chemicals or gas in situations where spills can be both costly and hazardous. All are manufactured according to STANAG 3756 to ensure quality throughout, and they range in size from between 0.75 inches and six inches. Furthermore, they are available in a range of different materials, including aluminium, brass, stainless steel, hastelloy, titanium, PVDF and PEEK.
The range of seals available with these couplings is viton, NBR, EPDM, Chemraz and Kalrez. All couplings could be equipped with threaded or flange connections for both hose and tanks units. Mann Tek's dry disconnect couplings can work under pressure up to 25 bars and are easy to use, minimising the risk of human error. The operator is not exposed to liquid, vapour or gases and the unique design eliminates any product loss upon connection or disconnection.
Mann Tek also manufactures dry gas couplings, which were first developed as an offshoot from its main portfolio. These coupling are specially designed to handle liquefied petroleum gas (LPG) in the toughest environments. A rugged design further ensures their reliability, whereas sizes range from between 0.75 inches and four inches.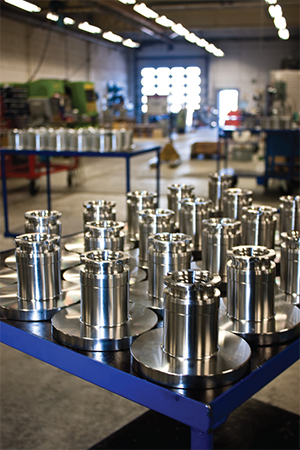 Safety breakaway couplings are another product that Mann Tek excels in, having developed an innovative breaking bolt that is designed to prevent pull-away accidents when loading or unloading tank trucks, railcars, boats and other vessels. These couplings help protect both the terminal and any loading or unloading equipment involved in the procedure, eliminating any product spillage. Thanks to a diverted breaking point, the breakaway couplings' internal valves will close automatically if the breakaway coupling releases.
This product line also includes industrial breakaway couplings, which are utilised in all industrial product transfer installations. These are specifically designed to be able to activate with a tensile force being applied at an angle to the plane of the coupling housing, working under temperatures of up to 90 degrees. Marine breakaway couplings are also provided, and these are manufactured for various ship-to-shore applications where the unpredictable marine environment can cause premature activation.
Mann Tek further complements this range with its cable release series of safety breakaway couplings, which are designed to minimise spillage and reduce any damage associated with drive away and pull away incidents. Furthermore, if this coupling automatically senses an excessive load, it valves will close before it permits the necessary connection.
Full-flow ball valves are also included in Mann Tek's portfolio, and these are specially designed for handling different types of fuels, ranging from diesel and gasoline or jet and tank fuel. They come in sizes between two inches and four inches, and are available with both one-way and two-way valves. These can be both manually operated or pneumatically controlled, and can be made with both threaded and flanged connections.
Mann Tek is also responsible for a variety of hose swivels and heavy-duty swivels. The swivel joints that the company provides are used in any applications where a moveable pipe connection system between two pieces of equipment is needed. These are designed for slow rotary motions under the influence of high internal pressures or internal stress such as traction and bending forces.
With such a vast array of products, Mann Tek has developed a strong reputation for quality, and is recognised the world over. It is always looking for new opportunities both locally and overseas, having participated in OGWA in Muscat, Sultinate of Oman 11-13 April and the 2010 Iran Oil Show last April. As a springboard to launch its services further into the Middle East, Mann Tek's involvement in this exhibition helped the company build upon an already-strong network of clients in the research, training and technical sectors of the oil and gas industry.
Mann Tek will continue to participate in such trade shows throughout the next few months, with events that include both the AchemAsia 1-4 Juni, Beijing, People's Republic of China, and AEGPL 28 Sept.- 1 Oct. 2010 in Madrid already filling up the calendar. The company now looks set to go from strength to strength as it continues to build on its broad manufacturing capacity.
Mann Tek AB
Products: Dry disconnect couplings, break away couplings
---