Maritime Montering
Issue 04 2010
---
Eastern promise
Headquartered in Bjørvikstranda on the west coast of Norway, Maritime Montering is one of the country's leading companies in specialised accommodation packages for the marine and offshore sector.
As part of the international Maritime group of companies, the organisation enjoys close collaboration with its sister company Maritime Møbler and group subsidiaries in Poland and Romania. A highly skilled team of over 270 staff utilise their experience to ensure that the company's wide portfolio of accommodation solutions are designed and delivered to the highest quality standards in the industry – Maritime Montering sets the benchmark when it comes to turnkey solutions.
Focusing on architecturally styled accommodation systems, the company offers a complete package solution including design, preparation and installation to a diverse customer base. Whether it is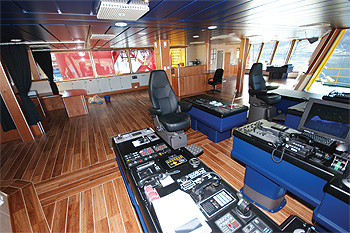 an offshore supply vessel, tanker, fishing vessel, ferry, passenger vessel, naval ship or an oil rig, Maritime Montering is able to meet all needs at competitive prices. When European Oil and Gas last spoke to the company in June 2009, it had recently invested in a new computerised design system for the entire furniture engineering and production process. This program is called SHIPinside, and enables the company's engineers to view a project in a modularised format with access to the exact dimensions and specifications of every cabin. The organisation was spurred to make this move in response to its everexpanding global influence on the market that has seen it successfully penetrate the Far East and Asian regions.
Currently Maritime Montering is enjoying a number of lucrative contracts in these areas as a result of establishing two new Maritime companies in Vietnam and India. Continued relationships with customers such as STX in Vietnam and Cochin and Bharati shipyards in India have facilitated the transition from a predominantly European foundation of business to a much wider international one. The expansion has enabled the company to be closer to its existing clients in these regions, while providing a platform for it to apply its proven expertise and quality from Norway to new arenas.
The new sales and marketing director of Maritime Montering, Terje Nerås, outlines the key changes since last year: "I am a relatively new member of the management team, following a period of restructuring in the business, and I have brought 22 years of experience from the ship building industry to my new role. My expertise comes not only from the accommodation side of vessels but from the complete ship building arena and we are applying this to our new markets in the East. We have found that in India in particular, customers require a complete package solution that not only includes turnkey accommodation, but ventilation and sanitary systems, doors, windows and even the steel super structure as well. In order to be a strong competitor in this region we have adapted into the realms of being a complete partner and we look to carry this even further into the Far East."
Indeed, full order books for 2010 and 2011 speak for themselves with regards to the organisation's success in new regions. Currently the company has a number of simultaneous projects underway for ship design in Russia, refurbishment contracts at the Keppel shipyard in Singapore, production at the Havyard shipyard in Norway, a cruise ferry for a client in Canada and a contract for a
MT6022XL Well Intervention vessel in Indonesia. With such a wide range of services and broad capacity, as well as the number of sister companies on which it can draw, Maritime Montering can carry out over 30 projects at any one time.
Terje outlines the strengths of the business that have enabled it to beat the industry challenges of the past two years: "Maritime Montering is a diverse company, our workforce has the ability to turn its hand to alternative projects and specialised industries wherever needed. For example, a number of our staff are safety accredited for work in the North Sea, meaning that they are able to adapt to offshore rig projects when there is a requirement. We also have a strong reputation for efficient and swift refurbishment, especially for clients such as Voldstad in Norway, as well as for those abroad. We have many legs to stand on and don't have to rely on one source of business, so are very confident of sustained success."
In addition, the company ensures that its furniture provision is unique and of a standard that differentiates it from its closest peers. Only its own-brand plywood furniture is used in its accommodation designs and the structure of its products is such that they are guaranteed to last the lifetime of the ship. Only the highest quality materials are used in the comprehensive range of ceiling, wall panel, floor, wet unit, furniture, interior design and bridge deck solutions that are primarily designed to make the living quarters of offshore vessels as comfortable as possible, while functionality and sustainability are essential concerns. Research and development for new innovations is a constant focus for Maritime Montering with much inspiration coming from the clients themselves and their ever-evolving demands. Project plans are developed in close alliance with customers, while co-operation between all involved parties is essential throughout all phases of installation.
Looking to the future, Terje highlights his vision for the company: "We look to maintain our valued customers and the quality we deliver here in Europe, while further penetrating the Eastern market in the coming months. We are very proud of what we have already achieved in India and Vietnam, and hope to be the preferred partner wherever in the world we are based. Our references in Europe are unrivalled and we want to apply our expertise to emerging markets, expanding at a rate that is sustainable and effective for the company. Our main focus going forward will be to strike a balance between existing business, future prospects and the maintenance of our skilled and world-renowned workforce. We are positive that the future will bring continued success for Maritime Montering."
Maritime Montering
Services: Maritime accommodation systems
---