Mechserv Ltd
---
High quality approach
Having rapidly expanded since its inception in 2000 from a workforce of three to an experienced staff level of 64, Mechserv provides a specialised service in the manufacture and refurbishment of offshore well service, process and drilling equipment.
Now fully established and providing a turnkey service on a large variety of mechanical equipment, Mechserv is bucking the downsizing trend and is in a hiring period, recruiting high calibre personnel in Scotland and at its overseas base near Dubai – a joint venture established in 2008 to support the Middle East and Caspian Sea markets.
With a demonstrable commitment to quality from its early days, demand for Mechserv's services has always been strong. Managing director Mike Craig heads a handson management team with substantial offshore and onshore oilfield experience, and attributes an early start on the ISO path, FPAL registration and Investors in People accreditation, as key contributors to the accelerated development of the company.
Specialising in such a wide range of products and services means that Mechserv is able to meet almost any customer specification. With abilities in the design, build and refurbishment of cement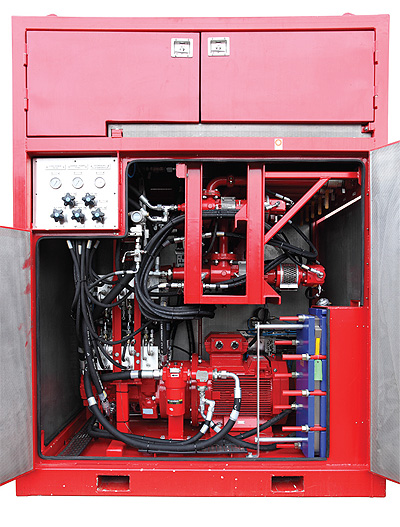 skids, batch mixers, nitrogen pumping units, hydraulic power packs, pump units, lube oil consoles, subsea pumping skids and acoustic containerised skids, the company offers full turnkey support to offshore operator's needs. Moreover, its facility in the service, modification and repair of wireline units, coiled tubing units, a full range of pumps including centrifugal, chemical, air and hydraulic units, compressors, generators and diesel or electric drive powersystems means that customers can gain a onestop- shop delivery. The organisation's new processes and services division is looking to gain long-term contracts with customers based on its employees providing a rotational system for maintenance equipment.
The Dubai facility was launched following feedback from the region that demand for higher quality standards was increasing – Mechserv seized the opportunity to transfer its expertise to a new market and the new operation, and it is progressing well. Although the UAE company felt the effects of the downturn, it has recently received enquiries in excess of $10 million. Furthermore, plans are now in place to replicate this success in the Asian market, and discussions around a joint venture in Singapore are underway.
Closer to home, Mechserv has become involved in a UK/Norway cross border mentoring scheme, which it is hoped will advance the company's progress in the demanding Norwegian market. "In that region the requirement is for the highest of standards," said Mike, "and as that is our niche it's a market with a great deal of potential."
In line with the company's continual development and improvement, Mechserv has recently become a European and Russian Service Centre for Gardner Denver, an American pump company with global sales. The company is also due to open an additional facility in April this year that will double its capacity. The decision to increase capacity was taken in light of the rise in enquiries received by both current and new customers, and should allow a more efficient process.
The level of service that Mechserv provides will be a key factor in its continued growth. Continued investment has created the capacity for a complete turnkey service that runs from concept to commissioning, and a dedicated services group has been established to provide a range of maintenance, services and after-sales services that include offshore/off-site installs/removals, minor modifications, commissioning/decommissioning, rentals and repairs.
This new services group has been well received thanks to the reputation of the workforce, a reputation that is built on commitment to skills development. Mechserv operates an accredited apprenticeship scheme for mechanical technicians, fabricator/welders and mechanical engineers and currently has nine apprentices of a total UK workforce of 65. "We firmly believe in our duty to maintaining skills long term, to reduce the chance of industry-wide skills gaps affecting the quality of our business" said Mike. "It also means that we can train people to our way of working, to the very high standards we demand. That's central to our goals – our business plan for the next three years goes for growth, both in domestic and global regions, and quality is at the heart of our strategy."
Mechserv Ltd
Services: Design, manufacture & refurbishment Services
---